Motorola Razr reborn as folding-screen Android phone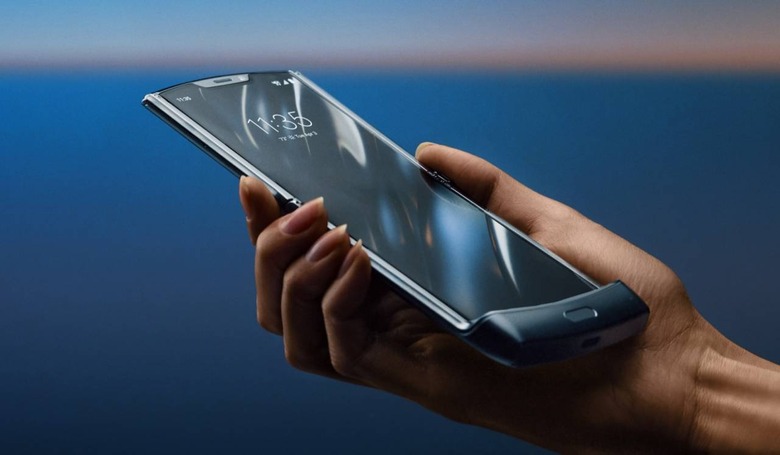 The Motorola Razr is back, fifteen years after the original RAZR V3, and now a modern Android smartphone with a cutting-edge foldable display. Unveiled today, the new Razr takes a different approach in foldable phones to what we've seen Samsung's Galaxy Fold try: rather than unfurling into a mini-tablet, Motorola's device aims to be a lot smaller in your pocket.
The Galaxy Fold – and Huawei's yet-to-reach-the-US Mate X – both take a similar strategy. Closed, they're roughly the size of a typical smartphone. Unfold them, though, and you get something more akin to a tablet.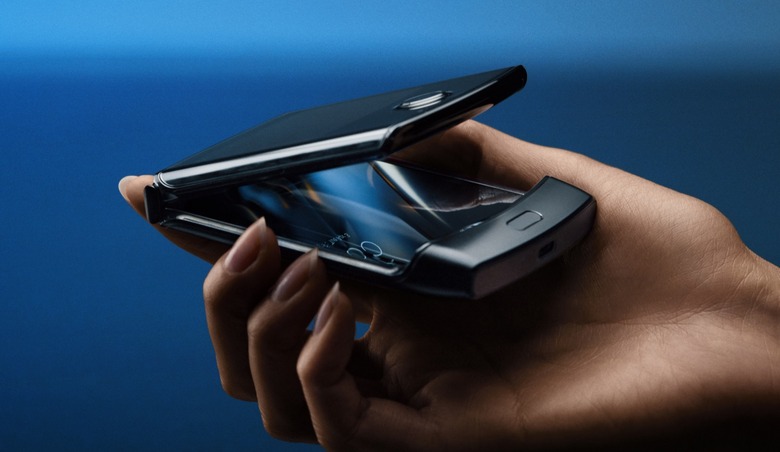 That's great if your primary wish is as big a screen as possible, but Motorola takes the opposite path. It starts with a more typically sized screen – in this case a 6.2-inch 21:9 aspect pOLED running at 2142 x 876 resolution – which Motorola is calling Flex View. That then folds in half across the middle, so that the 2019 Razr can clamshell shut like its namesakes.
The result is a phone that's 72 x 94 x 14 mm when closed, but which opens out to 72 x 172 x 6.9 mm when you access the Flex View screen. Motorola's magic is in the hinge, which it's been working on in tandem with Lenovo engineers – the same ones who worked on the YOGA notebook hinges. After all, as Samsung discovered to its embarrassment earlier this year, getting the hinge right is the most important part.
Motorola's goal was a phone that was completely flush and gapless on the sides, so that dust and grit can't get behind the flexible plastic OLED panel. It also had to avoid a 180-degree bend, since that's still beyond the capabilities of flexible displays. What they came up with was a double-hinged design that moves the display supports inside when the Razr is closed, so that the screen can safely curve into the space.
Unlike the Galaxy Fold, which doesn't completely shut when it's folded, the Razr's two halves clamshell together cleanly when it's snapped closed. Fans of the original RAZR V3 – and the Motorola StarTAC before it – will be pleased to hear (and feel) that the snapping sensation is the same as the original phones, too. That always felt great when you were hanging up a call, and the 2019 Razr will support it as well (though you'll be able to turn that feature off too).
Motorola Razr 2019 external display
When closed, there's a secondary Quick View touchscreen on the outside of the new Razr. That shows the time, battery and signal status, as well as notifications. It's a 2.7-inch OLED running at 600 x 800 resolution, and unlike the Galaxy Fold's full-featured (albeit skinny) external display, Motorola's is more focused.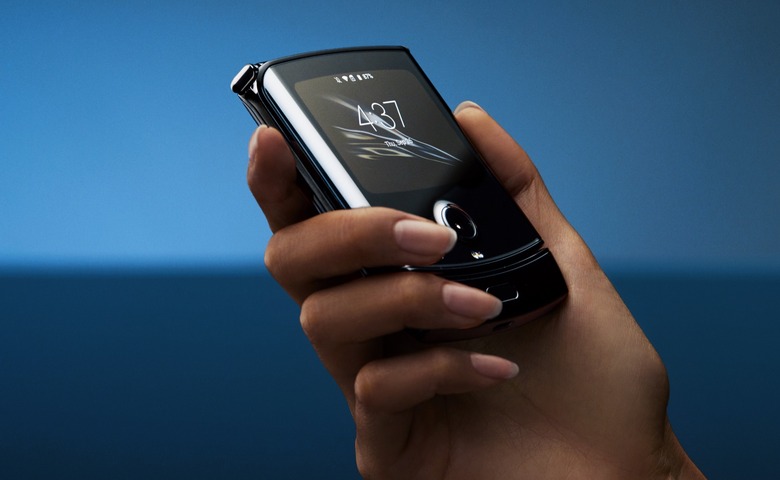 With Peek Display, you'll be able to get a quick look at notifications and updates, then dismiss them or swipe them open to read more. It'll be possible to reply to messages and emails via the Quick View screen too, either via smart replies or by dictating. If you're using NFC payments, the external screen is used to confirm them so you won't need to open the Razr up.
As you'd expect, there'll be music controls on the Quick View screen, and you'll be able to use it as a preview screen with the camera. Since the Razr's primary camera is mounted just next to the external touchscreen, you can actually use that for selfies too: it means you get the benefit of a 16-megapixel sensor with image stabilization, an f/1.7 lens, and both Dual Pixel AF and Laser AF.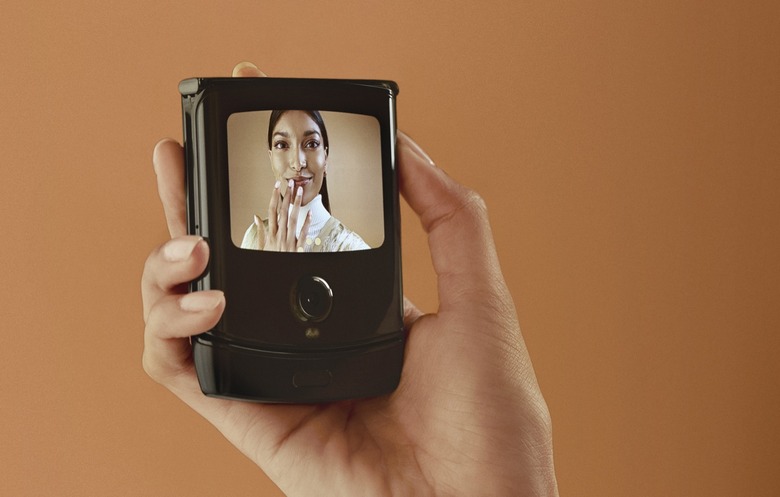 If you're using the Razr unfolded to take photos, the Quick View can show a preview of the image you just took, as well as a countdown if you're using the timer. Motorola also has some animations that can play, to grab the attention of a kid and get them to look at the lens.
Rather than using a button to trigger the Google Assistant, Motorola has given the new Razr a quad microphone array. That means you can use the "Ok Google" wake word, even with the phone closed and locked. If there's something you want to pick up on the regular screen, opening the phone will transition what was on the Quick View screen to the main panel.
Motorola Razr 2019 specifications
Beyond the foldable display, the new Razr is a fairly regular smartphone. In fact, it's actually fairly conservative in its specifications. Motorola opted for a Snapdragon 710 processor, pairing it with 6GB of memory and 128GB of storage. It's running Android 9 Pie, and Motorola says it'll be avoiding the temptation to load it down with unnecessary apps.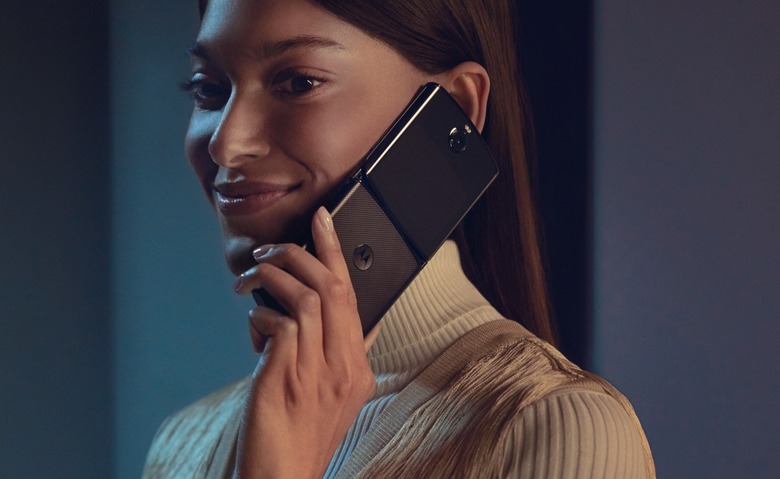 What might furrow the most brows is the battery. That's a mere 2,510 mAh pack, which recharges via USB-C. You don't get wireless charging, and the fast charging tops out at 15W. We'll have to wait and see how long the phone will actually last on a single charge, but it comes as little surprise that – despite all Verizon's talk of 5G lately – the new Razr tops out at 4G LTE.
Otherwise, there's WiFi 802.11ac, Bluetooth 5.0, and GPS. Motorola uses a fingerprint scanner, rather than face unlock, and since there's no 3.5mm headphone jack you'll be using USB-C headphones. Motorola will at least include those in the box, as well as an adapter.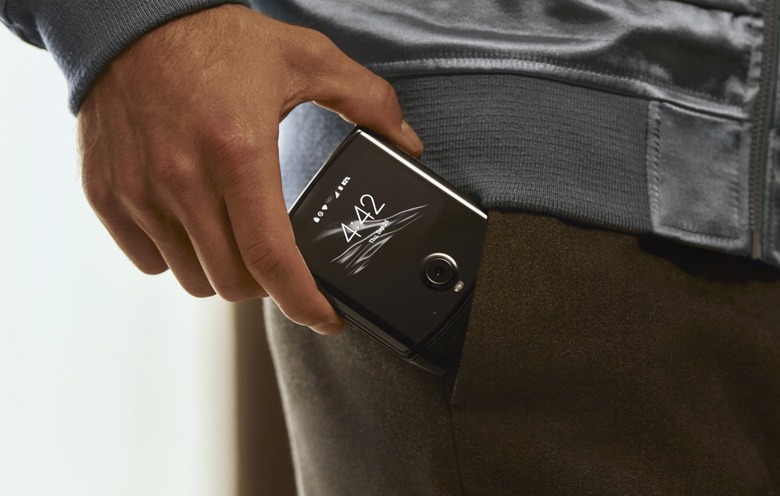 While the main camera is accessible when the Razr is folded, there's a front-facing camera above the display too. That's a 5-megapixel sensor with f/2.0 lens.
Motorola Razr 2019 availability, pricing and warranty
Now the thorny part. With the Galaxy Fold coming in at a cool $2k, we were mighty curious to see how much Motorola's foldable might set us back when it goes on sale. The bad news is that it's still on the expensive side: $1,499.99.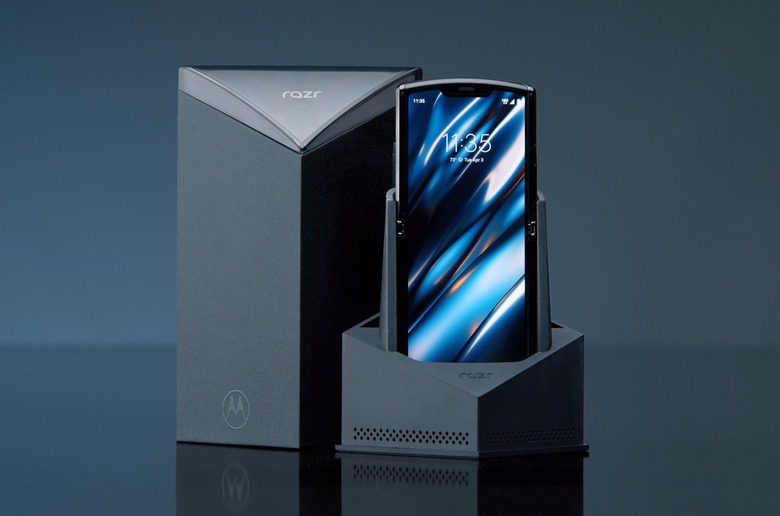 In the US it'll be a Verizon exclusive, with preorders kicking off on December 26; there'll be a payment plan option, $62.49 a month for 24 months. Shipping and in-store availability will start in January 2020, and you'll also be able to pick one up in select Walmart locations and from Motorola's own site. On the warranty side, there'll be a 24-hour turnaround replacement phone in the case of device or display failure, which covers any "display defects incurred during normal use." Anything that falls outside of that will cost $299 for a display replacement.
For Canada, meanwhile, Motorola says the new Razr will go on sale in early 2020; no word on which carriers might be offering it. Select European markets will get the smartphone in December, and Motorola has plans for Latin America, Asia, and Australia, too.