Motorola Pro+ Review
Motorola's DROID Pro made a play for the disloyal BlackBerry crowd, pairing Android with a QWERTY keyboard and touchscreen in a candybar form-factor. Blocky style and a low-res display did the Pro no favors, however, and so Motorola has returned with the Pro+, a smartphone targeting mobile professionals who don't want to be entirely embarrassed by their – or their IT department's – choice of handset. Read on for the full SlashGear review.
Hardware
QWERTY candybars have long been RIM's form-factor of choice, though as touchscreens have gained favor their size limitations have kept them as the niche option. Still, there's something to be said for the immediacy of punching out a quick email, IM or text message without having to slide out a keyboard, deal with an on-screen 'board or rely on voice dictation. The Motorola Pro+ is a reasonably compact 119.5 x 62 x 11.65 mm and 113g, with the rear panel a soft-touch plastic hatch that, though somewhat flimsy when removed, feels reasonably sturdy when clipped in place.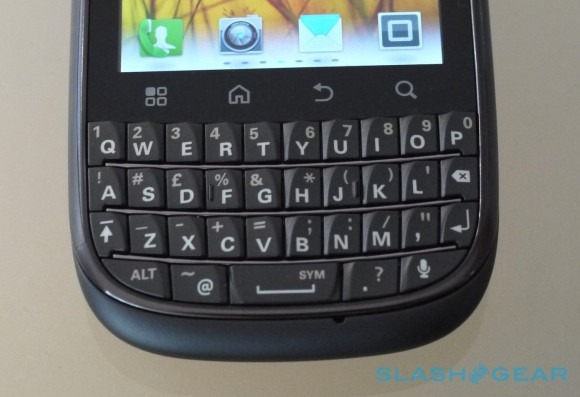 The top 60-percent of the fascia is taken up by the Pro+'s 3.1-inch display, running at 640 x 480 VGA resolution. The original Pro had a 3.1-inch panel running at 480 x 320 HVGA resolution, making it slightly narrower and longer. Underneath – with a row of touch-sensitive menu, home, back and search buttons sandwiched in-between – there's a four row physical keyboard that's as close as to a BlackBerry 'board as we imagine Motorola's lawyers would green-light. That's a boon to the end-user, of course, with the keys easy to press, tactile and sensibly laid out. Dedicated "@", period and voice search buttons are on the bottom row, along with a wide spacebar.
Motorola Pro+ Review:
A volume rocker is on the upper right edge, while a small and tricky to press power/lock button is on the top edge. The microUSB port for charging and syncing is on the lower left edge and inside there's 4GB of integrated storage, with a microSD card slot for boosting that by up to 32GB. On the back is a 5-megapixel camera with a single-LED flash.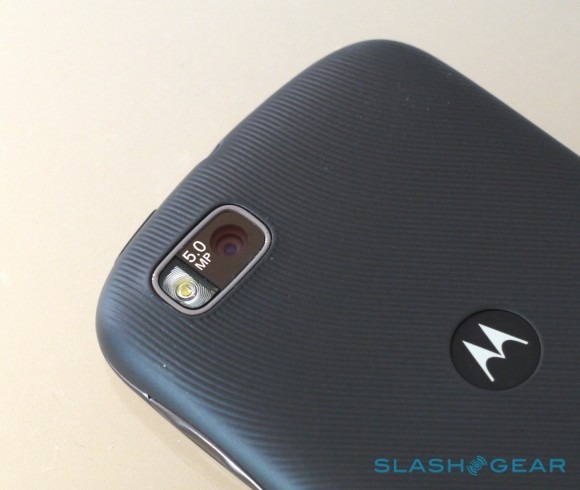 Connectivity includes dualband WCDMA (900/2100) with up to 14.4Mbps downloads and 5.76Mbps uploads supported, network depending, along with quadband GSM/EDGE. You also get WiFi b/g/n and Bluetooth 2.1+EDR, along with A-GPS, a digital compass, ambient light and proximity sensors, and a 3.5mm headphones jack. Keeping things running is a 1GHz single-core processor with 512MB of RAM.
Software
Living in the compact display is Android 2.3 Gingerbread with some Motorola UI tweaks. It's not obviously the MOTOBLUR-inspired rehash we're familiar with from recent consumer-centric handsets – Motorola obviously thinks enterprise users will be too busy juggling deals to bother with Facebook and Twitter, though the social networking features are present, just more discrete – more a new set of icons along with some useful keyboard shortcuts.
Menu + S, for instance, pulls up search, though you can also simply start typing from the homescreen and the Pro+ will automatically offer web searches along with local content and apps. There are also three optional homescreen layouts, easily flipped between, with different arrangements of icons and widgets to suit your business life and your personal life.
Motorola is pushing the various enterprise features in the Pro+, and if you're a cautious IT admin then there's certainly plenty to reassure you. As well as encryption for internal and SD card data, remote wipe (both selectively and completely), remote management of apps (installing, uninstalling and push upgrades) and device location tracking, with the right management system you can have Bluetooth and the camera permanently shut off or selectively deactivated based on the Pro+'s physical location. Not exactly functionality frequent texters drawn to the smartphone's physical keyboard might appreciate, but ideal for Motorola's true target audience.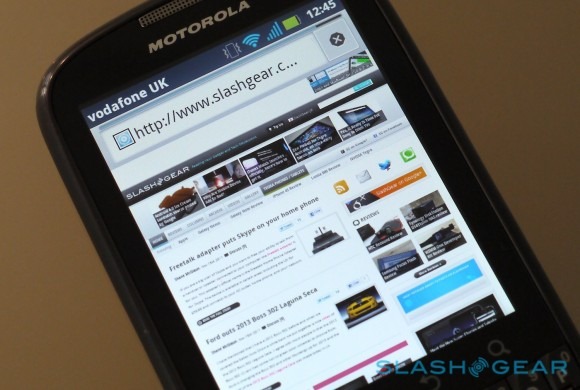 The screen size is the biggest limiting factor, with full webpages looking reasonable if requiring plenty of scrolling and zooming. Messaging is far more successful: Android has plenty of IM options, available through the Android Market, and Google Talk is preloaded along with the usual Gmail and other official Google apps. Motorola throws in QuickOffice and GoToMeeting.
One odd limitation was the Pro+'s refusal to allow us to set it up without a SIM card loaded. Whereas most Android devices will let you use them over WiFi only, the Pro+ seemingly demands a SIM as a user-identification measure.
Camera
Motorola has stuck with 5-megapixels for the Pro+, and the camera is solid if not exactly inspiring. The non-standard UI is compact but common settings like flash control and brightness are easily reached without digging through menus. There's no dedicated camera button, however.
Stills show accurate colors, though lacking the punch that we've seen in recent Samsung devices, for instance, while lower-light images suffer from the usual graininess. We had mixed results with the Pro+'s automatic exposure abilities, sometimes coming away impressed at the amount of detail preserved in pictures with both bright and dark content, while other times finding glare had crept in.
Video, meanwhile, is still limited to 720 x 480 resolution and 24fps, short of the 720p 30fps we're used to seeing on similarly-specified Android handsets. The resulting clips, however, are surprisingly good: there's a propensity to lens glare, as with stills, but changes in brightness are handled quickly and colors are accurate. One minor frustration is the location of the camera lens, in the extreme corner of the Pro+, which we found easily obscured with a finger as we held the phone during filming.
HDMI is still absent, and we still think that's a mistake: we can see mobile pros taking advantage of it to hook the Pro+ up to a TV or projector and run presentations directly from the smartphone. Still, you get DLNA support assuming your display of choice supports it too.
Phone and Battery
In-call audio was better than average, and the Pro+ stuck to a signal well. Unlike the original DROID Pro this isn't a CDMA device (the first Pro was a World Phone with EVDO Rev.A and UMTS for use when outside of Verizon's network), and Motorola is yet to announce whether a US version will be offered.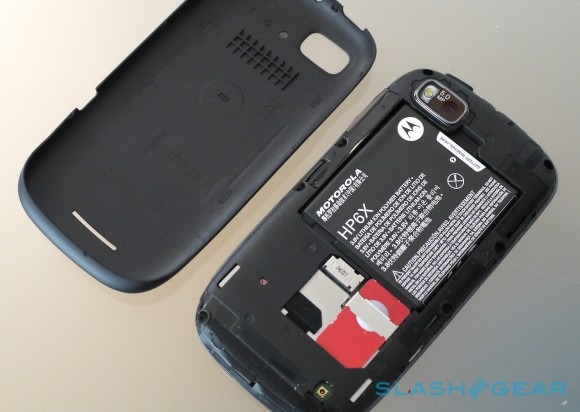 The 1,550 mAh battery is rated for up to 480 minutes talktime or 325 hours standby. In practice, the compact display kept power use to a relative minimum, and while the Pro+ won't last as long as a BlackBerry historically might, we still managed a couple of days before needing to recharge, even with push email turned on.
Wrap-Up
A niche device like the Motorola Pro+ might seem an odd direction for the company to take, but it's worth remembering that enterprise is still a huge potential market. Business users will appreciate the Pro+'s excellent keyboard, solid construction and – when it's not remotely disabled – decent camera, while their IT department will be able to sleep soundly with the various security extras baked in.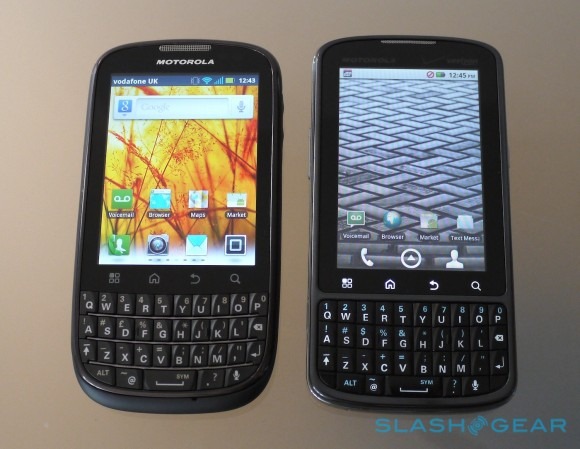 Everyday users wedded to their messaging could well have their heads turned by the physical QWERTY, though the comparatively small screen and lack of HD video recording undermine the Pro+ as a consumer device. Nonetheless, it polishes the rough edges of the original DROID Pro and makes for a credible option in a form-factor rarely offered by Android phones.
Thanks to Clove for the loan of the Pro+, available for order SIM-free and unlocked at £269+VAT