Motorola Photon Q Hands-on and Unboxing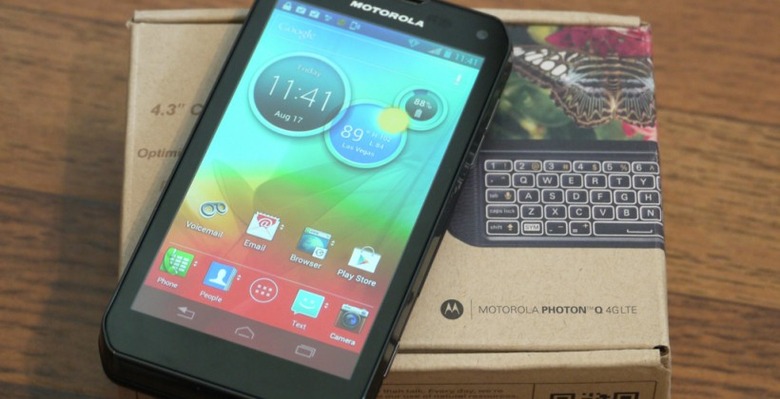 Motorola is bringing on a brand new slider to the market with a QWERTY keyboard and the ability to connect to 4G LTE in the Motorola PHOTON Q. We've got our hands on this device today and are finding its lovely 5-row keyboard to be just as nice as past DROID products we've seen from the manufacturer, brought on here with the speed of a dual-core processor and some nice rounded corners to keep you comfortable. The bright and sharp 4.3-inch 960 x 640 pixel resolution qHD display as well brings on a powerhouse for the manufacturer's line of like-minded smartphones.
You'll find that this device falls right in line with the whole Motorola family that's been released over the past few weeks and months. This means that if you've got a XYBOARD or a RAZR in one hand and this in the other, you'll know good and well that they're part of the same Motorola design generation. The slider is strong, the keyboard is lit all around each of the keys, and the whole package brings on the best Motorola device in this form factor that the manufacturer has ever produced.
The dual-core processor inside comes from Qualcomm, the Snapdragon S4 – an impressive beast in and of itself. You've also got a large LED notification light above the speaker grill that lights up whenever you've got something new coming in via email, Twitter, or whatever else you've got popping in on the mobile web. The back of the device is curved so as to allow easier gripping – new and a bit unique for the OEM.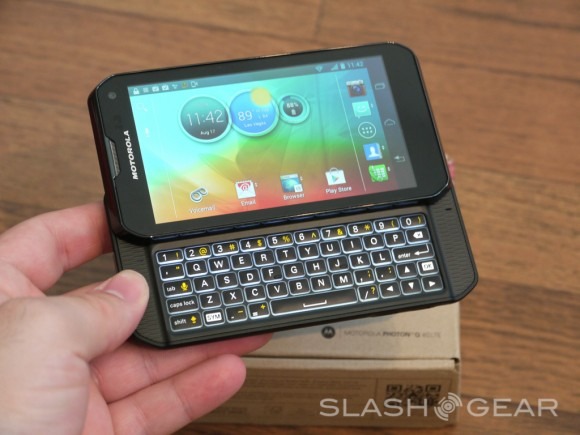 There's 1GB of RAM here, 8GB of internal storage, and a microSD card slot to expand your memory by 32GB. You've also got a VGA camera on the front, an 8 megapixel camera on the back, and a beast of a device all-in-all ready for your summer and fall season of mobile computing. Stay tuned as we give this device a once-over here on SlashGear with a full review coming up next week!