Motorola outs NYXgreen super-capacitor remote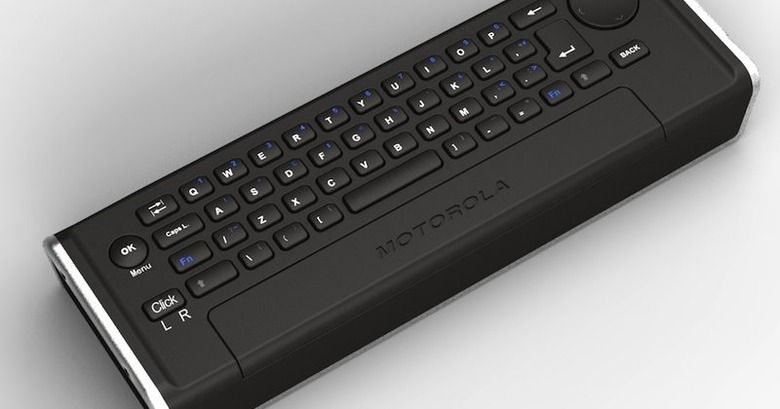 We may receive a commission on purchases made from links.
Motorola's remote control team has been busy, looking at not only how they can speed up text entry when using the company's IPTV set-top boxes but how we can avoid switching AA batteries every couple of months.  The former problem is easier, of course – their NYXboard slaps a QWERTY keyboard on the reverse of a regular remote – while the latter rather excitingly uses super capacitors and a fast-charging stand.
They're implemented in the Motorola NYXgreen, a traditionally designed remote that comes with a special charging stand.  Motorola reckons the NYXgreen can recharge in just sixty seconds, giving enough power for up to two weeks of use.  They're also collaborating with the Ångström Laboratory of Uppsala University to produce an algae-based battery for future models.
Both the remotes – plus another couple of more mainstream units – will be available by the end of 2010, though not of course to end-users.  We're hoping the super capacitors show up in domestic versions soon, though, since keeping a stack of AAs on hand is always frustrating.
Press Release:
Motorola Introduces New Range of IPTV Accessory Products at IBC 2010
New additions provide style, environmental efficiency and innovative tools to navigate the Internet Era of TV

September 10, 2010

AMSTERDAM – IBC 2010 – September 10, 2010 – Motorola, Inc (NYSE: MOT) today introduced the latest accessories for its industry-leading IPTV set-tops. Meeting the demands of today's connected TV experience; the range of remote control units (RCU) are on show at this year's IBC (Motorola stand, Hall 1 F30).

NYXgreen: The NYXgreen and dock is Motorola's environmentally friendly RCU option. Eliminating traditional batteries, the RCU is powered by super capacitors, which can last for up to two weeks of use after charging via USB for just 60 seconds. Available by the end of 2010, this unit is particularly well suited to the hotel environment where maintaining batteries proves costly and inefficient. Looking forward, Motorola is collaborating with the Ångström Laboratory of Uppsala University on an innovative algae battery.

NYXboard: The NYXboard combines the traditional remote control form with a full keyboard to create a more intuitive navigational experience for sophisticated interactive TV services as well as traditional linear TV. Able to control both the set-top and television set, the NYXboard has sensors to recognise which side of the remote is being used in order to activate the buttons accordingly. The keyboard function answers the demands of navigating content in the Internet Era of TV, such as searching through larger and more complex on-demand libraries or accessing web content on the TV. NYXboard will be available by the end of 2010

M-TREM and MRCU180-BL: Also on show at IBC is the high quality mid-range M-TREM and the MRCU180-BL, which adds backlighting to the buttons on this already popular unit. Both the M-TREM and MRCU180-BL are available to ship today.

"Motorola's latest RCUs are the perfect accessories for the Internet Era of TV, where consumers must find relevant content in the infinite catalog of entertainment. Whether they want a device boasting style, innovation or environmental efficiency, Motorola has a solution to meet their needs" commented Keith Kelley, vice president and general manager EMEA & Asia Pacific consumer premise equipment, Motorola Mobility.