Motorola One Hyper: $400 Android 10 phone with a pop-up selfie cam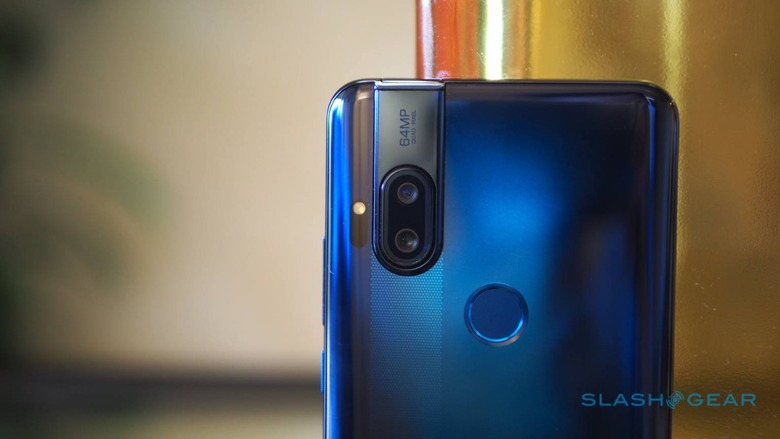 All eyes may be on the new Motorola Razr, but if your budget is more in the sub-$400 range and your focus is high resolution photography – and a pop-up selfie camera – then the Motorola One Hyper might fit the bill. Freshly announced today, the latest addition to Motorola's One series comes with a 64-megapixel camera on the back and an unexpectedly low $399.99 price tag on the box.
As for that box, you'll have to go to Motorola's own online store to actually acquire it. The Motorola One Hyper is compatible with AT&T and T-Mobile's 4G LTE networks in the US, but it won't be sold through either carrier, only unlocked from the phone-maker itself.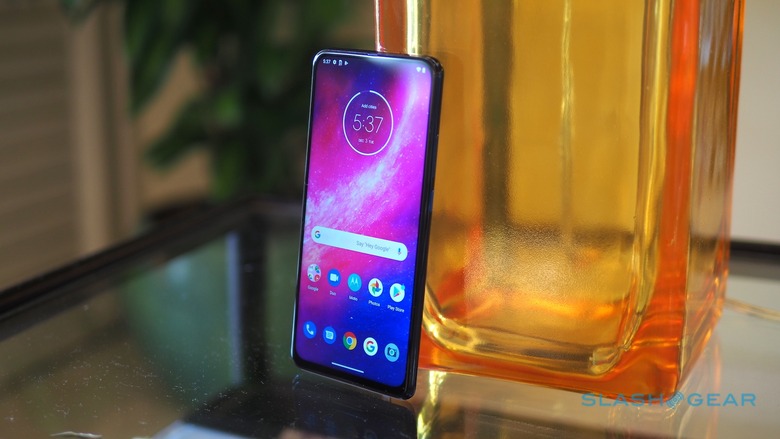 That's an intentional decision, according to Motorola's Doug Michau, executive director of North American product operations, and it comes mainly in response to customer feedback around previous One-series devices. Motorola has been criticized in the past, Michau concedes, because it hasn't offered its One phones in the US, at least officially. This way, it can keep the One Hyper's price down, but also offer it with a full 12-month warranty.
Motorola One Hyper cameras
Your money gets you an Android 10 phone with a 6.5-inch LCD IPS display, with no cut-out or notch for the front-facing camera or the earpiece. That's because Motorola has used a motorized selfie camera, itself packing a whopping 32-megapixels. Switch the camera app to selfie mode, or do Moto's twist-to-capture hand gesture, and the camera pops up in less than a second.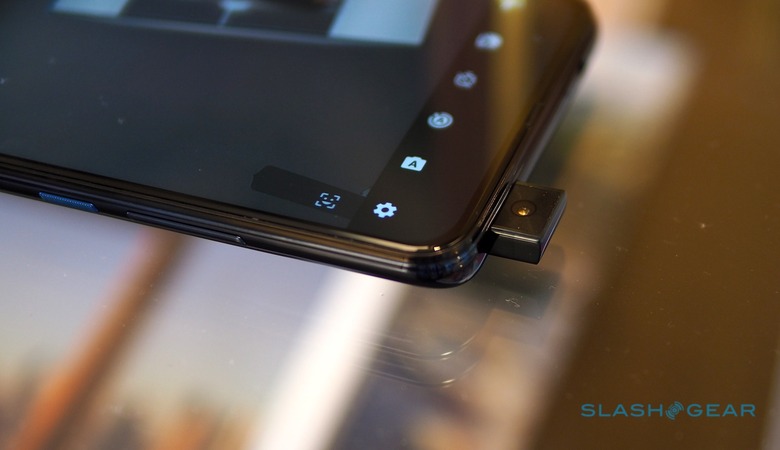 It makes a cute mechanical whirring noise as it does that, though Motorola actually added that artificially. If you want, you can turn it off and have the mechanism operate silently. Drop the Motorola One Hyper with the camera extended, meanwhile, and the various sensors will spot the fall and pull it back inside for protection.
Both the front and rear cameras can use quad-pixel binning, combining data from clusters of four pixels for better image quality. However you can switch over to a full resolution mode if you prefer. There's also a low-light Night Mode, with around 4x the light sensitivity, on both cameras: that automatically turns on when the conditions suit it, but you can override it if you prefer.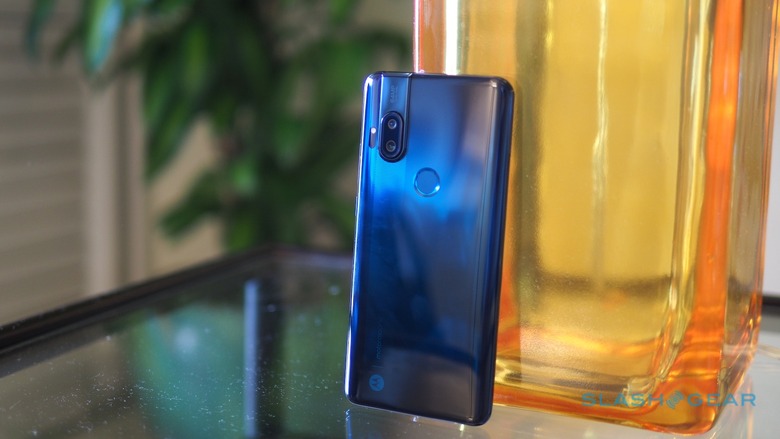 Finally, Motorola adds a second rear camera: an 8-megapixel sensor with a 118-degree wide angle lens. You get roughly 4x the amount of the scene into the frame versus the main camera, but no Night Mode shots: there's just not the resolution to do that without excessive grain, Michau explains.
Motorola One Hyper specifications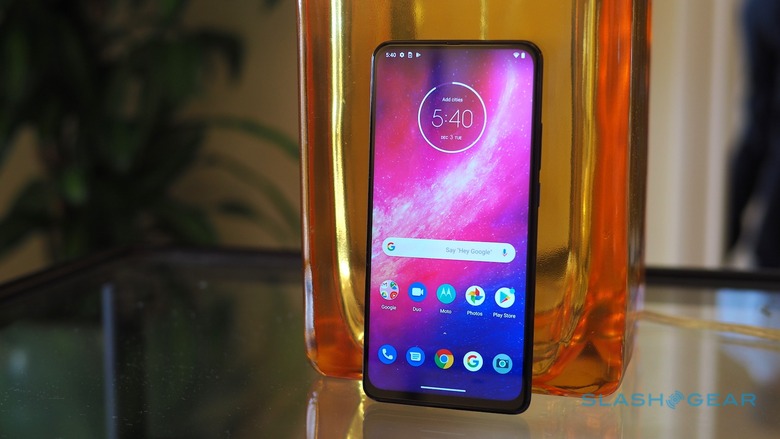 Beyond the cameras, the Motorola One Hyper is basically a recipe for hitting an affordable price point. The 6.5-inch display has a 19:9 aspect ratio and an 85-percent screen to body ratio; it's running at 1080 x 2340 resolution. There's a 4,000 mAh battery which Motorola says could last up to two days, and 45W USB-C PD Hyper Charging support. Sadly you only get an 18W charger in the box, and have to buy the more powerful charger separately.
Android 10 is running on a Qualcomm Snapdragon 675, with 4GB of RAM. There's 128GB of storage, and a microSD slot that can take up to 1TB cards. Motorola has included both USB-C and a 3.5mm headphone jack, and there's a single ported speaker on the bottom edge.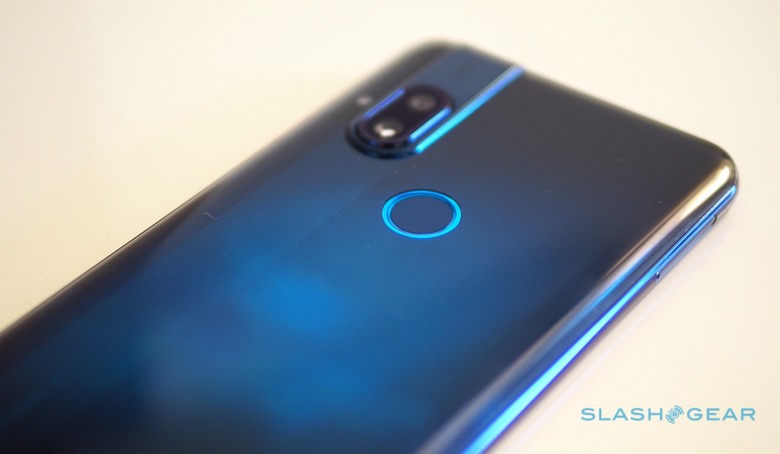 It's not waterproof, but there's IPX2 splash resistance for the plastic body. The fingerprint sensor is on the back, with a light-up ring around it. That can be customized to flash when you get new calls or messages, when new notifications come in generally, and to optionally adjust brightness according to the ambient conditions in the room.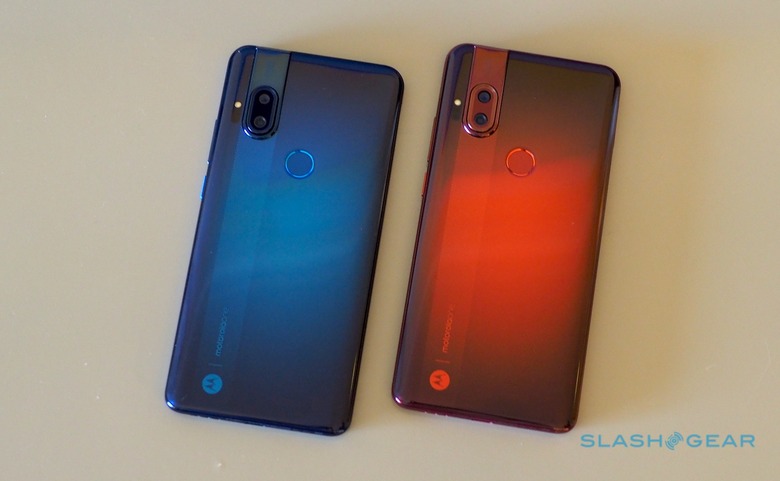 Motorola will offer it in two colors in the US: Deep Sea Blue and, later on, Dark Amber. Markets outside of the US will also get a Fresh Orchid metallic pink finish, too. It goes on sale from today, and while it might not sate your appetite for a folding phone, at under $400 it's a whole lot more affordable.