Motorola MOTO W233 Renew comes to T-Mobile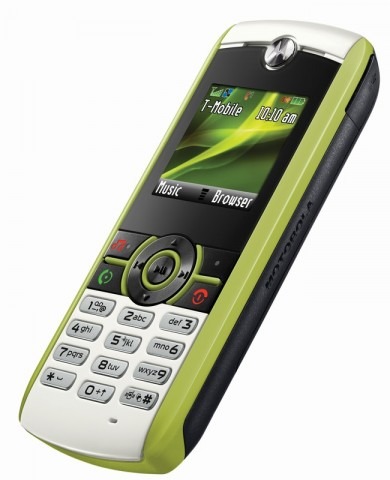 That T-Mobile would be offering the MOTO W233 Renew was not much of a mystery, considering Motorola's CES press shots of the recycled handset clearly showed the carrier's logo, but we now have an official announcement, release date and price.  The device – the casing of which is made from 100-percent recycled water bottles – is available from today, complete with 22-percent less packaging and paperless billing.
In addition, Motorola are calling the W233 Renew the "first carbon-neutral mobile phone", thanks to a deal with Carbonfund.org that offsets the carbon dioxide required to manufacture, distribute and operate the handset through investments in renewable energy sources and reforestation.  Inside the box – which is made from recycled paper, naturally – there's a prepaid shipping envelope for you to return your old handset for recycling, too.
It's not expensive to be green, either.  The Motorola MOTO W233 Renew is priced at $9.99 on T-Mobile USA when you take out a new, two-year service agreement.   More details on the handset here.
Press Release:
MOTO™ W233 Renew Now Available From T-Mobile USA

Exclusive to T-Mobile Customers, the Renew is the World's First Mobile Phone Made Using Plastics Comprised of Recycled Water Bottles

BELLEVUE, Wash. — Feb. 4, 2009 — T-Mobile USA, Inc., and Motorola, today announced the retail availability of the MOTO W233 Renew, the ideal mobile phone for eco-conscious consumers. A first of its kind, and initially exclusive to only T-Mobile® customers, the plastic phone housing for the Renew is comprised of recycled water bottles and is entirely recyclable.

The Renew, available for $9.99 with a two-year service agreement, is an affordable option for T-Mobile customers committed to making a difference and reducing their carbon footprint. Through an alliance with Carbonfund.org™, Motorola offsets the carbon dioxide required to manufacture, distribute and operate the phone through investments in renewable energy sources and reforestation, making it the first carbon-neutral mobile phone.

To save time — and energy — the Renew delivers a superior battery life experience with up to nine hours of talk time. In addition, the phone packaging and included in-box materials are printed on 100 percent post-consumer recycled paper. Also included in the box is a prepaid shipping envelope for customers to use to recycle their old device.

"We know that many of our customers are concerned about the environmental impact of the products they choose, and we share that concern," said Glenn Zaccara, senior manager of corporate responsibility, T-Mobile USA. "T-Mobile is working to find ways to make it easier for our customers to limit their impact on the environment, and our partnership with Motorola to exclusively offer the Renew is a positive step along this journey."

"We are excited to offer T-Mobile customers the first opportunity to purchase a mobile phone that takes the environment into account – from the product's design using recycled plastics, to reducing the packaging material by 22 percent, as well as our partnership with Carbonfund.org," said Jeff Miller, vice president, sales, Motorola Mobile Devices. "Priced affordably, Renew makes it easy for consumers to think about their impact on the environment when purchasing a mobile phone."

In addition to Renew, T-Mobile also offers customers the option to sign up for paperless billing. In 2008, T-Mobile partnered with the Arbor Day Foundation to plant trees for customers who signed up for this option and, to date, has planted more than 500,000 trees. T-Mobile also provides easy recycling options for all wireless users via its Handset Recycling Program. Handsets, wireless PDAs, wireless computer cards and wireless accessories can be dropped off at any T-Mobile retail store or can be mailed using a prepaid label that can be printed from T-Mobile's Web site at www.t-mobile.com/handsetrecycling.

One hundred percent of net proceeds from T-Mobile's Handset Recycling program are used to support the company's social investments through its T-Mobile Huddle Up program. For more information, visit www.t-mobile.com/huddleup.

Motorola also accepts any mobile phone or accessory for recycling, which helps recover valuable materials for reuse and reduces environmental impact. Simply print a postage-paid label at www.motorola.com/recycle to return older products to Motorola. A portion of the proceeds generated from returned mobile phones is distributed to schools participating in Motorola's Race to Recycle program. To learn more visit www.racetorecycle.com. Motorola's recycling program is part of the company's overarching commitment to sustainability.

The MOTO W233 Renew is available today at select T-Mobile retail stores and online at

www.t-mobile.com.

About T-Mobile USA, Inc.

Based in Bellevue, Wash., T-Mobile USA, Inc. is the U.S. operation of Deutsche Telekom AG's Mobile Communications Business, and a wholly owned subsidiary of T-Mobile International, one of the world's leading companies in mobile communications. By the end of 2008, 128 million mobile customers were served by the mobile communication segments of the Deutsche Telekom group—32.8 million by T-Mobile USA—all via a common technology platform based on GSM, the world's most widely used digital wireless standard. T-Mobile's innovative wireless products and services help empower people to connect to those who matter most. Multiple independent research studies continue to rank T-Mobile among the highest in numerous regions throughout the U.S. in wireless customer care and call quality. For more information, please visit http://www.T-Mobile.com. T-Mobile is a federally registered trademark of Deutsche Telekom AG.

About Motorola

Motorola is known around the world for innovation in communications and is focused on advancing the way the world connects. From broadband communications infrastructure, enterprise mobility and public safety solutions to high-definition video and mobile devices, Motorola is leading the next wave of innovations that enable people, enterprises and governments to be more connected and more mobile. Motorola (NYSE: MOT) had sales of US $30.1 billion in 2008. For more information, please visit www.motorola.com.