Motorola MILESTONE gets second German carrier: Vodafone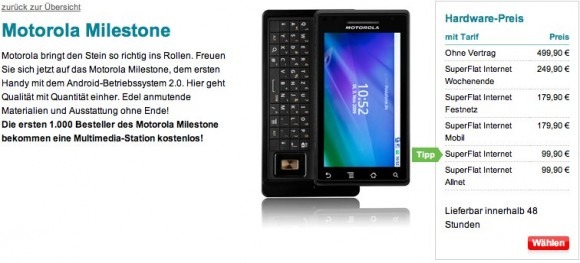 There's nary a sign of the Motorola MILESTONE (the Euro-spec version of the Motorola DROID we've been so enamoured of) in the UK or indeed across the majority of Europe, but German buyers now have a plurality of choice should they want an Android 2.0 handset.  Joining O2 Germany is Vodafone Germany, who are now listing the MILESTONE priced from €99 ($148) with a new contract.
Alternatively, the SIM-free MILESTONE is available on its own, priced at €499.90 ($746).  Aside from switching the DROID's CDMA EVDO Rev.A connection to an HSDPA one, the MILESTONE is the same model as on sale in the US; you also get an 8GB microSD card and 1,400mAh battery.
However, unless it's a mistake on the Vodafone Germany site, European buyers get a wired hands-free kit whereas US owners of the Verizon DROID found no such accessory in the box.  Vodafone are also offering a free multimedia station to the first 1,000 people to buy the smartphone.
[via Twitter]