Motorola MILESTONE 2 official: European DROID 2 due Q4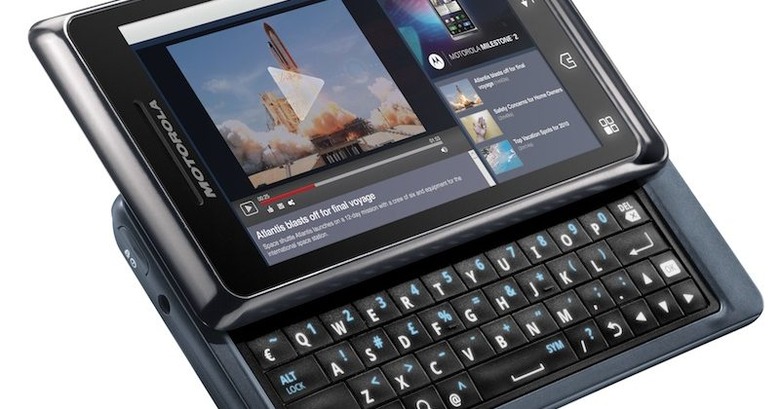 We may receive a commission on purchases made from links.
Motorola has outed the MILESTONE 2, and as you might expect it's both the successor to the original MILESTONE and the GSM version of the DROID 2.  As such, it gets the same 3.7-inch 854 x 480 touchscreen, Android 2.2, 5-megapixel camera and slide-out QWERTY keyboard, with the improved and redesigned keys.
There's also support for Flash Player 10.1, thanks to Froyo, but unlike the original MILESTONE Motorola has slapped its MOTOBLUR social networking system onto the phone.  We can't say we're especially excited about that, since it generally means future Android updates come later, but given Motorola has been dragging its feet with a new ROM for the original MILESTONE we guess it might end up making no difference whatsoever.
Elsewhere there's a 1GHz processor, WiFi b/g/n, Bluetooth and a microSD card slot, together with a 3.5mm headphone socket, 8GB of integrated storage and a bundled 8GB memory card.  The Motorola MILESTONE 2 will arrive in Europe in Q4, price yet to be announced.
Press Release:
Motorola MILESTONE™ 2 Gives You More for all your Smartphone Needs
September 01, 2010

BASINGSTOKE, September 1, 2010 –– Motorola today introduced MILESTONE™ 2 enhanced with MOTOBLUR™. The Android™ 2.2 device offers more speed, more connectivity, more messaging, more storage, more web with Adobe® Flash® Player 10.1, more multimedia and more personalisation than the original award-winning MILESTONE.

The powerhouse device features a 1Ghz processor, allowing users to sift through their content quickly, even when running multiple applications simultaneously or a number of open web browser pages. Respond to e-mails or texts quickly with an improved and more spacious QWERTY keyboard including larger keys and better tactility for easier typing. MILESTONE 2 also acts as a 3G mobile hotspot1 to connect up to five WiFi® enabled devices, so you turn practically anywhere into a hive of productivity.

"MILESTONE 2 offers more power, more speed, with an improved keyboard, so users can send, access and share information even quicker than before to manage their work and personal life," said Alain Mutricy, senior vice president, portfolio and device product management, Motorola Mobility. "This introduction not only reaffirms our commitment to innovate on Android but offers consumers the leading edge features they crave including fast web browsing, messaging, application downloads and multimedia."

MILESTONE 2 also features the latest version of Motorola's unique solution, MOTOBLUR, which makes it even easier to manage all of your emails, messages and social updates in one easy place with the additions of filtering, resizable widgets, added corporate security and a versatile battery manager.

Further enhancements to the original MILESTONE include 720p HD video capture and playback allowing you to capture life's moments in crystal clear detail, whilst the Adobe Flash Player 10.1 allows mobile users to experience millions of rich websites the way they were meant to be seen, including rich video and gaming content, and you can share all of your multimedia with DLNA compatible devices. The experience is rounded off with a connected music player delivering lyrics to your songs, additional artist news and information, as well as integrated social applications for sharing and giving recommendations. Users will have plenty of room for their content with up to 8GB internal memory and an 8GB microSD card inbox, expandable to 32GB.

A suite of Google™ mobile applications including Google Search™, Google Maps™, Gmail™ and YouTube™ are also integrated onto the device. Plus you have access to Android Market™ which has more than 70,000 applications.

Smart Accessories

The device ships with an 8GB micro SD card and wired headset, and owners can also download free the Motorola Media Link software that makes transferring your music and other multimedia from computer to phone even easier.

Make the most of Motorola's MILESTONE 2 at home, in the car or at the office with the optional smart accessories:

The car cradle is ready for the road. Simply drop in your MILESTONE 2 or original MILESTONE and it automatically turns into car mode. This gives one-touch access to your favourite in-car applications, including your handsfree calling contacts, your music, internet radio, podcasts, Google Maps™ with Navigation™ and more. Plug, play, drive and charge your MILESTONE 2 with the rapid in car charger that plugs into your cradle

The multimedia station is a stylish dock for your MILESTONE 2 or original MILESTONE. When docked, your phone automatically changes to desktop mode showing alarm clock and favourite multimedia applications such as a slide show of pictures. Desktop mode can be personalised allowing you to show the applications you want, all whilst charging your device.

Key MILESTONE 2 features include:

1Ghz processor now with 802.11n support

3G mobile hotspot – connect up to five other Wi-Fi devices

Latest version of MOTOBLUR

Adobe Flash Player 10.1

Multi-touch, pinch to zoom, double tap zoom

720p HD video capture and playback

5MP imager with dual LED flash

Up to 40GB of memory

3.5mm audio jack

Enterprise Exchange support

Improved design; more spacious QWERTY keyboard including larger keys and better tactility

DLNA / WiFi / Bluetooth® 2.1 connectivity

Additional functionality and apps include:

Full suite of the Google applications: Google Search, Google Maps with Latitude and Street View, Gmail, YouTube, and Google Talk™

Unified Google and Exchange Contacts

Navigation: GPS, Google Maps, E-Compass Latitude

Email Support: IMAP/POP3, Gmail, Yahoo Mail, Corporate Sync, Push Email

Quick Office document viewer

IM Support: Google Talk

Calendar: Exchange, Calendar

Availability

MILESTONE 2 will be available in Europe beginning Q4 2010.