Motorola: "if Android 4.0 ICS isn't better, we don't want it"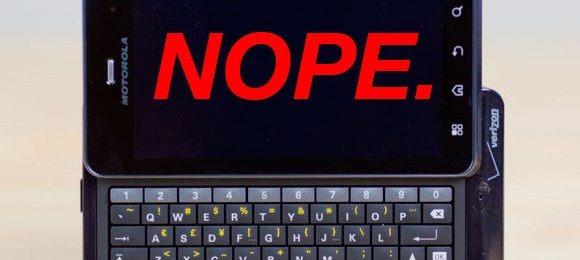 We may receive a commission on purchases made from links.
This week the folks at Motorola are doing their best to let the world know that their Android 4.0 Ice Cream Sandwich update schedule is based not on their inability to upgrade their devices, but on how willing they are to do so. In a bit of a sting to those who purchased Android devices with Motorola manufacturing over the past year or so, expecting the next Android system upgrade as they did so, the manufacturer has sent out a message to users that if ICS wouldn't "improve" their devices, they would not be updated. Have a peek at the full list below.
This update ushers in a near-final list of all the Android devices Motorola has on the market today. Included in the Android ICS upgrade list are all the devices you knew were going to upgrade in the first place – the DROID 4, DROID RAZR, and more, but what you might be surprised at are the list entries with DROID in the title that will be sticking with Gingerbread. Have a peek at everything between ICS and Gingerbread here: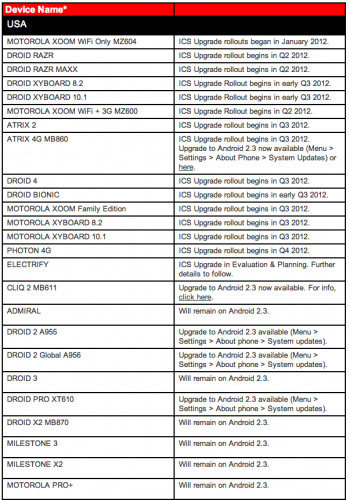 Of particular interest to DROID lovers will be the DROID 3, easily the highest powered device on the list that is not going to be upgraded. You'll find that the Droid X2 as well as the Droid 2 are also on the list for Gingerbread only, while one phone sits in the "maybe yes, maybe no" category: the ELECTRIFY. Interestingly enough, the PHOTON 4G (essentially the same phone on a different carrier) is scheduled for ICS in the fourth quarter of this year – carrier clout, perhaps?
"You're not alone. Good thing we've got a page for that. You can get the latest software upgrade news on our refreshed page.

You may be wondering why all devices aren't being upgraded to Android 4.0 (Ice Cream Sandwich). Here's the deal. We work very closely with Google and cell phone carriers for every software update. And, obviously we want the new release to improve our devices. If we determine that can't be done—well then, we're not able to upgrade that particular device.

Happy upgrading!" – Motorola
Stick with us as each of these devices get their next (and in some cases, their last) update ever in 2012. And check Motorola's full list for all the updates in all the countries across the earth – including such gems as the MOTOGLAM and the QUENCH!