Motorola EX225 Facebook Phone Spotted

Looks like it's Motorola's turn to out a Facebook phone, with the EX225 spotted crossing through the Bluetooth SIG complete with a QWERTY keyboard and a dedicated button for the social network. Packing 3G, a 3-megapixel camera and a 2.4-inch LCD TFT display, OS isn't specified but there are no obvious Android buttons. That suggests it may be a more mundane platform underneath the Motorola skin, such as BREW.
According to Motorola's somewhat nonsensical description, the EX225 is a "product for trendy generation who enjoy connecting to the world anytime, anywhere, and multimedia services on the go, all easy as via a fully personalized UI." Overall, then, this probably won't set the world alight – think more Vodafone 555 than HTC ChaCha.
Unwired View also caught glimpse of a different version, the EX226, which lacks the distinctive blue Facebook button but seemingly includes a second SIM slot. No word on when either handset might reach the market, nor indeed which markets it will grace, but we're guessing this will carry a budget prepay price-tag when it does arrive.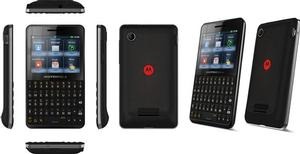 [via Recombu]