Motorola event invite set for HD device delivery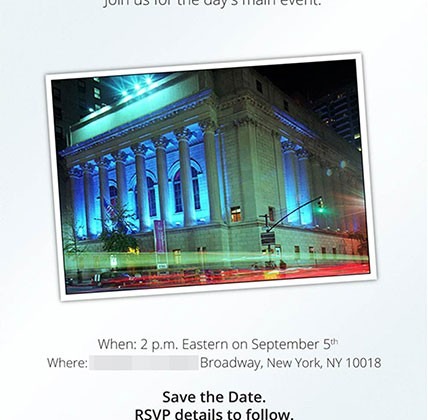 Looking forward to the start of next month, Motorola has set an event for the 5th of September with a high definition device for us to look at and adore. This device is teased by the title of the invite card "Motorola. On Display." and will be ready to rock in colorful New York City, New York. We must assume that this will be the Motorola RAZR HD, a smartphone with a display that's got more pixels than your retinas could ever hope to handle.
This event will be held in collaboration with Verizon, so we must assume that the name DROID will also be in the mix. This type of event generally reveals a set of devices or one single hero device, and in this case, we're betting on the second option. Motorola is ready to keep with the trend of boosting their Android-toting wares upward with pixels on screen, and now we're hoping the innards come with on the ride as well.
Verizon is one of several carriers also tipped to be receiving shipment of another hero device from the likes of Apple next month, so we must also assume that Motorola wants to make this launch happen as quickly and as smoothly as possible. Expect a device, again likely called DROID RAZR HD, to be coming to the carrier before mid-month, 4G LTE in tow.
Stick around the main news feed here on SlashGear or dive in to our Motorola portal to see if you can put the puzzle pieces together here before the main event. Motorola is itching to release a new smartphone and/or tablet, and you can bet it'll be bringing on a display that's sharper than we've ever seen delivered from them before. Stay tuned!