Motorola DROID RAZR MAXX HD hands-on vs RAZR HD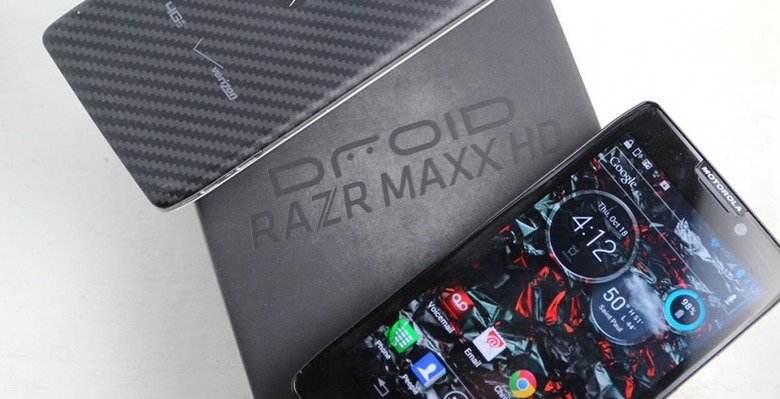 Verizon has been granted a couple more smartphones from the likes of Motorola and Google here with the massive battery-toting DROID RAZR MAXX HD right alongside its near-identical brother the RAZR HD (without so much MAXX). The difference between these two devices is just about as slight as it could possibly get – the MAXX has twice the internal storage (32GB instead of 16) and a giant 3,300mAh battery instead of the 2,530mAh unit the standard HD has. The weight and thickness are absolutely negligible – even when you've got them both in your hands it's difficult to guess which is which, believe it or not.
The max is 0.37 inches thick and 5.54 oz (157 g) heavy while the smaller of the two is 0.33 inches thick and 5.15 oz (146 g) heavy. Have a peek at these photos to see how small that difference really, truly is. It's as if Motorola is playing a joke on us – but the differences are there, and that battery is indeed in there with that much extra power. NOTE: We'll be doing an extended battery test over the next few days on the MAXX HD as well – stay tuned for that!
You'd be well off taking a peek at our DROID RAZR MAXX full review to understand how these two devices are going to work for you, and make note of this fact as well: their software builds are the same. They've got the same version of Android, the same Motorola additions and tweaks, and the same apps. There's no software differences between these two devices.
Remember also that Motorola has made it clear that they'll be bringing each of these RAZR devices (including the DROID RAZR M as well) up to Jelly Bean very, very soon. That means Android 4.1 and a bit of the new Google Now system as well. The MAXX HD and the HD will be on sale at Verizon immediately if not soon nationwide as well – head out and grab one!