Motorola DROID RAZR M hands-on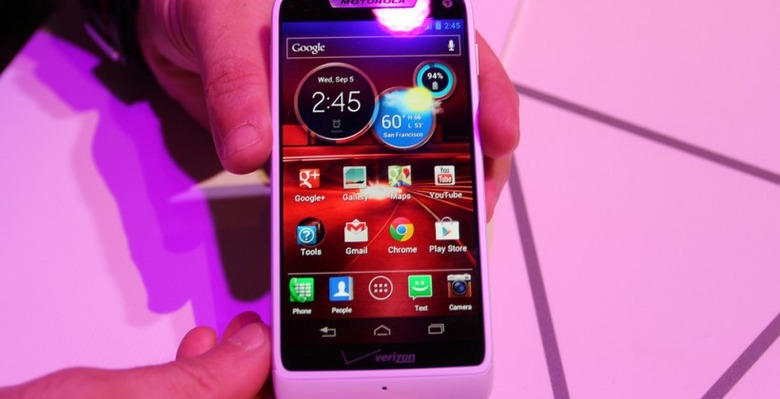 The Motorola DROID RAZR HD and RAZR MAXX HD may have been the biggest talking points during Motorola's press event today, but the DROID RAZR M kind of stole the show in its own little way. Motorola has made a big deal about the RAZR M's edge-to-edge screen, which is something we didn't expect to see in a budget-priced handset. That's the thing, too: despite its rather noteworthy features, the RAZR M will be available from Verizon for just 99 smackers.
In comparison to the original DROID RAZR, the RAZR M is a bit smaller while keeping the same dimensions on the screen. The 4.3-inch Super AMOLED Advanced Display will undoubtedly be turning some heads as it spans almost the entire width of the device. The DROID RAZR M will come running Ice Cream Sandwich at first, but Motorola was promising Jelly Bean updates during its press conference, so it stands to reason that we can expect an update to the elusive Android 4.1 at some point in the near future. Additionally, the RAZR M is one of the first devices from Motorola that comes with Google Chrome pre-installed.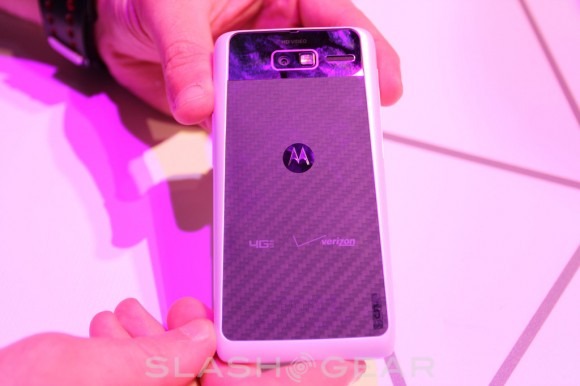 On the inside, we have a Qualcomm Snapdragon S4 processor, just the like the leaks before today claimed. There is also 1GB of RAM to work with, along with 8GB of internal storage – a nice boost considering that most budget-handsets only come with 4GB. The 8-megapixel camera is capable of shooting video in 1080p, and with Kevlar backing and Gorilla Glass on the front, the RAZR M should be able to stand up to a few tumbles, just like we would expect from present-day Motorola devices. To top it all off, this device comes complete with NFC and 4G LTE functionality, with Motorola looking to take advantage of Verizon's 4G LTE network.
All in all, it seems like the DROID RAZR M isn't a bad handset for the budget-minded consumer, especially if you like the fact that the screen takes up most of the front. It's available for pre-order today from Verizon and it will be launching next week, so you don't have to wait that long to get your hands on one. Keep it right here to SlashGear for more news on the Motorola DROID RAZR M!