Motorola DROID 4 Review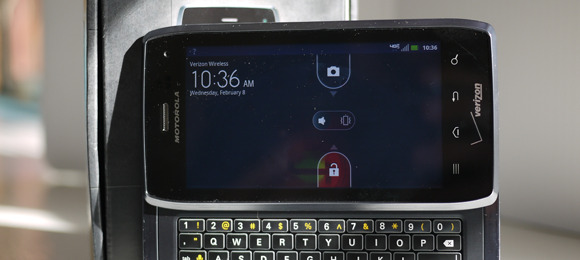 Finally the one-two-three punches of Verizon's 4G LTE, a dual-core processor, and an 8 megapixel camera capable of 1080p video has come to the DROID line of QWERTY keyboard-having Android devices. Those of you who are die-hard fans of the DROID line know that Verizon and Motorola have dipped in a few devices that strayed from the original power combo complete with QWERTY and may have had hard luck picking up the DROID 3 which, despite its having a decent processor and a fair but not too fantastic camera on the back, had no LTE and was released when Motorola's user interface change-over was at a bit of a strange point. Now the QWERTY DROID line is back and stronger than ever, and if you're not a person who minds the massiveness of the chassis here, you're in for a treat.
Hardware
The display here is a massive 540 x 960 pixels on 4-inches of space, putting this device at 275 pixels per inch. That's quite impressive when it comes down to it, it being not quite as rich with pixels as the Galaxy Nexus (at 316 ppi) but certainly ready to contend with the DROID RAZR whose same resolution sits on a slightly larger display, putting it at just 256 ppi. At this close range you wont notice the difference unless you're holding these devices up next to one another, but the difference is there.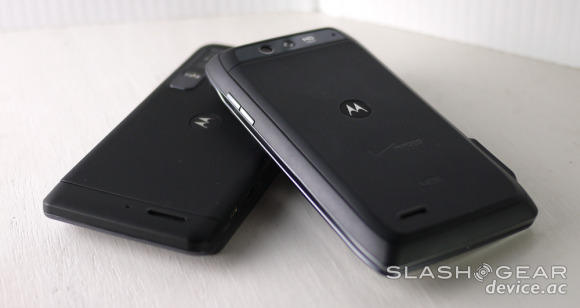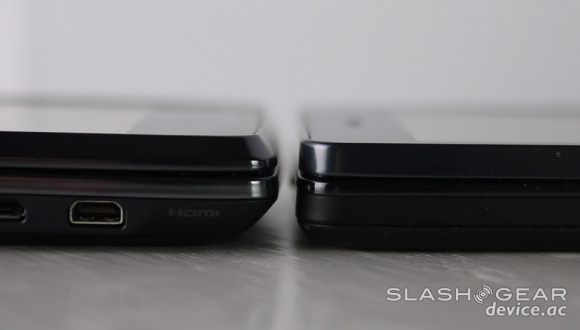 Other than that you've got what's actually a slightly larger device than the DROID 3, this bulk coming from the additional plastic around the edges, seeming to have been added here for stylistic purposes instead of necessity. The device is almost exactly the same height as the previous DROID QWERTY and the keyboard is similar, but quite a bit nicer when you've used it for a bit. While the older DROID keyboards did seem excellent when they were first brought forth on the first couple of units, the age started to show harshly on the DROID 3. Here there's a new amount of space and a sensor-activated light surrounding the keys.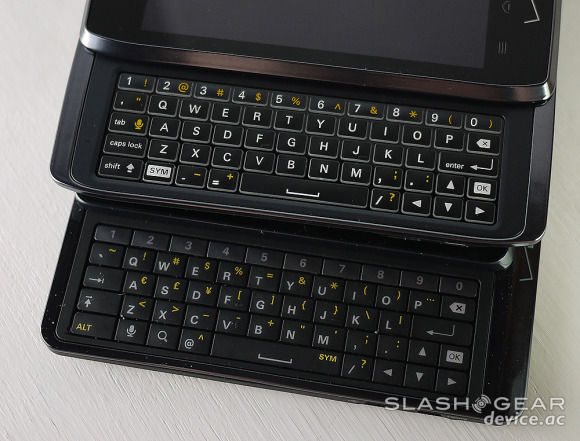 The processor is the same one that's in the DROID RAZR and several devices that've been released in the past few months, that being the Texas Instruments OMAP 4430 dual-core 1.2GHz SoC. This chip will get you where you need to go and will allow you to play essentially any game you're hankering for on the Android Market without a hitch. Consider these Quadrant Advanced results – Total 2747, CPU: 6957, Memory: 2586, I/O: 3046, 2D: 283, 3D: 862, and note the comparatively powerful results when you consider the rest of the Android devices released with this same OMAP processor very recently – looking quite similar.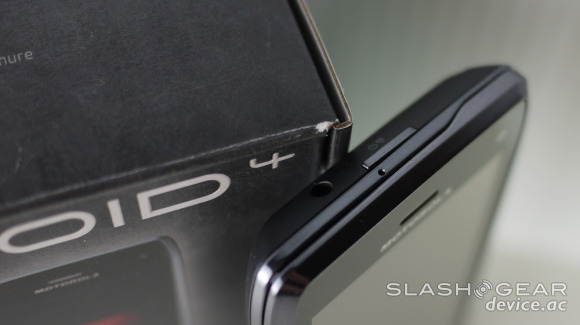 Software
Inside you've got your regular suite of Motorola, Google, and Verizon apps, no real surprises in the mix, and all of it comes complete with Webtop. Motorola devices released inside the last year have all had their proprietary desktop-like software installed aboard, this working through your HDMI-connected display with the device itself acting as an intermediary. If you've got any of the suggested docks you can turn your DROID 4 into a standalone computer with your HDTV as your monitor and a USB-connected mouse and keyboard as your controllers. Alternatively you can use the DROID 4 as a trackpad to control your cursor on the display. Check out a demonstration of how this all works in our review of the Motorola Lapdock 100.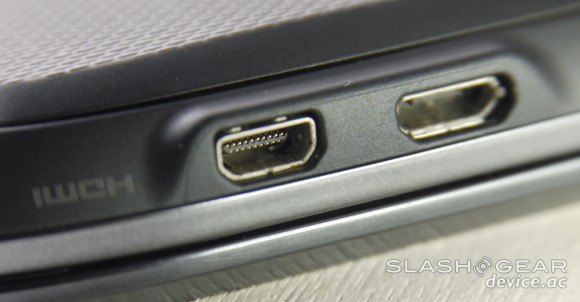 Motorola devices are connected with a series of basic cloud-connected services such as My Music which connects you to your computer at home via the web. This and the rest of the cloud suite on the DROID 4 are connected via MotoCast, a service which connects all of your Motorola devices via an interface you download for your desktop machine at MyMotoCast.com. Also prominent in the apps drawer is an instant link to your MOTOACTV, a device which acts as both a music player and a fitness tracker which you can attach to your arm, your wrist, or wherever else you'd like to carry it.
[vms e64c3a14f85d225a046f]
Camera
Motorola is back to having a decent beast of a camera here with 8 megapixels on the back along with 1080p video capabilities. Though it's not the most perfect setup we've seen with such specifications, it certainly out-does its predecessor. Have a peek at some demonstrations of the DROID 4's back-facing camera here and behold the loveliness.
[vms 3d08d1f18da62f9bb26e]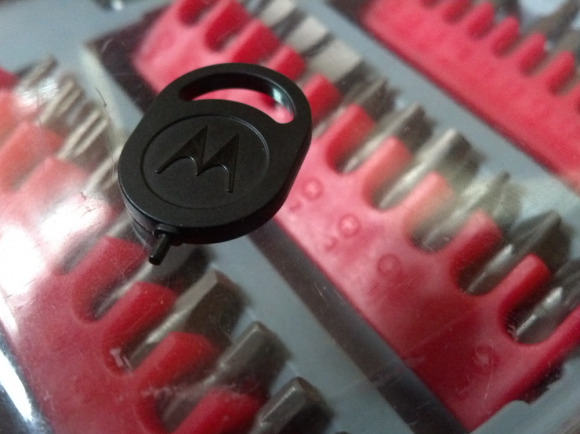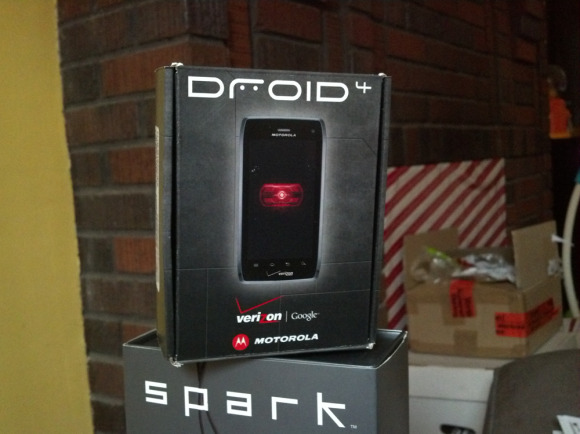 Phone and Battery
The battery on this beast is a full 1785 mAh placing it right beside the original DROID RAZR in battery rating and capturing just about as much time in the wild as well. When you're using this device for streaming video you'll get a few hours out of it – enough time for about a full movie and a half. If you're using it heavily throughout the day, you'll get something like 6-8 hours. If you're using it lightly, for email and web browsing exclusively that is, you'll be getting 10 hours or more no problem. One charge a night should be good for most users.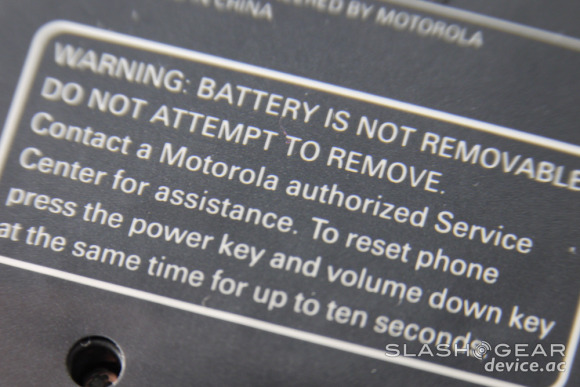 Wrap-Up
The DROID 4 is the bulkiest device on the Verizon network here at its launch, yet at the same time it's got the nicest keyboard Motorola has ever offered on a smartphone. If you're so in love with the basic QWERTY DROID line that you've sworn off all other smartphones, it's time to upgrade to this model. If you're looking for the best Motorola device on Verizon, I'd recommend the RAZR MAXX. It doesn't have a QWERTY keyboard, but it does have a battery that'll last you until kingdom come, and you're working with essentially the same innards as this device otherwise.

This device certainly deserves to have a spot amongst the high-end line of Android devices at its release, but will be forgettable within a few months at the dawn of the quad-core smartphone and the start of the Ice Cream Sandwich having Androids being released in bulk closer to the middle of the year. You've got the option of grabbing the Galaxy Nexus from Samsung on Verizon right now as well if you want the newest Android software – DROID 4 is still stuck on Android 2.3.5 Gingerbread – but that would require you to leave your beloved Motorola and go Samsung's way, a very different beast indeed.