Motorola DROID 2 Caught In Wild [Video]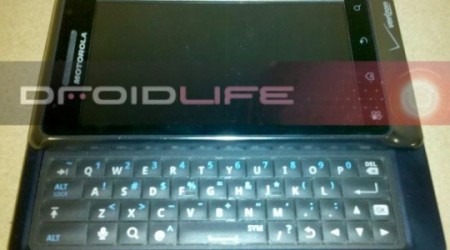 Despite its age, the Motorola DROID remains one of our favorite Android handsets, and so you can bet we're keen to see the replacement Moto have lined up for Verizon.  According to DroidLife you're looking at the Motorola DROID 2 now; a 3.7-inch touchscreen display like before, 750MHz OMAP processor and a full QWERTY keyboard, but some layout changes that should hopefully make the DROID 2 a little easier to type on.
Video demo after the cut
There's also tipped to be 8GB of onboard storage, with Motorola throwing an 8GB microSD card into the box too.  Optics are still courtesy of a 5-megapixel camera, and contrary to previous rumors there's no HDMI port and, disappointingly, no sign of Android 2.2 Froyo; this prototype is running Android 2.1.
Still, that could change before the smartphone's release.  Opinion over at Android Community is that the DROID 2 has lost some of its predecessor's charm, and Motorola's decision to leave key specs like the camera unchanged isn't helping matters.
[via Android Community]