Motorola DEFY is rugged Android candybar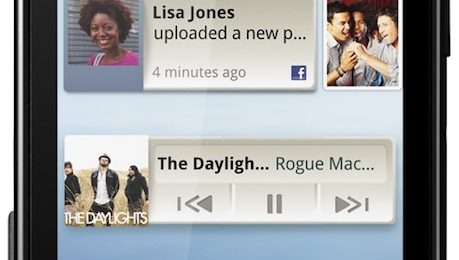 The MILESTONE 2 isn't the only new Motorola Android phone around today; there's also the Motorola DEFY, a ruggedized MOTOBLUR device with a 3.7-inch touchscreen and 5-megapixel camera with autofocus and flash.  A bigger sibling to the North America-only Motorola i1, the DEFY is dust proof and water resistant, together with having a scratch proof glass screen.
Since it's all very well being able to whip out your cellphone in a sand storm and dial, but then no use if nobody can hear you, Motorola has thrown in twin microphones and their CrystalTalk PLUS DSP for some extreme noise reduction.  Flash Lite, DLNA streaming support and access to the Android Market round out the main specs.
No word on pricing at this stage, but the Motorola DEFY will arrive in Europe in Q4 2010.
Press Release:
BASINGSTOKE, September 1, 2010 – Motorola today announced DEFY™ enhanced with MOTOBLUR™. Motorola DEFY is a slim, pocketable Android™ smartphone that comes equipped with advanced Web-browsing capabilities and a 3.7″ high-resolution touch screen display that provides edge to edge views of your favorite photos, videos and websites.

"DEFY has been designed to handle everything that life throws your way," said Alain Mutricy, senior vice president, portfolio and device product management, Motorola Mobility. "With all the features consumers expect in a smartphone, DEFY packs advanced web browsing, entertainment and messaging capabilities as well as a design that withstands the challenges of everyday life."

Motorola DEFY is dust proof and water resistant protecting you from life's little challenges like a sudden rain shower, spilt drink, or dropping your phone in the sand. It also features a large, resilient display that has outstanding protection against scratch damage. CrystalTalk® PLUS vanquishes noisy environments with two microphones which intelligently filter out background noise and amplify your voice so you don't have to shout.

Motorola DEFY also features the latest version of Motorola's unique solution, MOTOBLUR, which makes it even easier to manage all of your emails, messages and social updates in one easy place with the additions of filtering, resizable widgets, added corporate security and a versatile battery manager.

An Adobe® Flash® Lite® enabled browser and 3.7″ WVGA screen allow users to view more of the Web than standard browsers. Create your own entertainment with the 5-megapixel camera with flash, digital zoom and auto focus that lets users capture the best of their social life. DEFY is Digital Living Network Alliance (DLNA)-enabled to stream, store and share content with compatible devices around the home like HDTVs, game consoles and PCs.

The Connected Music Player brings song lyrics to your songs and enables you to discover, buy and download music, right from your phone. Choose from over 70,000 applications, widgets and games from Android Market™ and enjoy access to Google™ services including Google Search™, Google Maps™ and Gmail™.

Availability

DEFY will be available in Europe beginning Q4 2010.