Motorola Content With Context Concept: "You Can Click On Pants" [Video]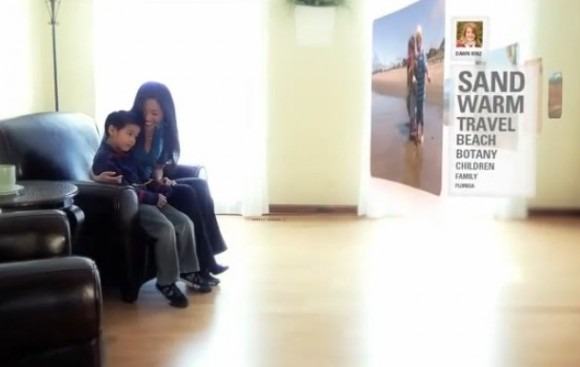 Motorola have been polishing their crystal balls again, and have jumped onboard the media sharing bandwagon with a new concept of what content consumption might look like in 10 to 15 years.  The Motorola "Content with Context" concept basically pulls together some pretty common themes – "natural selection", "intuitive sharing" and "effortless exploration" – and ties that up with Minority Report style floating displays and intelligent content prediction.
Video demo after the cut
The project isn't just to show that Motorola have an imagination; the new concepts are timed to coincide with the 2010 Cable Show, and Motorola are hoping that they'll be able to persuade their cable customers and telcos that they really want to invest in new sharing and media consumption tools.  Now the stuff shown in the concept video isn't ready yet, but what Motorola do have is a new "Motorola Medios" package for service providers to deliver multi-screen content.
That's not all that interesting to us, perhaps – though it will impact on what sort of services arrive through our set-top boxes over the next 1-5 years – but we're hoping some of the content prediction and user pattern recognition gets funnelled down into Motorola's consumer product line.  The company have already experimented with that in the shape of MOTOBLUR, but there's still plenty of room for improvement.  After all, as one person in the video below enthuses:
"You can click on pants, and the next day those pants show up at your door."
Motorola "Future of Video" Vision concept:
Motorola Medios overview: