Motorola Calgary to be first Verizon Android phone; Flash & Inferno canned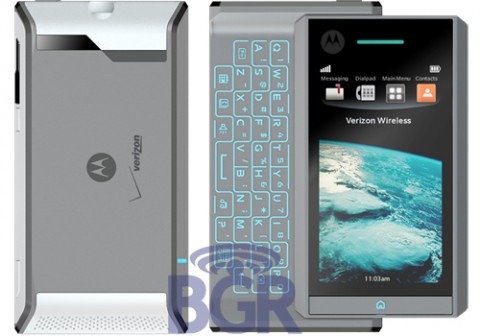 The Motorola Calgary, renders of which leaked back in December 2008, is to be Verizon Wireless' first Android handset.  That's the word from the Boy Genius' tipsters, who have also given an update on two axed devices from that original leak as well as a new luxury phone called Rolex.
The Verizon Motorola Calgary will apparently focus on social networking, and as the render suggests have a full QWERTY keyboard.  Motorola announced that they would be adopting the Android platform at the start of the year, though still develop Windows Mobile devices.
The two canned handsets are the Flash, a slickly minimalist candybar with touch-sensitive controls and a touchscreen, and the Inferno, a clamshell touchscreen device with a transparent flip.  No reason for the decision was given.
Finally, news of a new premium handset called the Motorola Rolex has emerged, which apparently has the same display as the Motorola Aura, and a body made almost completely of toughened glass.  A screenshot is in the gallery below, but other details are unknown.
[via Android Community]