Motorola Backflip official; CLIQ getting Android 2.1; DROID getting Flash 10.1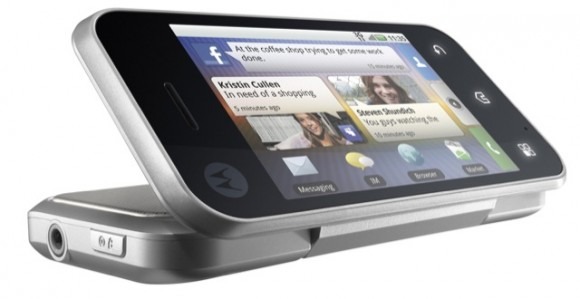 We may receive a commission on purchases made from links.
SlashGear is at Motorola's press conference at CES 2010 today, and the company has just announced the Motorola Backflip.  While they're not mentioning carrier partnerships today, it's worth noting that the Backflip image shown now is the same as AT&T showed earlier today.  Meanwhile Moto also confirmed that the CLIQ (aka the Motorola DEXT) will be upgraded from Android 1.5 to 2.1, and that Adobe Flash 10.1 will be pushed out to the DROID in future releases.
Meanwhile MOTOBLUR – which is already available on the CLIQ and will be preloaded on the new AT&T Backflip – will apparently be updated to "much greater capacity" in 2010.  We're presuming that means more interaction with different social networks, and perhaps sorting out some of the usability issues we've complained about.
As for the Motorola Backflip, it has a 3.1-inch HVGA display, AGPS, WiFi b/g, Bluetooth 2.0 and a 5-megapixel camera; the name comes from the unusual way the QWERTY keyboard folds back against the screen section, leaving the keys exposed.  That also allows you to use it as an alarm clock or a standalone PMP.  On the back of the screen section there's a touch-sensitive navigation pad Motorola are calling BACKTRACK; that lets you navigate webpages and lists without obscuring or smudging the touchscreen with your fingers.
Initially, like the CLIQ, the Backflip will run Android 1.5, so we'll have to wait for the 2.1 update for this new device as well as the older model.  The Backflip will apparently see a global launch kicking off in Q1 2010; AT&T have said to expect a release early this year.  No word on pricing.
Press Release:
Motorola Globally Introduces BACKFLIP™ with MOTOBLUR™ – Taking Smart in a Whole New Direction

BACKFLIP bends the smart phone rules with a unique reverse flip design and BACKTRACK™ feature for speeding through MOTOBLUR social streams

January 06, 2010

LAS VEGAS – CES – Jan. 6, 2010 – Today Motorola, Inc. (NYSE: MOT) announced the latest addition to its Android™ portfolio: BACKFLIP™ with MOTOBLUR™. The Motorola BACKFLIP, which combines the social saviness and personalization of MOTOBLUR with the multitasking performance of a smart phone, will be available in North America, Latin America, Europe and Asia beginning in Q1 2010. The unique reverse flip design makes it easy to enjoy videos, music and photos, and the QWERTY keyboard allows you to blast through e-mails, texts, news feeds, social network messages and more.

"Since introducing our first MOTOBLUR-based device, we've remained focused on differentiating the Android experience and bringing it to new carrier partners around the globe," said Sanjay Jha, co-CEO of Motorola and CEO of Motorola Mobile Devices. "BACKFLIP maximizes the multi-tasking and multi-functional potential of MOTOBLUR with its unique design elements, making it as smart as it is social."

MOTOBLUR is Motorola's Android-powered content delivery service created to make phones more personal and socially smart. It is the first and only solution to sync contacts, posts, messages, photos and much more—from sources such as Facebook®, MySpace, Twitter, Gmail™, work and personal e-mail, and LastFM—and automatically deliver them to the home screen. Content is fed into easy-to-manage streams allowing you to spend less time managing your life and more time living it.

BACKFLIP is designed around the MOTOBLUR experience and provides multiple features to keep phone conversations moving. Multi-tasking has never been easier with BACKFLIP's reverse-flip QWERTY keyboard and high-res 3.1" HVGA screen—letting you see more and respond faster. Navigate quickly and easily through menus and features with the new and unique BACKTRACK™ feature. BACKTRACK is a touch panel located on the other side of the device, offering you a new way to scroll through—the Web, texts, e-mails and news feeds without obscuring the home screen.

The truly original design allows BACKFLIP to create new ways to enjoy photos, music and more. In the reverse-flip, tabletop mode, listen to music or view videos hands free. The digital picture frame mode lets you show off your latest adventures. You can even turn BACKFLIP into a bedside alarm clock for your morning wake up call.

BACKFLIP comes fully equipped with the MOTOBLUR features you know and love. The full HTML browser on BACKFLIP's 3.1" high-res, touch display will be sure to impress, and, with 3G speed and Wi Fi access, you will never be out of the loop. Android Market™ gives you access to more than 18,000 apps and widgets, so you are free to customize BACKFLIP to your liking. Capture the moment with BACKFLIP's 5 MP camera with flash and easily upload to your favorite photo sharing or social site. Additional extras such as aGPS and stereo Bluetooth1 make BACKFLIP the complete package.

Finally, MOTOBLUR provides end-users with convenience and peace of mind, as lost devices can be located from a secure personal information portal and even remotely erased if necessary. Then, one user name and password brings back your contacts, messages and connectivity to your previously configured networks and email providers.

BACKFLIP with MOTOBLUR will be available in North America, Latin America, Europe and Asia beginning in Q1 2010. For specific regional availability and pricing, contact your local Motorola representative. To experience BACKFLIP, please visit www.motorola.com/backflip.

For more information, product specifications and images of BACKFLIP, please visit Media Center Fact Sheets. For multimedia assets from CES, visit CES 2010 Press Kit. Also follow us on Facebook and Twitter.

Certain features, services and applications are network dependent and may not be available in all areas; additional terms, conditions and/or charges may apply. Contact your service provider for details.

1 This device supports Bluetooth A2DP, HSP, and HFP profiles. For Bluetooth devices to communicate with one another, they must utilize the same Bluetooth profile. To determine the profiles supported by other Motorola devices, visit www.motorola.com/bluetooth. For other devices, contact their respective manufacturer. Certain Bluetooth features including those listed may not be supported by all compatible Bluetooth-enabled devices, and/or the functionality of such features may be limited in certain devices, or by certain wireless carriers. Contact your wireless carrier about feature availability and functionality.