Motorola ATRIX 4G Unboxing and hands-on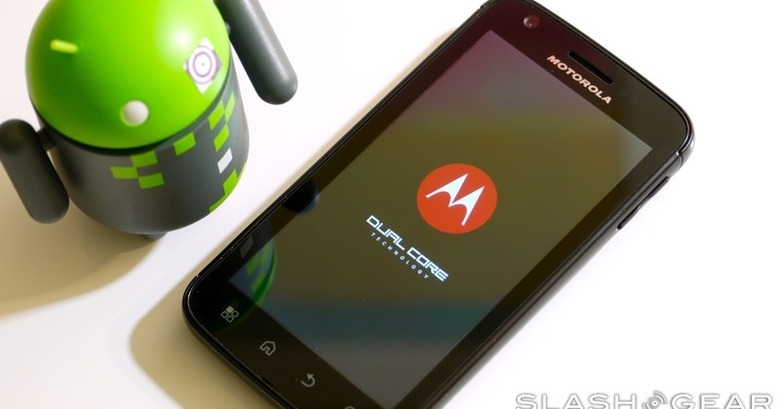 CES 2011 had its share of stand-out products, and Motorola's name was on a number of them. The Motorola ATRIX 4G has dropped onto the SlashGear test bench on its way to AT&T, along with the majority of its accessories – including the clever Laptop Dock – and that calls for an unboxing and some first impressions.Video after the cut
With a 4-inch display the ATRIX 4G isn't going to be a small phone, but it packs in a lot more pixels than other Android handsets with the same screen size. That's because Motorola has used a 960 x 540 qHD panel, just short of the iPhone 4's 960 x 640 Retina Display. In total there are 518,000 pixels (versus the iPhone 4's 614,000) which adds up to a far smoother screen than, say, the WVGA Nexus S. It's also highly usable outside, which is more than we can say for many LCDs.
The casing is plastic but feels high quality, and Motorola has given the battery cover a carbon-fiber style finish that does a good job of hiding fingerprints. There's also a very clever combination power button and fingerprint scanner, which allows you to power on and unlock the ATRIX 4G with a simple swipe; I've had no problems getting it to recognize my finger, but there's a PIN backup for manual access.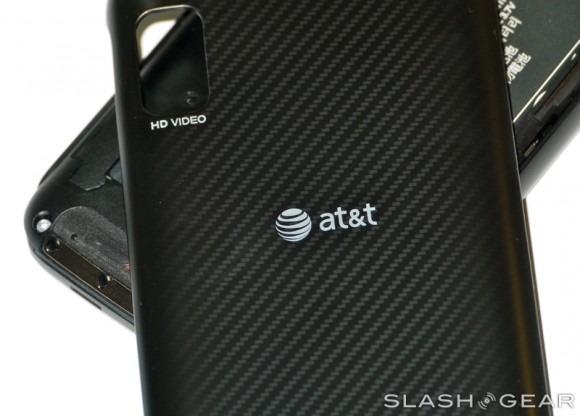 On the back is a camera with dual-LED flash (note, I accidentally say the ATRIX 4G has an 8-megapixel camera in the video; it actually has a 5-megapixel camera) capable of shooting HD video. A front-facing webcam supports video calls, though you'll need an app like Fring in order to do so since Android still doesn't include native video call functionality.
Motorola ATRIX 4G unboxing & hands-on:
[vms 0b520d281c122d149065]
So far the ATRIX 4G has proved generally reliable and fast, with the Tegra 2 processor delivering the superphone speeds NVIDIA promised. Still, I've had 5-6 lock-ups with the phone becoming unresponsive, generally when handling large amounts of data (for instance, when downloading my address book). OS is Android 2.2.1 with MOTOBLUR on top, and that's pretty much identical to the software experience on other Motorola devices. The haptic response is improved, however, feeling almost localized when using the on-screen keyboard.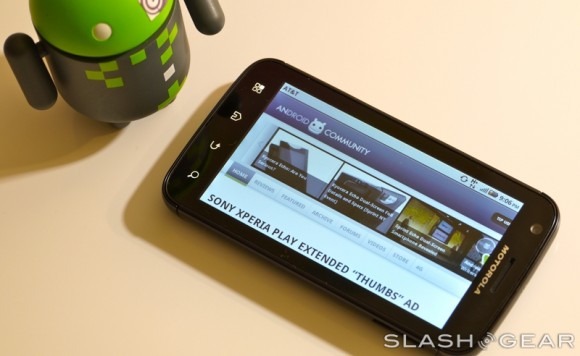 AT&T and Motorola also sent over most of the official accessories that will be offered alongside the ATRIX 4G, including the Laptop Dock, Desktop Dock and a separate external keyboard and mouse set (only the Car Kit is missing). The Laptop Dock is probably the most interesting of the three, slightly larger than a regular 11.6-inch ultraportable because of the ATRIX 4G docking section at the back; the question remains whether it's worth the several hundred dollar price tag, considering it's dependent on the smartphone for its functionality.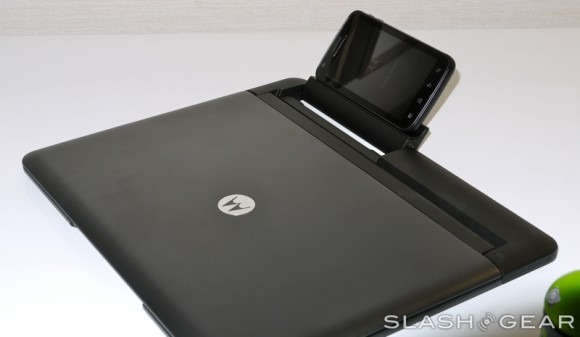 The Desktop Dock packs three USB ports, HDMI, power and audio-out, and comes with a useful multimedia remote. With it, the ATRIX 4G turns into a potent multimedia center, supporting 1080p HD. It should also appeal to business users, too, given that the handset comes with support for Citrix Receiver.
So far, so promising, and the ATRIX 4G certainly looks to be shaping up as one of the stand-out smartphones of 2011. Pre-ordering for the AT&T Motorola ATRIX 4G will begin on February 13, with deliveries from March 6; the full SlashGear review will be up very soon.