Motorola Atila WM6.1 touchscreen smartphone in the wild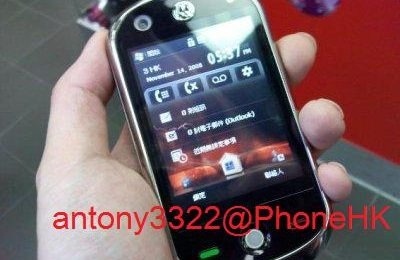 Shots of the Motorola Atila touchscreen smartphone have leaked, showing off among other things the company's new theme for Windows Mobile 6.1 Pro (another, Apple-inspired theme is shown after the cut).  The Atila is quadband GSM and triband UMTS/HSDPA/HSUPA, capable of 7.2Mbps downloads and 1.8Mbps uploads (network depending); control is via a 2.8-inch QVGA 240 x 320 resistive touchscreen.
As well as high-speed cellular broadband the Atila has WiFi b/g.  It's based on the Qualcomm 7201A chipset with a 1130mAh battery.  Hardware controls look to be minimal, but there's a trackball and physical send/end buttons at the very least. 
No timescale for release, nor target market, have been divulged.  Hopefully Motorola will reconsider the display, too; at QVGA it's underpar compared to the recent devices from HTC and others.
[via BGR]