Moto Z Droid Moto Mods accessories priced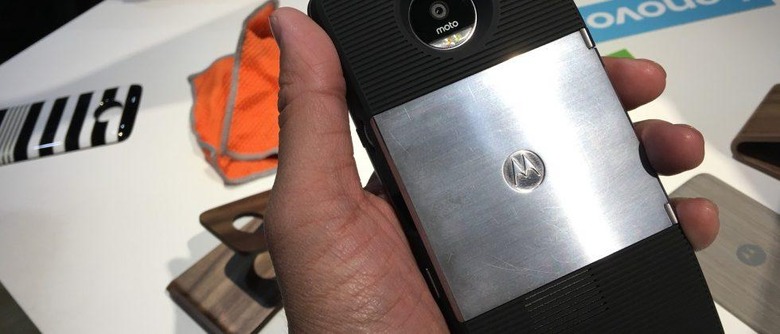 Motorola has a new smartphone in the works called the Moto Z Force that is expected to launch soon. One of the coolest things about this smartphone is that Motorola designed the smartphone to work with a bunch of different accessories called Moto Mods. The mods run the gamut from things like projectors down to standard cases to protect the smartphone from drops.
Pricing on some Moto Mods have been revealed ahead of the smartphone debuting, and as you might have expected they aren't exactly cheap. The biggest Mod is a projector back that will sell for $299. It's called the Insta-share Projector Moto Mod and turns flat surfaces into a larger viewing screen. There is no indication of brightness or resolution. Considering the projector is crammed into a smartphone case, don't expect much on either front.
The next Mod is a Tumi Wireless Charging Power Pack selling for $99.99. Important details about wireless charging protocol and exactly how large the battery pack is are unannounced. Folks who like to play music from their smartphone without needing a Bluetooth speaker or headphones might appreciate the $79.99 JBL SoundBoost Moto mod. It is a case with higher power internal speakers.
Another battery pack case called the Tumi Power Pack Moto Mod will sell for $89.99. Just like the wireless charging version, we have no idea just how much capacity this power pack will offer. If you want more details on the Moto Mods, we talked about them earlier this month with a bit more detail. These accessories are certainly not cheap with similar aftermarket accessories being much more affordable. We will be looking out for more detail on battery capacity and resolution for the mods.
SOURCE: Reddit