Moto Z Droid "Moto Mods" pre-order, details, and official specs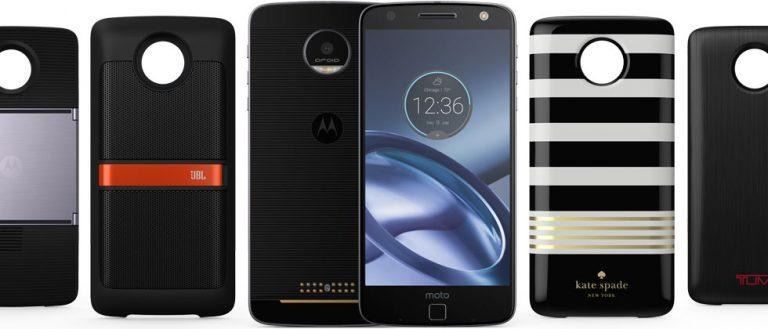 Today Motorola jumps in on the modular smartphone business with their own take: Moto Z Droid with Moto Mods. This system of plug-and-play pieces works on the Moto Z Droid, a device that's coming exclusively to Verizon in the United States. Moto Mods will work with this generation Moto Z devices and "are designed to work with future generation Moto Z phones" as well. Weird!
The full collection of Moto Mods has not yet been revealed, but as you can see above and/or below, there'll be both Motorola and 3rd-party creations coming from all directions. Top names in travel like TUMI, fashion like Kate Spade, and audio like JBL – all are participating in the Moto Mods hardware release program.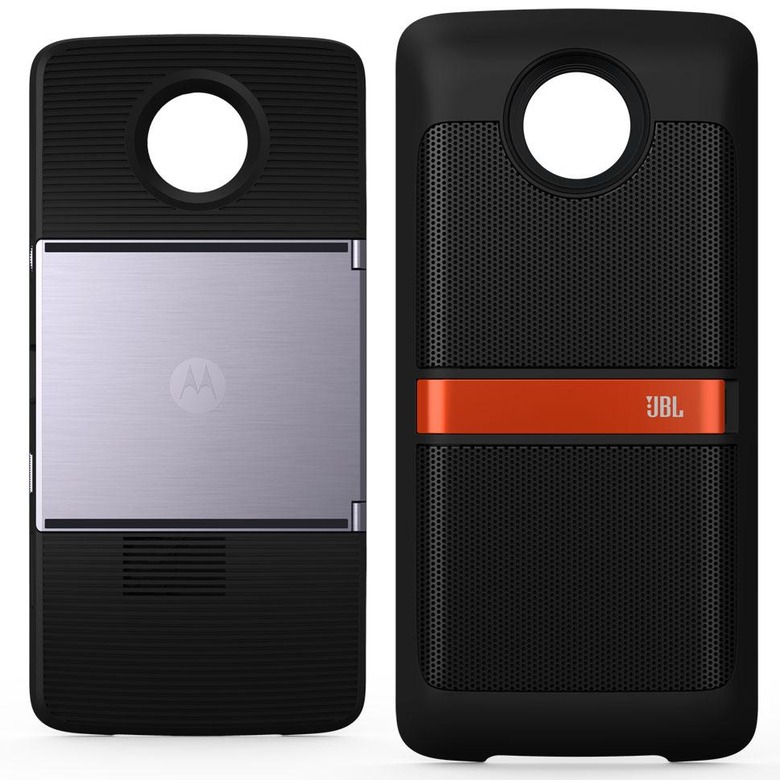 The first round of Moto Mods will include the following:
• JBL SoundBoost Speaker: kickstand, built-in battery "for 10 hours of playtime" and speakerphone connectivity.• Moto Insta-Share Projector: kickstand, built-in battery "for an extra hour of projection time", projector with up to 70-inch projection.• TUMI and kate space new york Power Packs: battery with up to 22-hours of battery life "without adding bulk."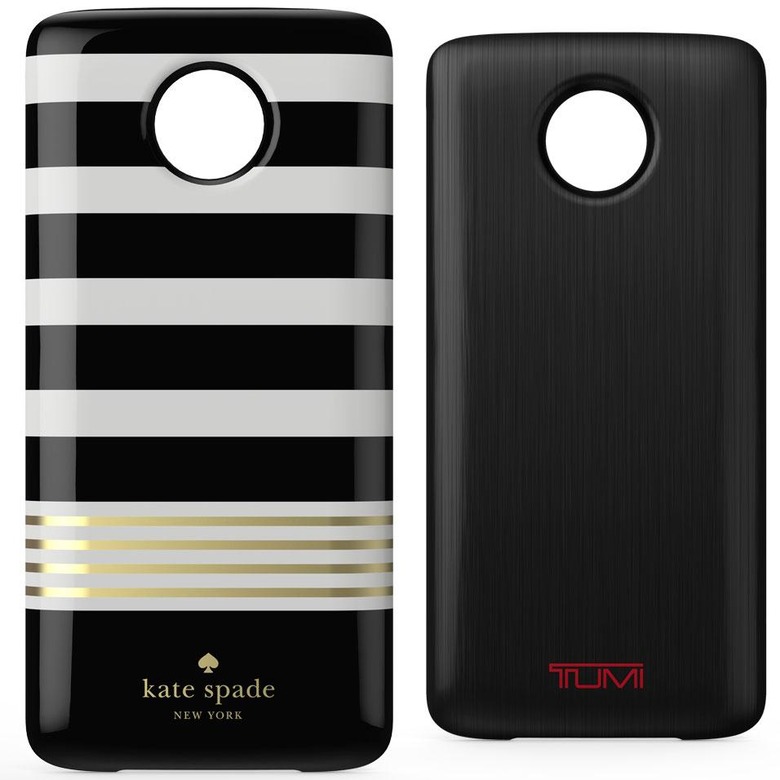 Two versions of this device will be coming to Verizon. Both start with the name Moto Z. There'll be a "Moto Z Droid Edition" and "Moto Z Force Droid Edition" – the difference comes in color choices and a slightly bigger battery on the "Force" edition. Both devices come with these specifications otherwise:
•Qualcomm Snapdragon 820 processor
•5.5-inch Quad HD display
•32 GB storage
•Support for microSD card up to 2 TB
•Rear-facing camera with optical image stabilization and autofocus
•5 MP front-facing camera
•Latest USB-C connectivity
•Water-repellent coating
•Fingerprint reader
The water repellent coating has the following disclaimer attached to it, via Verizon: "Advanced nano-coating technology creates a water repellant barrier to help protect against moderate exposure to water such as accidental spills, splashes or light rain. Not designed to be submersed in water, or exposed to pressurized water, or other liquids; Not waterproof."
Pricing has not yet been announced, but Verizon suggests that the Verizon Wireless Droid landing page will have sign-up availability immediately.
Starting next month you'll be able to pre-order the Moto Z Droid from Verizon – at which point we'll hope for pricing and release information all at once.