Moto X wood casings expand with new Walnut, Teak, Ebony, and price point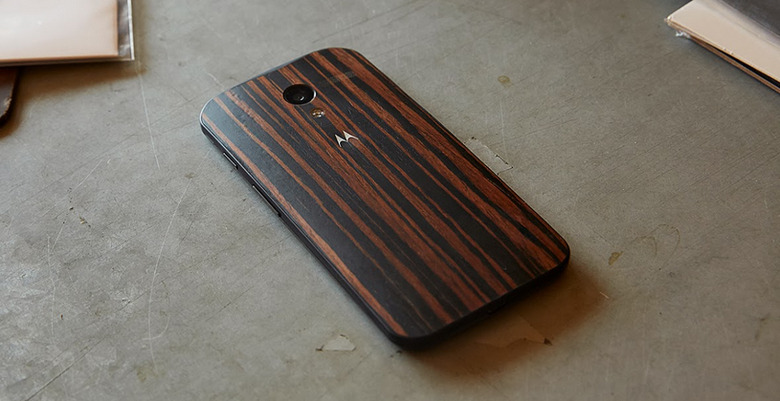 Today Motorola has shown of a set of new wood-backings for their Moto X, a customizable smartphone that, with Motorola's own "Moto Maker" console, is able to be custom-ordered to ship. These new wooden casings join the original Bamboo and pull the pricing down from a cool $100 to $25. That's the price users will add on to their original cost of the phone after adding the wood instead of one of the many other color options for the back panel of this device.
This set of new wood backings is real – every wood grain is different because every case is made with a different section of wood. The Bamboo wood casing remains available today, while each of the other kinds of wood for Moto X will be available starting on the 21st of January. That's next Tuesday, if you did not know, and rumor has it that there's some out in the wild already today. They're coming on quick!
This new pricing scale appears to be working retroactively as well. User Rich Brome has let it be known that his purchase of the higher-priced Bamboo casing – at $100 – has been refunded in part. With a $75 check headed his way, it would appear that Motorola is aiming for customer satisfaction above all else.
Have a peek at SlashGear's full Moto X review for a closer look at this device in its original form. Each customized version works with the same innards as their custom counterpart, innards, camera, display and all. Customizations include a choosing of an internal storage size, front panel being white or black, detailing colors around the camera lens and buttons, and the back casing, of course.