Moto X then wearables: here's how Motorola gets fashionable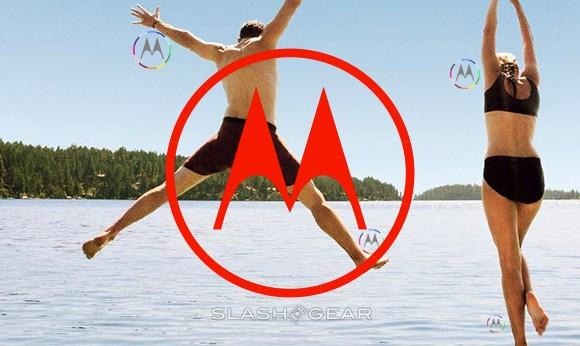 In addition to announcing the Moto X's official unveil date, this week the folks at Motorola Mobility have had a bit of a spill. This spill – if you could call it that – consists of details surrounding their next generation of smart devices, particularly sitting in the "wearables" realm. Could it be time to see what was most recently hoped for in the Motorola MOTOACTV rebooted here in 2013 to mix it up well with the company's newest fully fashionable hero smartphone release?
This spill comes in the form of a list of hires, job postings made by the company that are looking to help with the expansion of "a new world-class wearables design group within Motorola." If that's not a good indicator for a possible big-time expansion of the sector we've not yet heard of, we'd like to hear what is.
[aquote]Create beautiful, Functional and Desirable objects.[/aquote]
What you'll see in the job listing – if it's still up by the time you see this article – is a suggestion that Motorola's search requires, first and foremost, a person that will "provide strategic leadership, champion innovation and institute best practices to create a new world-class wearable's design group within Motorola."
"Specifically, the Industrial Design Team collaborates closely with our internal work partners to create compelling, usable and innovative products that define our brand with over a million consumers worldwide. The wearables design team will lead the establishment of our brand in the massive competitive and growing space of wearable connected products."
So what's this all got to do with Moto X?
Have a peek at the Moto X reveal event invite and observe the design language: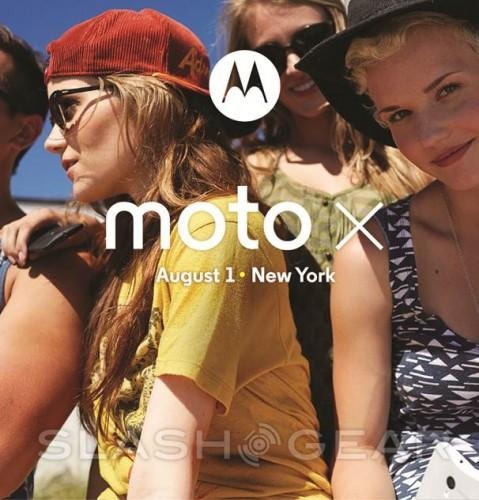 Can you spot the smartphones?
You'll find the white version and the black version of Moto X in the hands of these hipsters, and you'll find at least one accessory – in addition to the phone – on each of these young, cool fashionistas. Even the fellow (we'll assume it's a fellow) to the left is wearing a tank-top – certainly not something you wear to the office.
Add to this original Moto X advertisement released on the 3rd of July. Both humans – we'll assume they're humans, anyway – are wearing straight black as they jump into the sparkling greatness that is the future, straight above them the brand new Motorola logo complete with rainbow ring.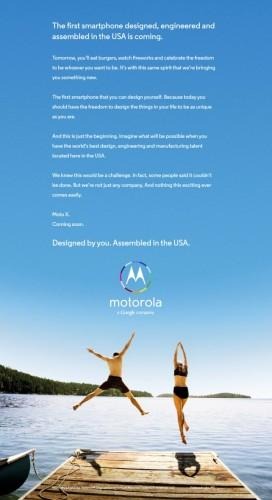 Click image for full-sized JPG file.
A posting to Motorola's Google+ page shared on the 11th of July dropped this image tied to the note: "3D printers, Velcro vans, and really smart people. +MAKEwithMOTO, we like your style." Of course MAKEwithMOTO has been around for a while longer than this tip, it's not hard to imagine the initiative crossing paths with Moto X quite easily in the very near future. How about for those back smartphone casings, fully customizable the lot of them?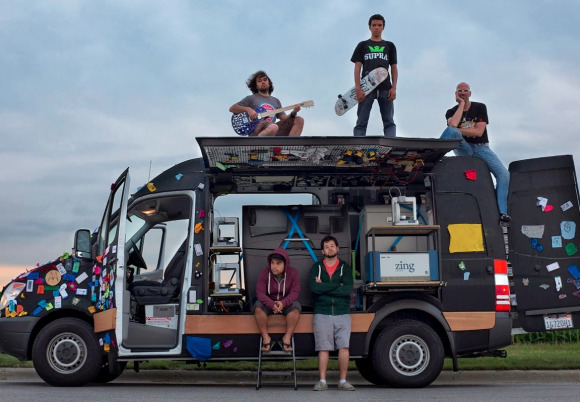 This equation is adding up quick: soon after the Moto X is launched and Motorola's new aim – the user – becomes more important than making the device destroy all other devices with specifications alone, the company will set its sights on attaching itself to another appendage.
While it's not immediately clear how Motorola, a Google company, will aim to release any sort of wearable device with Google aiming to release the ideal unit – Glass – this notoriously resilient company will make another move that's unique.
Will it be another smartwatch? Something to keep track of your steps when you head out for your daily run – or lack thereof? Hardly.
Motorola will be getting a bit more under your skin than that.