Moto X Style vs X Play vs G 3rd Gen: Spec War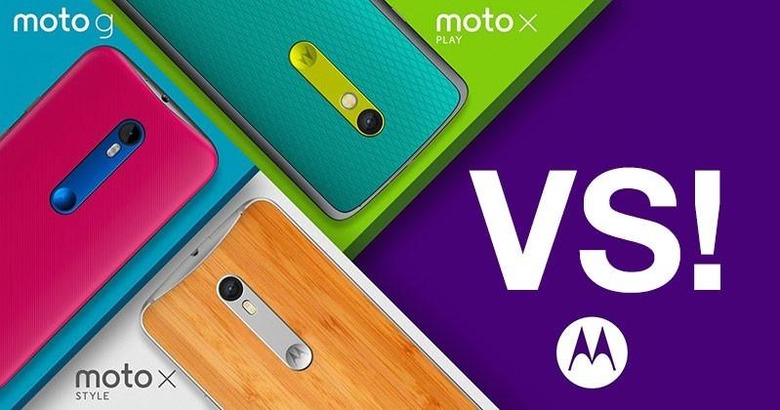 This morning Motorola revealed details on their three newest smartphones: the Moto X Style, the Moto X Play, and the 3rd gen Moto G. These devices have many features which make them similar, but each device is unique enough to cost users several hundred dollars more or less dependent on their needs and wishes. Each device will be released at a different time over the next few months, starting with the Moto G 3rd gen, which is available through Motorola online starting today.
The first thing you'll likely notice – especially in the image above – is that these devices look very similar. Motorola is making an effort to become a "one device" sort of family, creating the Moto brand in a way that'll have users returning to the party year after year, upgrading to a nicer device as they do so.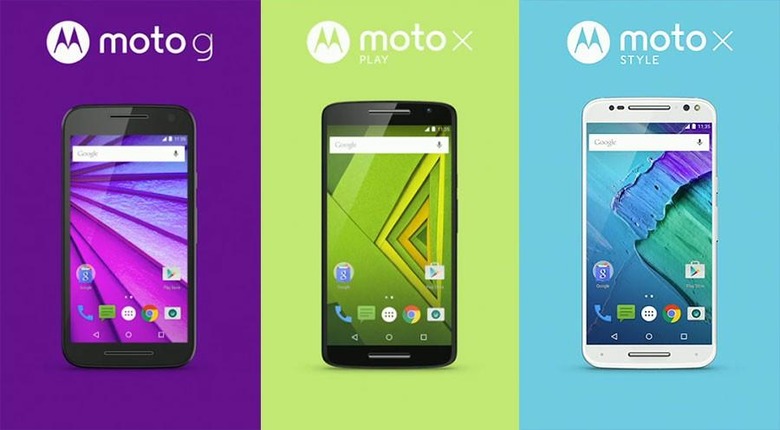 As such, each device has a similar display size as well. The resolution of each of these displays is different, but at a glance, you might not know one from the other right up front. The same could be said about last year's models compared to this year. Motorola is going with what works.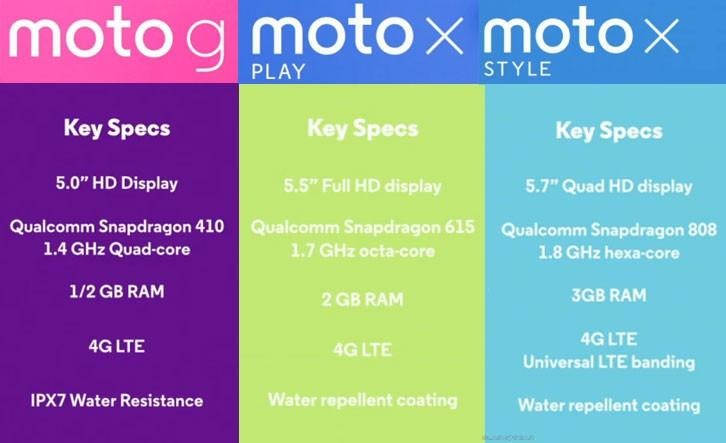 The difference between the Moto G and the X family is more drastic than between the Play and the Style. The Moto G is meant to be set aside from the rest as a more "budget" sort of device, made for countries like Brazil where it's been the best selling smartphone for 12-months running.
Personalization for these devices is done through Motorola's webpage where a "Moto Maker" portal allows for custom choosing of elements at consumer's point of purchase. Devices come custom made through this portal to user's doorsteps. For the Moto G and Moto X Play, this generation also includes replaceable color shells and flip shells which can be purchased after the device and separately.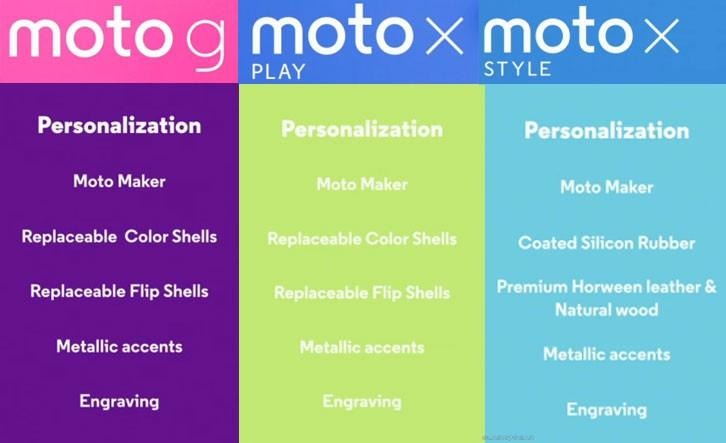 This is the first time "Coated Silicon Rubber" is offered for the Moto X with the Moto X Style. Motorola says this soft-touch material is resistant to color change – it won't fade, they suggest.
Motorola is working with their own fast-charging technology, not the same technology as companies like Samsung use. Samsung uses Qualcomm's Quickcharge 2.0 tech, while Motorola's previous generation was also "based on" the same tech. This generation, Motorola suggests they've got something faster.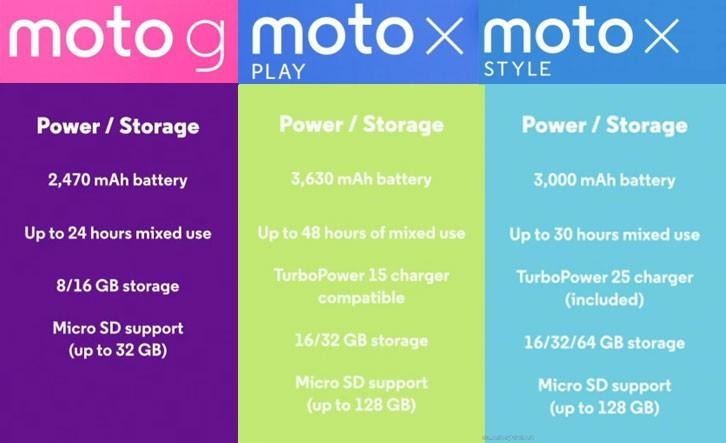 Notice that the Moto X Style comes with its charger in the box, while the Moto X Play has a standard charger, while the special charger is "compatible" – which means you'll need to purchase it separately.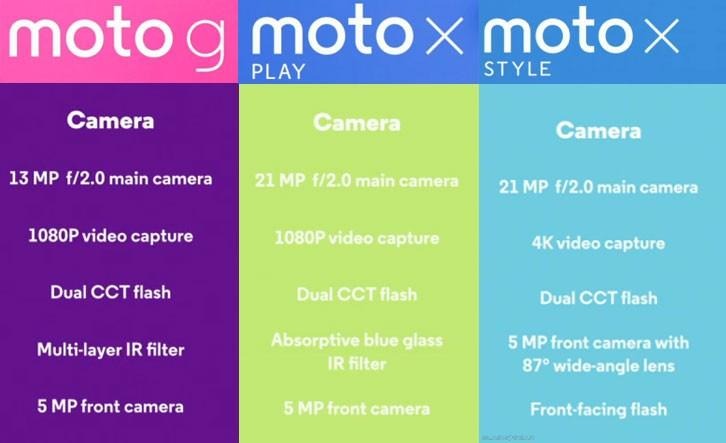 The cameras on these devices are all bound to be pretty great. We previously spoke about how it's almost not even worth upgrading to a new Motorola device because the first generation of Moto G and X were so good. Here you'll find that the Moto G works with a surprisingly large 13-megapixel f/2.0 shooter while both Moto X devices work with the same back-facing camera and some similar front-facing cameras.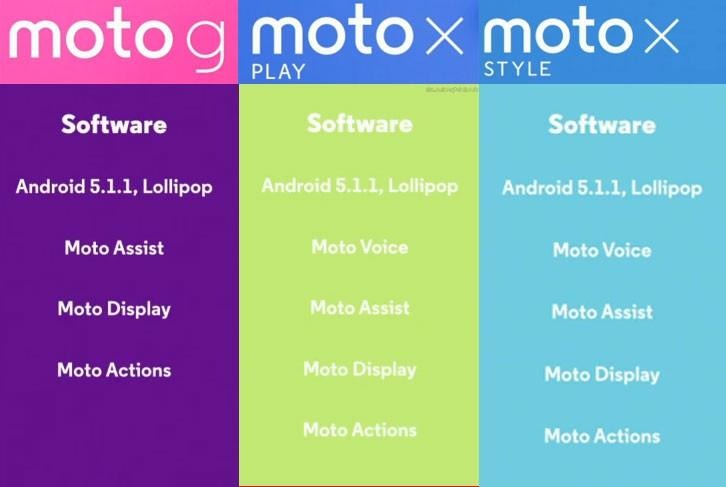 Software on these devices will be nearly identical. Gone are Moto Actions for the G, but everything else is intact. Each device works with a more powerful processor than the last, but for the most basic of apps, that won't make much of a difference.

The Moto X Style will cost users $399 USD off-contract with universal LTE. That means you'll be able to buy it and toss in an LTE sim from any carrier in the United States. This device will be available in the United States starting in September.
The Moto X Play will cost approximately $299 off-contract starting this August. I say approximately mostly because the Moto X Play will not be released inside the United States. Instead it'll likely come with a slightly different name – DROID. We'll know soon enough.
The 3rd gen Moto G will cost you $179 off-contract. This device is available through Motorola online right this minute. Stick around our Motorola tag portal for more – reviews coming soon!