Moto X official: Touchless Google Now and 10MP Clear Pixel camera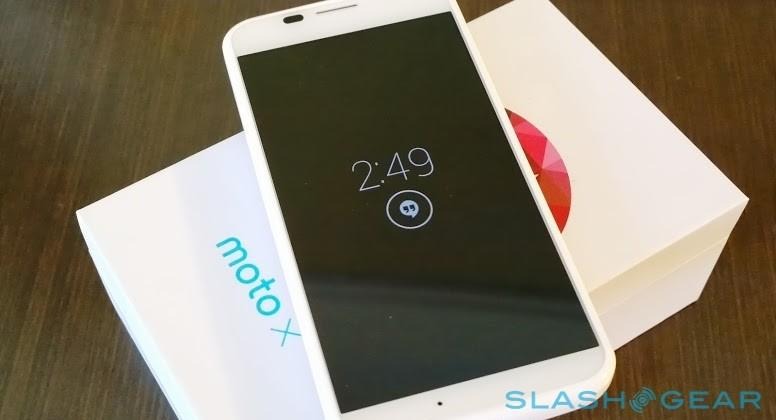 The Moto X is official, relaunching Motorola and bringing Google Now to the forefront of the Android experience. The year-long handiwork of Google's new management, the Moto X trades spec-bingo for usability and customization options, like sixteen casing colors to choose between, and instant all-voice access to Google Now. Inside the 4.7-inch 720p HD smartphone there's a new Motorola X8 architecture and a custom-stacked battery for balancing power and runtime when it lands on all five networks this August.
Measuring in at 65.3 x 129.3 x 5.6-10.4 mm and 130g, the Moto X has a curved backplate accommodating a 2,200 mAh battery good, Motorola claims, for up to 24 hours of "mixed usage" or up to 13 hours of talk time. The X8 "Mobile Computing System" running stock Android 4.2.2 pairs Qualcomm's dualcore 1.7GHz Snapdragon S4 Pro and quadcore Adreno 320 GPU with two custom chips, one for natural language processing, and another dedicated to contextual computing. There's also 2GB of memory and a choice of 16GB or 32GB of onboard storage; no microSD slot, but Moto X buyers get two years of 50GB Google Drive storage included (on top of the free 15GB for a total of 65GB).
The display is a 4.7-inch 1280 x 720 AMOLED RGB panel with 316ppi pixel density. Above it, there's a 2-megapixel camera, while a 10-megapixel camera with what Motorola calls Clear Pixel technology is on the back (more on which later).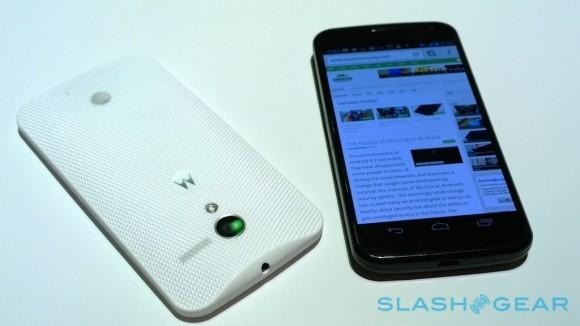 Connectivity includes WiFi a/b/g/n/ac with dual-band antennas, Bluetooth 4.0 LE+EDR, USB 2.0, NFC, Miracast, and a 3.5mm headphone jack. The AT&T version launching first will have GSM/EDGE, UMTS/HSPA+ (up to 42Mbps, network depending), and LTE, while CDMA carriers like Verizon will get a version with CDMA/EDVO Rev.A too. Like the iPhone 5, the Moto X uses a nano-SIM. Sensors include GPS, a digital compass, and GLONASS.
Moto Maker
Motorola promised us customization flexibility, and Moto Maker is how the company will do it. The base Moto X is available in black and white – they're the two colors carriers all will stock in-store for immediate availability – but if you buy with "launch partner" AT&T there are in total eighteen options for the back panel, two for the front panel, and seven accent colors. You can also add a custom name or message on the back panel, and choose between a white or black charger, and color-matched Sol Republic JAX in-ear headphones.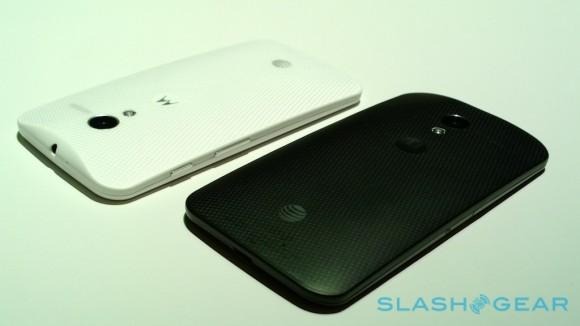 The software gets custom options too, allowing buyers to have the phone set up before they've even received it. Your Google account can be set up, as well as choosing between sixteen different wallpapers, and even a custom message which appears when the Moto X is turned on.
All that customization is done online, at motorola.com/designit. For those buying the Moto X in an AT&T store, after they've picked and paid for a plan they get a Moto X card with a scratch-off panel, under which is a code to punch in at the Moto Maker site. Motorola is assembling the phones in the US, at Fort Worth, with delivery expected to take around four days. A 14-day return policy covers even customized handsets.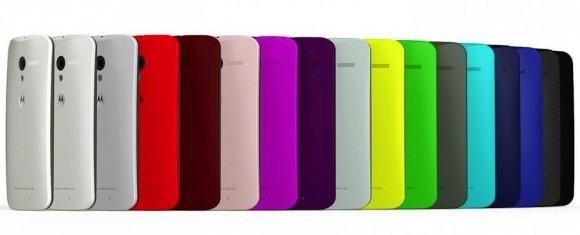 Alternatively, Motorola will be offering sales direct from its site, motomaker.com, with the ability to set up a new cellular plan and billing information online. Motorola will also have unlocked versions for developers, and says other carriers will have access to Moto Maker later in the year.
For those jumping over from another Android device, the Moto X offers Motorola Migrate. Working with any Android 2.2 device or above, it's a free Google Play download and sets up a direct wireless connection between old and new handsets to pull across photos, videos, any contacts saved to SIM, along with call and SMS history.
OK Google Now
Google Now is at the center of the Moto X's software, with Motorola using touchless control to allow direct access without having to tap a button or even, in many cases, unlock the phone. While the Moto X is in standby, you can say "OK Google Now" and a command – set an alarm, get a weather report, ask for navigation instructions, call a contact, or more – and have it automatically followed.

Motorola says the triple-microphone array with active noise cancelation should allow touchless control to work from up to fifteen feet away, and there's an initial three-step training process that sets customizes it to the user's own voice, blocking out others nearby that might say the same thing. It'll work in English, French, Spanish, or Portugese.
Since the processing for Google Now is done server-side, you'll need a data connection – either 3G/4G or WiFi – to use the touchless commands. Motorola also turns it off by default, though claims that battery impact, even from the microphone array listening out for instructions, is minimal thanks to the dedicated chips.
Moto X vs iPhone 5 vs HTC One vs Galaxy S 4:
Active Display and Motorola Assist
The other big push for more everyday usability is Active Display. Since AMOLED screens can selectively power up only portions of the panel, only using battery to run those pixels that are active, the Moto X can show periodic time and notification updates while it's in standby. These pulse in and out automatically, though the Moto X is clever enough to recognize when it's face-down, or in a pocket or purse, and shut the feature off.
When a notification comes in, you can swipe it up to the top of the screen to open the app. Swiping left or right clears any notifications from the screen, while swiping down unlocks the Moto X as normal. Pick the phone up, and it will instantly flash up the time.
The hands-off approach also extends to Motorola Assist, which tries to control notifications based on the context of what you're doing. If you're driving, for instance, the Moto X uses GPS to check your speed and automatically shift into car mode; you can optionally have text messages read out, or responded to with a pre-configured reply, as well as have Bluetooth-streamed music to your car stereo automatically resume.

Motorola Assist also checks in with appointments in Google calendar, automatically silencing when you're listed as being in a meeting. There are override options to allow calls from favorites through, or whenever someone calls for a second time within five minutes. A "Sleeping" mode means you can set the times you're in bed and have the Moto X automatically go silent then, too.
Clear Pixel Camera
Camera technology is a hot topic in the smartphone world right now, and Motorola has waded into the middle of it with a 10-megapixel sensor on the Moto X and some buzzwords of its own. Motorola Clear Pixel effectively adds a fourth element to the sensor – it's described as RGBC, where the "C" stands for "Clear" – to separately measure light, versus the three color RGB approach of a traditional sensor.
The result, Motorola claims, is up to 75-percent more light capturing than a regular smartphone camera sensor, either allowing for faster daylight shots with reduced motion blur, or improved low-light performance. There's an f/2.4 aperture lens, and the individual pixels are 1.4-microns in size.
Moto X camera demo:
Speed is the other big improvement along with light performance, Motorola says. The new Quick Capture Camera feature allows fast access to photography mode by twisting your wrist twice; a touch fires off a shot. In fact, Motorola claims the Moto X is twice as fast at capturing images than rivals. By default, touching the screen takes a 16:9 10-megapixel image, and holding your finger down triggers burst mode.
Alternatively, there's 1080p HD video recording, with the option of simultaneous still image capture by tapping the display. The front-facing camera also offers Full HD recording. There's an LED flash on the back, an HDR mode, optional geotagging and panorama, and a slow-motion video mode. Dragging up or down the display controls the 4x digital zoom.
Moto X full walkthrough:
The headline features are just the start of it, Motorola promises. There's also the ability to have the Moto X bypass its PIN or password protection if it's connected to a select Bluetooth device, such as a headset, along with Miracast wireless display support. Inside, there's full waterproofing down to the circuit board level, while the 4.7-inch display gets a sheet of Corning Gorilla Glass to protect it, and there's a new haptics system for more precise touch-feedback.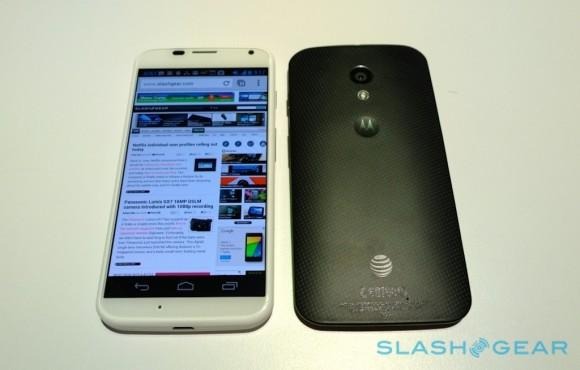 Motorola is also launching a "M4DE for Motorola" accessories program, with InCase, Griffin, OtterBox, SOL REPUBLIC, and others all onboard to make add-ons for the Moto X. SOL REPUBLIC will be providing color-matched in-ear and on-ear headphones – called Jax and Tracks, respectively – along with a Bluetooth speaker called DECK. That promises up to 300ft range and 360-degree playback, while Heist Mode allows simultaneous pairing of up to five people with communal control over what's playing.
The Moto X will go on sale at the end of August or in early September, network depending, across AT&T, Verizon, T-Mobile, Sprint, and US Cellular. It'll be priced at $199.99 for the 16GB and $249.99 for the 32GB version, each with a new, two-year agreement. In Q4, Best Buy will begin offering the Moto X in-store as well. International sales should also begin at roughly the same time, though carriers and pricing are yet to be confirmed.
There's more on the Moto X in our full hands-on