Last week, Motorola's latest generation of smartphones and wearables went on pre-order, but the availability from carriers still remains a question mark. Part of that, however, might have just been revealed by a leaked memo hinting that Verizon might very well start its own Moto X pre-order period this Friday.
The memo also nicely reveals some details about the pricing of the Moto X. A regular Black/Resin model will cost $99.99 with a two-year contract, but Verizon Edge subscribers can get it for $24.99. Interestingly, it also lists a limited offer pricing for a White/Bamboo edition, costing $99.99 for a regular two-year agreement or $27.49 on Edge. It is from this promotional pricing that we get the details of the pre-order date, which is noted to last from September 26 to October 10, the latter presumably Verizon's launch date for the Moto X.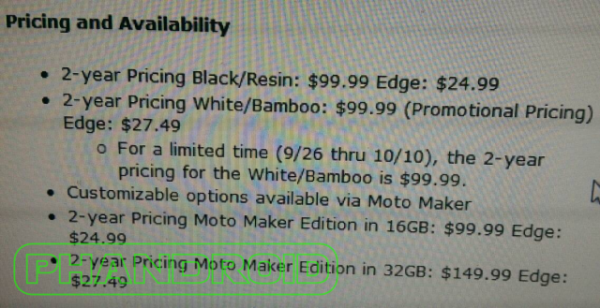 This leak also reveals that Moto Maker will be available to Verizon customers from the get go, unlike the carrier exclusivity from last year's model. The 16 GB model has the same price as the Black/Resin offering, namely $99.99 with a regular two-year contract and $24.99 for those on Edge. The 32 GB model is naturally pricier at $149.99 and $27.49 for the same subscriptions. Of course, those who want to get a wood or leather back will have to throw in an additional $25 on Moto Maker.
If these dates and prices do come to pass, Verizon might find itself quickly flooded with Moto X orders. Motorola's 2014 refresh of its flagship definitely sets the bar higher for a smartphone that delivers a unque set of features on top of the pure Android experience without going overboard on customizations and the dreaded bloatware. If you're still on the lookout for a formidable high-end Android this part of the year, you can take a peek at our in-depth review of the new Moto X to help you make up your mind.
VIA: Phandroid