Moto X Holiday Server Load Pre-Empts Sell-Out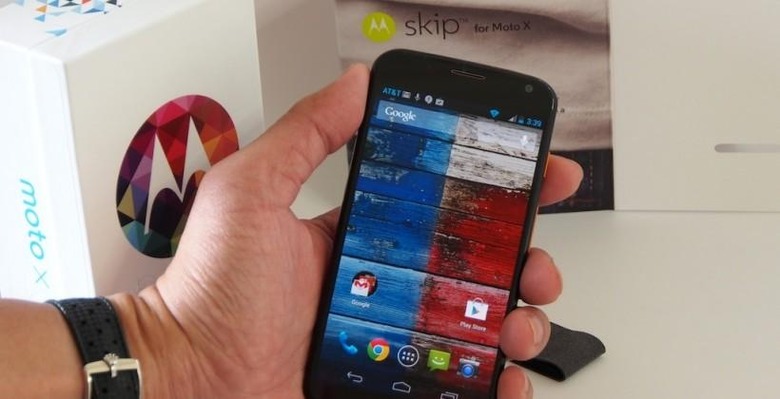 There's nothing like a little bit of downed server time to get you in the mood for the holidays. That's what Motorola is experiencing this week with the Moto X as they ring up round 2 – or is it 3 – of their Cyber Monday sale adventure, having originally extended this deal because of server downtime in the first place. It's likely we'll see quick changes to stock once the store is re-initiated, as was the situation this past Friday.
The situation Motorola is in at the moment has to do with quick action and rather excellent PR organization, both at the same time. While normally it wouldn't be a good sign that Motorola's store servers were down, the company is experiencing some extra press coverage – like what you're reading now – as a result of it. It would appear – at least – that Motorola's smartphones are selling very well.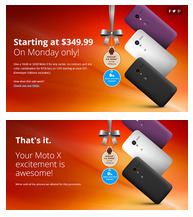 We are currently experiencing high volumes.

Please try again later.

Thank you for you patience.
Interest is high, at least. This deal has the normally $499.99 off-contract Moto X available for $349.99, a total of $150 off. This push is made with what Motorola suggests is limited stock, the company running out of tickets for the sale in less than 10 minutes the first time they re-offered the deal.
Motorola's first attempt was on Cyber Monday of this year, the entire day showing too much interest for their servers to handle it all, prompting the two-day double-down this past Friday and today.
UPDATE: Just like last week, this set of Moto X devices has sold out in less than 10 minutes. Hows that for quickness?
Once again we're not being given numbers on this situation, so we're not sure how many Moto X devices were actually in the setup – but it certainly looks impressive from an outside perspective. Have a peek at our full Moto X review as well as our new(er) review of the Moto G while you're at it!