Moto X Force gets drop test with iPhone and Galaxy S6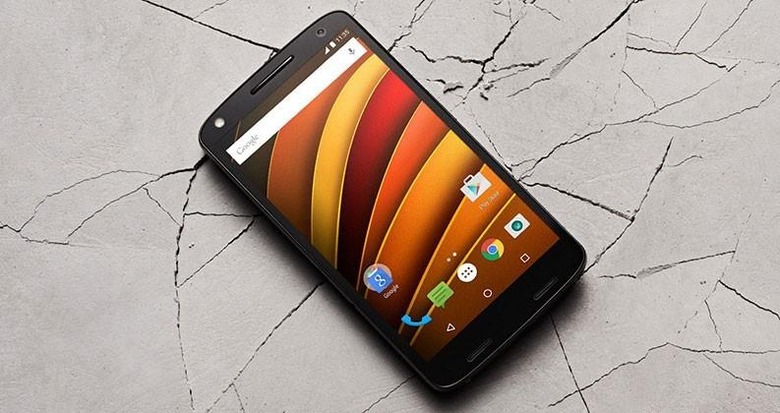 First you're going to see an iPhone 6 (or 6s, we're not sure) dropped by the president of Motorola. Then you're going to see a Galaxy S6 dropped by this same man. Then this man is going to drop his own phone, the Moto X Force. This is the same device – essentially – as the DROID Turbo 2 shown off by Verizon earlier this week. This is just Motorola's international release version – and it appears to be just as shatterproof as the version we're seeing with the Lucasfilm-born moniker.
The DROID Turbo 2 will have the word DROID on its back, while the Moto X Force will not. There's a Verizon checkmark logo up front of the DROID Turbo 2, while there is none on the Moto X Force. These are the differences on the outside of the device. Inside you'll find fewer Verizon apps on the DROID than on the X Force.
Like previous Moto X releases, this device will have a variety of materials available for its backside. Like the DROID Turbo 2, this device will have a 21-megapixel camera that appears to have already impressed DxOMark to the point that they're rating it well above the iPhone 6s, and just below the Xperia Z5, Galaxy S6 Edge, and Google Nexus 6P.
Under its shatterproof "Moto ShatterShield" glass you'll find a 5.4-inch AMOLED Quad HD display. That's also known as 2K resolution, if you're going with that particular branding.
Inside is a Qualcomm Snapdragon 810 processor and the ability to be charged with TurboPower quickness – up to 13 hours of battery life in 15 minutes.
Exact release timing and pricing is not yet known for this device.