Moto X Developer Editions released as Motorola courts coders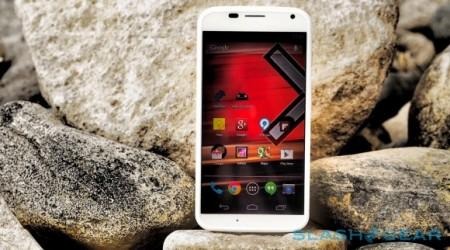 Motorola has begun selling the Moto X Developer Edition, its version of the Moto X with an unlocked bootloader that allows Android coders to flirt with different OS versions. Up for sale in Verizon form, with an AT&T/T-Mobile USA version "coming soon", the $649.99 handset obviously lacks a carrier subsidy but also sacrifices a warranty if you want to actually use it for development purposes.
That's because, while Motorola makes it easy to unlock the Moto X's bootloader, it also cancels your aftercare support if you opt to do so. "You have only yourself to blame" the company says of handsets that subsequently develop glitches after being unlocked. "Once you get the unlock code, your device is no longer covered by the Motorola warranty; in other words, please don't blame us if things go wrong, even if they appear unrelated to unlocking the bootloader."
Still, that's nothing especially new for devices that have been tinkered with; most manufacturers aren't keen to provide warranty support for those who have modified their phones.
The Verizon version of the Moto X Developer Edition comes with a SIM, whereas the AT&T/T-Mobile USA version does not; coders will have to slot in their own. Still, either way you're on your own in terms of providing service for the device.
Motorola isn't the first to offer developer-friendly variants to Android coders. Both HTC and Samsung sell pure-Android versions of the One and Galaxy S 4 through Google's Play store, similarly SIM-free, with unlocked bootloaders, and pure versions of the Android OS. Of course, Google itself has its Nexus line, though the company confirmed recently that it has ceased Nexus 4 sales in the US.
There's more on the regular Moto X in our full review.