Google Nexus 4 8GB Model Won't Be Restocked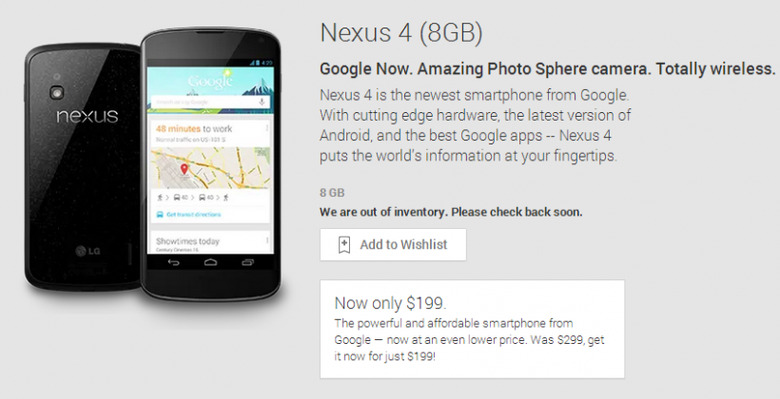 Google dropped the price for its Nexus 4 handsets late last month, slashing $100 from the price tag in the Google Play Store. As expected, the handsets were nabbed pretty quickly, with the 8GB model selling out yesterday and a notification going live pronouncing it as such. If you were hoping inventory would be replenished soon, you're in for some bad news: Google says the device won't be restocked.
The move isn't surprising, since the assumption was that Google was clearing out inventory to make way for the next generation handset. The Google Play Store has listed "Please check back soon," however, leaving some to wonder whether they'd have a second shot at grabbing the smartphone at the discounted rate. Dashing those hopes, Google has discussed this with the folks over at The Verge.
Last week, Google applied a $100 price cut to the 8GB and 16GB models of the Nexus 4, placing them at $199 and $249, respectively. Google didn't state the reason for the price drop, but it seems like the plan to have for making way for the Nexus 5, which is rumored to be launched at the Nexus 4's original prices — meaning the new handset would be priced at $299 and $349, assuming the tip pans out.
It is safe to assume, then, that the 16GB model won't be restocked once it sells out either, so if you've been on the fence about taking advantage of the price drop, don't contemplate for too long. The Nexus 4 features a 4.7-inch display with Corning Gorilla Glass 2, a Qualcomm Snapdragon S4 Pro, 2GB of RAM, and an 8-megapixel camera around back. Check out the timeline below for the latest Nexus 5 news!
SOURCE: The Verge