LG Nexus 4 8GB now sold out on Google Play following price drop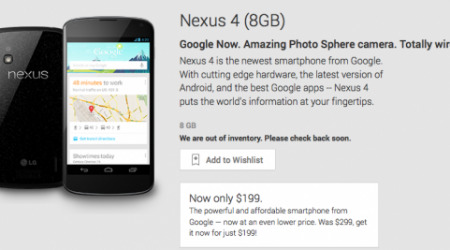 It was inevitable and should come as a shock to no one that Google Play Store has run out of inventory of the Nexus 4 smartphone. This is no doubt the effect of the $100 price cut on both 8 GB and 16 GB models of the device last week, which some have taken to be the writing on the wall that will eventually bring about a new Google Nexus smartphone.
The LG Nexus 4 is by no means a brand new smartphone, but its specs can definitely still stand proud with today's recent models. The smartphone sports a 4.7-inch Gorilla Glass display with a resolution of 1280x768, lending it a 320 ppi pixel density. It runs on a 1.5 GHz quad-core Qualcomm Snapdragon S4 Pro processor with 2 GB of RAM, and includes a variety of connectivity features such as WiFi, Bluetooth, and NFC.
But as a Nexus device, its real selling points are its openness to modification and regular software updates coming from Google, making it the ideal smartphone not only for developers and modders, but also for end-users who want to escape from the feature bloat and snail-paced updates that plague carrier-sold devices. The Nexus 4 became even more enticing when Google last week slashed the price of the Nexus 4 from $299 to $199 for the 8 GB model and from $349 to $249 for the 16 GB variant.
The price drop, which is usually associated with emptying out inventories before releasing new versions, has definitely fanned the flames of rumors of a new Nexus smartphone in the works. Speculations of a Nexus 5 smartphone have risen with the unveiling of a new Nexus 7 tablet last July. Rumored contenders for manufacturing the next Google smartphone include LG, who just recently launched its LG G2, and Motorola, who is now a subsidiary of Google.
The Google Play Store page for the 8 GB Nexus 4 lists the device as out of inventory instead of the usual out of stock message. Now that this model is gone, it may just be a matter of days before the 16 GB Nexus 4 reaches a similar fate. The page does say to check back soon, so there might still be a few pieces left, or maybe it will be a placeholder until the next Nexus smartphone is officially announced.
VIA: Android Community