Moto X customizability breaks out: Moto Maker up for all carriers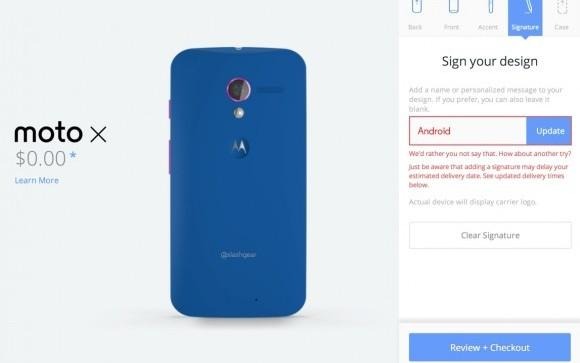 For each of the four major carriers in the United States, the Moto X is able to be ordered custom-colored and configured through the Moto Maker engine. This update comes to the system just this week – finally – after AT&T had been the one and only carrier this system worked with since launch. The price of each version of the machine is now the same for each carrier so long as its through Moto Maker as well.
The Moto Maker process is largely the same as it was when it first launched earlier this year. Users are able to choose the main backside color of their device in a wide array of tones. They're able to choose an accent color for the hardware buttons and rim of the back-facing camera. They're able to choose the front-facing color – black or white.
Then they're able to make certain they've got a device that's configured to them uniquely – there's an option to get a full-on engraving of the back panel with whatever phrase they'd like. While early iterations of Moto Maker had this engraving process adding an amount of time to shipping, current iterations seem to keep delivery time minimal. Users are also able to choose 16GB or 32GB iterations of the machine, with pricing set at a general $99.99 or $149.99 respectively with 2-year contracts attached.
Under the hood you'll find an experience matching that of our review from earlier this year. The Moto X works with unique apps inside depending on which carrier you go with, but for the most part you've still got the same Moto X base experience. Have a peek at our full Moto X review from earlier this year and be sure to let us know if you've got any new questions – we're still using the Moto X every day!