Moto X benchmarks leak specifications in black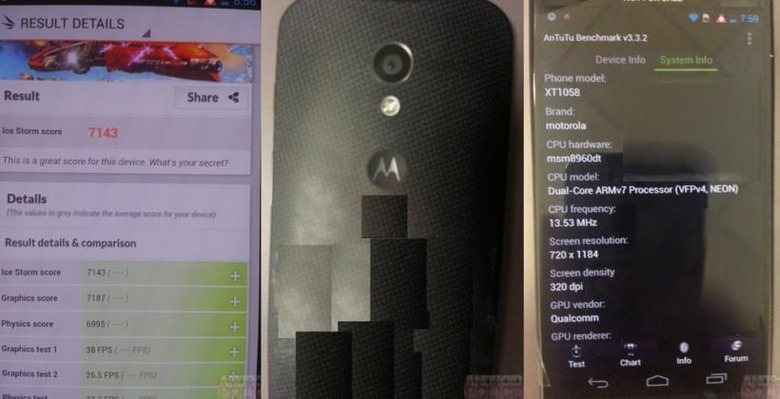 Right here a the start of another week of Moto X leaks leading up to the official August 1st device reveal comes Motorola's next hero phone spilling essentially in full, complete with specifications, benchmarks, and all. The device is captured by a leakster who has decided to photograph the phone with benchmarks running hot, 3DMark and AnTuTu included. BONUS: The FCC has been so kind as to drop some additional details on this machine here as well, dimensions galore!
The Moto X has been all but confirmed here by the FCC to be working with a body thats 128.5mm by 65mm large, this containing what's almost certainly a non-removable battery that's 2200 mAh space-wise. The FCC has spilled the full-on next-generation abilities of this machine to go 802.11a/b/g/n/ac, Wi-fi full-speed-ahead!
The iteration of this device appearing through this leak appears to be the GSM version – that being one of the basics that'll be sold directly through Motorola complete with customizations on its outer hardware. This exact model likely has slightly less-than-final software aboard, but we can tell from here that it's essentially running the newest version of Android available: 4.2.2 Jelly Bean.
That means that the final device will either be running this newest Android as it exists on the Nexus 4 and Google Play editions of the Galaxy S 4 and HTC One, or it's simply a tester (it really is, don't fool yourself) that'll eventually get an upgrade to a newer Android, 4.3 more likely.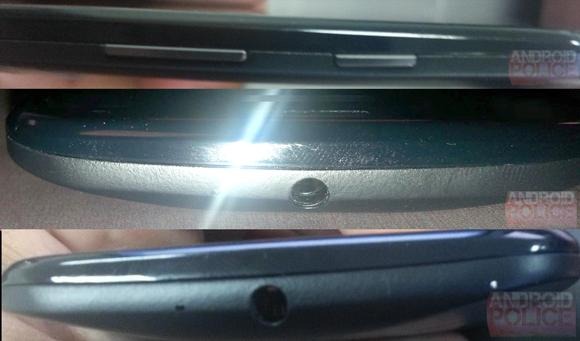 Inside you'll find the device-code XT1058 "Ghost", this pointing toward it possibly being along AT&T's line of innards. Inside you'll also find 16GB of internal storage, working with NFC, and sporting two cameras. The front-facing camera comes in at 2.1-megapixels while the back-facing camera comes in at a cool 10.5-megapixels.
This next-generation camera should be encouraging for those guessing that this Motorola smartphone will ONLY be winning out on hardware customizability, not specifications market topping. That said, this machine wont be killing the rest of the market for processing abilities, running here a Qualcomm S4 Pro MSM8960DT 1.7GHz SoC with Adreno 320 GPU.
That's dual-core and essentially one-upping the Nexus 4 without growing so powerful as the HTC One or Galaxy S 4, each of them working with the quad-core Qualcomm Snapdragon 600. This Moto X and its S4 Pro hit 18753 in AnTuTu in this tester's leaks along with a 3DMark Ice Storm Extreme score of 7143 – not half bad!
ALso you'll find this 4.3-inch display's processor to be rolling out with 720p – aka 720 x 1184 pixels in this case, with a screen density at 320 dpi. Or at least that's what AnTuTu says. It's quite possible the machine's display is 4.5-inches without on-screen buttons or 4.7 counting said buttons – but it's all still up in the air until we see the final product!
SOURCE: Android Police