This week the folks at Motorola have unleashed their USA-bound Moto G, ready for the likes of off-contract competition with LG-made Google Nexus 5 and other low-priced unlocked machines. With them comes the arrival – right on time – of the accessory collection that makes the Moto G unique. These are the Moto G Shells and Flip Shells, both of them big parts of the full replaceable back cover collection for the Moto G smartphone.
We had the opportunity to grab hold of the full collection of Shells at the launch of the Moto G just weeks ago, with the full set of 19 on-hand. These shells are arranged in three sets, the first of them and the most diverse being the simple Moto G Shells collection. This collection consists of a set of standard replaceable backs for the Moto G much in the same fashion as the base model.
There's also a set of Flip Shells and of Grip Shells, the latter being a collection not yet available to the public. The Flip Shell collection works with some of the same tones as the regular Shell set, but here you've got a flip cover that protects the display of the Moto G whist in your pocket.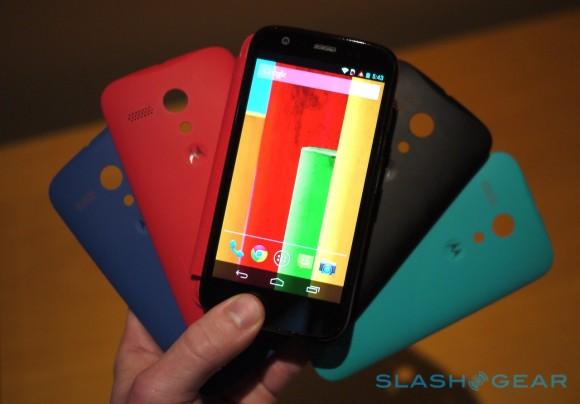 It should be noted that the Moto G already works with a pane of Gorilla Glass from Corning up front of its display, protecting it from much of the basic damage an everyday ordinary smartphone is prone to receive. The Flip Shells will be costing the user $29.99 each while the regular Shells cost $14.99 each, and the Grip Shells are not yet priced – but will be appearing in January.
Have a peek at our hands-on with the Motorola Moto G and stay tuned, we'll have this device in-hand for full review soon enough!