Moto E6 launches today, making E5 the better value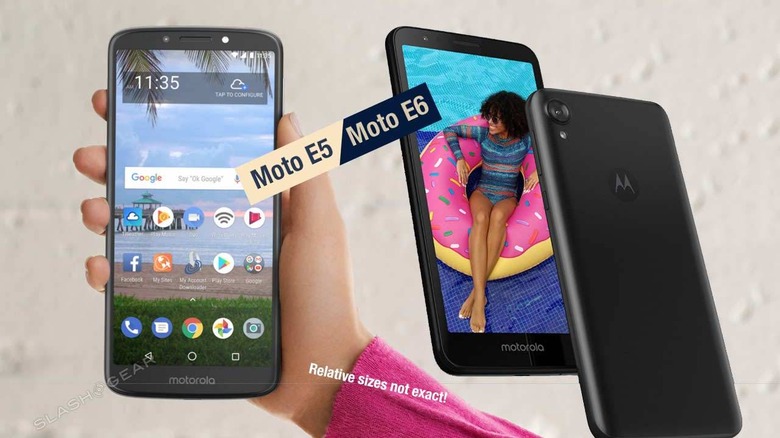 Today we're taking a look at the newest phone from Motorola, the Moto E6. This device rolls with a set of specifications that are a rather good value for the cash. The phone will cost you right around $150 right this minute – so why would we suggest that you attempt to find a better deal? Because Motorola has a better deal in a phone that's nearly identical to the E6, at less than half the cost!
Motorola has a strange setup here in 2019, owned by Lenovo, releasing phones in brand name lines that've been around for the past half-decade. With the Moto G and Moto E lines of phone, they've basically never made a phone that's not been a low-budget high-quality hit. They've got a formula that works!
When it comes to this year's release in the Moto E6, the decision between this and last year's model isn't so much about an update in specs. It's more about deciding your favorite screen size.
Display
The Moto E5 has a 5.7-inch display with 1440 x 720 pixels across its face, made with IPS LCD tech. The Moto E6 has a 5.5-inch display with 140 x 720 pixels across its face, made with IPS LCD tech. You get the same amount of pixels over a slightly smaller space with the newer phone.
Because the same amount of pixels are jammed into a slightly smaller display panel, it'll appear EVER SO SLIGHTLY sharper. Barely noticeably sharper, but sharper nevertheless.
Sizeable Camera boost
The E5 had a 8 MP, f2.2, 1.12um pixels, LED flash, Autofocus-capable camera on its back. The E6 has a 13 MP, f2.0, 1.12um, LED flash, PDAF (phase detection autofocus)-capable camera on its back. The differences will likely be noticeable only to those users who take immense amounts of photos and video with their E5 and want to get that bump to the E6.
Processor
The E5 has a Qualcomm Snapdragon 427 processor with 1.4GHz quad-core CPU and Adreno 308 GPU, 16GB internal storage, 2GB RAM. The Moto E6 has a Qualcomm Snapdragon 435 processor with 1.4GHz octa-core CPU and Adreno 505 GPU, 16GB internal storage, 2GB RAM. The difference in performance between these machines is likely negligible.
Battery
The differences between devices here might throw you for a loop. The E5 had a 4000mAh non-removable battery with a 10W Rapid Charger. The E6 has a 3000mAh removable(!) battery with a 5W Charger. Wait... what?!
When you've got a removable battery, it's safer to use slower charger technology. It's also generally better to use a smaller battery when the battery is removable because it allows the phone to be lighter and potentially thinner.
The user's ability to carry a spare battery for switching in and out means the manufacturer is more free to make the phone thinner, lighter, and slower to charge. If you've never carried a spare battery for your phone in your pocket, upgrading to this newest phone is nonsense. If you're ALL ABOUT that extra battery carrying life, this is GOOD news.
Is it worth the cash?
If you can find a Moto E5 for around $70 right now, I'd say it's the better of the two phones (for the price). If you can't find a Moto E5 for less than $100, I'd pay the extra amount (up to $150) for the Moto E6. Simple as that!