Moto E4 Plus release dates, specs, and oddities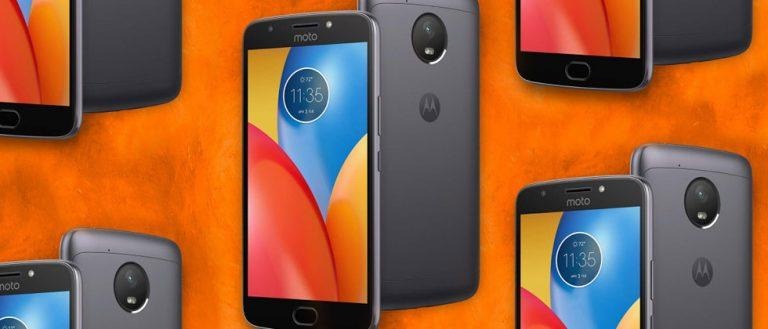 This morning Motorola and Lenovo made clear their intentions to release the Moto E4 and Moto E4 Plus. These devices will be available in a "variety of sophisticated metal finishes" around the world – this is a phone that people everywhere will want to take a peek at. The Moto E4 Plus is the one we're interested in due to its 5.5-inch display for a price that's lower than average. Meanwhile the standard Moto E4's nothing to scoff at!
The Moto E4 – the non-plus edition – has a 5-inch HD display with a Lenovo Screen 70% NTSC and 2.5D cover glass. This is somewhat of a rarity – that and 5-inch display would come with 720p resolution. But therein lies one of the keys for this device. With a smaller resolution display, there's less need for battery power – and with a 2800 mAh removable battery, that means long life.
The Moto E4 works with a two different options for processor. Both come from Qualcomm: Quad-core 1.4 GHz Qualcomm Snapdragon 425, or Quad-core 1.4 GHz Qualcomm Snapdragon 427. Both versions come with 2GB of RAM and 16GB internal storage. Below you'll see the full specifications for the Moto E4 straight from Motorola.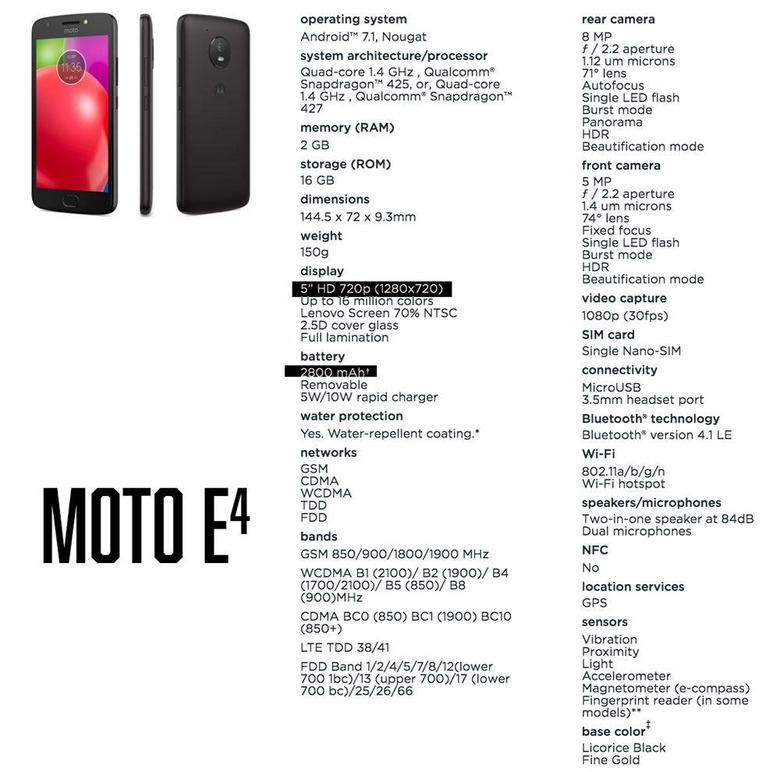 Next you'll see the full specifications for the larger of the two devices, the Moto E4 Plus. This device has a 5.5-inch display instead of a 5-inch display, and a few other key details making it an impressive relative of the smaller machine. The Moto E4 Plus will be released shortly after the standard Moto E4.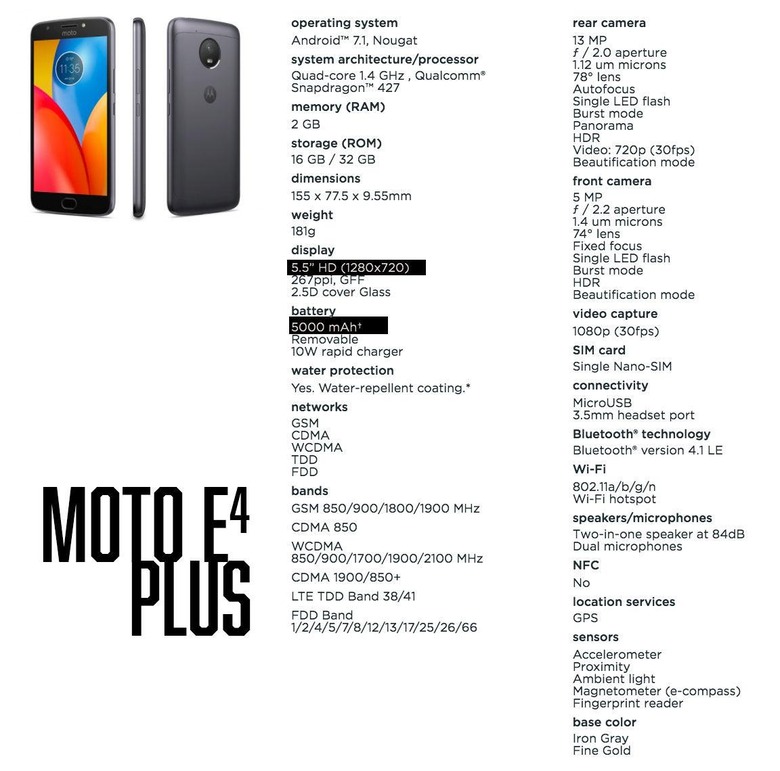 Both devices have more than one color scheme available – and both will be available through Motorola online. The Moto E4 will be made available immediately for $129.99 USD and €149. There'll be an Amazon Prime Exclusive Phone edition made available too – very soon. The Moto E4 Plus will cost $179.99 USD and €199 and will be made available soon, too.