Motorola has big small hopes for the new Moto E. Most affordable smartphone in the company's line-up, the $129 Android handset aims to differentiate itself not with the fattest spec sheet, or the most distinctive design, but by actually listening to the target audience rather than telling them what they want. In the Android arms-race it's an unusual strategy, but Motorola has evidence it can work with the Moto G. Read on for our first impressions.
The familial resemblance is clear in the Moto E. In fact, at first glance you could mistake it for the Moto G, with its simple curves, plastic shell, and discrete chrome highlights like the power and volume keys on the side, and the ring around the camera lens on the back.
In the hand it feels a little on the thick side, and the silver bar underneath the display – presumably added to balance out the silver of the earpiece above it – is incongruous; we kept pressing it thinking it was a button or a scroll-strip, even, but the Android navigation keys are all on-screen. Thickness aside, it feels sturdy and capable of standing up to some fairly rough treatment, with the plastics creak-free and the matte finish easy to grip.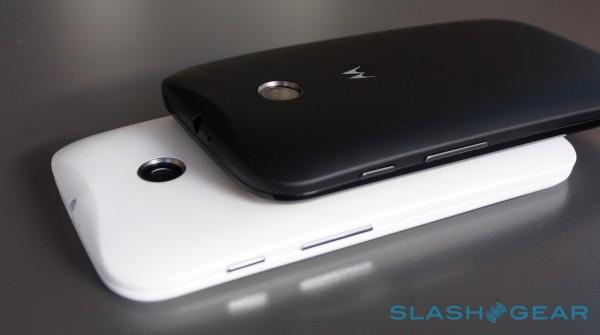 What's impressive is how the Snapdragon 200 processor – a 1.2GHz dualcore, paired here with 1GB of memory – holds up to everyday use. We'll have full tests in time for our review, but initial impressions suggest the usual apps load and run quickly, with only a little lag when switching between them.
Motorola's 4.3-inch device looks good, and the 960 x 540 resolution is a solid choice: viewing angles are decent as well, and 720p video runs jag-free.
The camera app has been stripped back to the bare essentials: tap the screen and a still is quickly taken, or tap the camcorder button and recording starts instantly. It all clearly signals Motorola's target audience of non-techies who simply want a reliable device that operates predictably.
It's an interesting approach, but Motorola does have some evidence that it could work. Around seventy percent of the world's cellphone users are still on feature phones, senior product marketing manager Joel Kingsbury pointed out to us, and while the US market may be focused on high-end devices, internationally there's a huge potential audience for more affordable handsets like the Moto E.
The "value category" is one Nokia has taken good advantage of over the years, and Kingsbury says that the Moto E is indeed seen as a direct Nokia X competitor (notably, Nokia/Microsoft is launching the Nokia X in effectively all markets but North America). Motorola's focus groups highlighted a very different set of expectations, too, with price at the top of the pile.
Rather than speed and specs, though, the next two demands were for a device that was "well built" and offered a "great experience" – surprisingly nebulous requests compared to the smartphone cognoscenti that might normally be making demands of a company like Motorola. The interpretation, Kingsbury says, was that former feature phone owners were looking for the battery longevity and drop-it-without-panicking build quality of their old device, with certain core essentials like a good screen and the reassurance of software support from Motorola.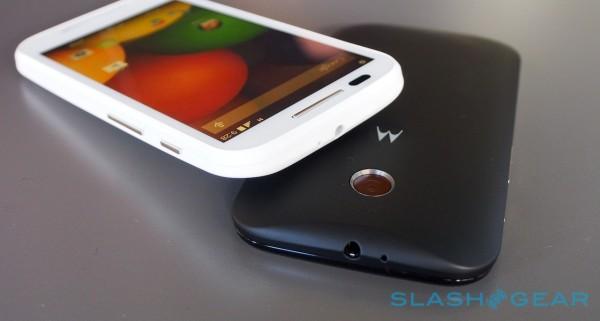 As a result, the Moto E gets Gorilla Glass 3 and P2i treatment for water resistance. Its 1900 mAh battery isn't removable – you can see it, peeking through gaps in the rear chassis when you take off the interchangeable colored covers, but you can't physically access it without breaking out the screwdrivers – but software tuning should see it last for a day at least, Motorola suggests.
Meanwhile, it launches with Android 4.4 KitKat out of the box, and just as we've seen with the Moto G and Moto X, there'll be speedy OS updates as and when Google itself releases them.
If there's anything which rankles about the Moto E, it's how clear Motorola's tiering is in places.
We can live without the front-facing camera – Kingsbury tells us that, despite our first reaction being that the phone is targeting young users, in fact it's intended to be "cross-generational" and, supposedly, older smartphone adoptees simply don't care about taking selfies – but the decision to go with FWVGA 30fps video recording, at 854 x 480, rather than the 720p that the Snapdragon 200 is capable of processing seems like an step too far in artificially positioning the Moto E as a sub-Moto G device.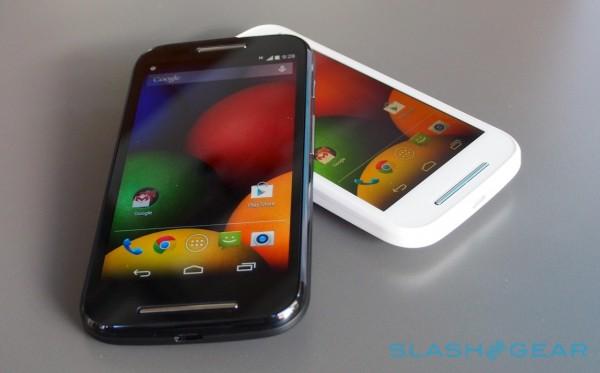 The Moto G has been wildly successful – it's the number one selling smartphone in Brazil, for instance – and Motorola credits its matter-of-fact approach as key to that. By answering the expressed desire from would-be owners that "I just want a really solid phone that's well built," they've come up with a recipe for something that distills the highlights of more expensive models into a handset that doesn't also feel flimsy or cheap.
In the US, it's likely to find the most favor on pre-paid deals, or as a second or replacement device for those prone to losing or breaking more capable smartphones. On the eve of the Lenovo acquisition, though, Motorola is gunning for the mass mass-market, where missing LTE and underwhelming video resolution are less important than being positioned within actual reach.