MOTO Android Media Platform range of OLED tablets announced

The MOTO Development Group is no stranger to Android – they showcased an Android-based e-ink prototype a while back – and now they're cashing in on that familiarity with a number of new devices targeted at developers.  The MOTO Android Media Platform will eventually consist of three models – 3.5-, 5- and 10.4-inches – each with OLED displays as standard, OMAP processors and capacitive multitouch-capable touchscreens.
First to market will be the 5-inch AMP, which MOTO are positioning as ideal for PMP, PND and portable-data-terminal use.  It'll have an OMAP3430 processor with 256MB each of RAM and ROM, an 8-megapixel camera up front and WiFi b/g/n, Bluetooth 2.1 and optional 3G.  Capable of 720p output via HDMI, the MID has a digital compass, accelerometers and runs Android 2.0.  According to MOTO, it's available now but you'll need to get in touch in order to find out how much it costs.
As for the other two models, the 3.5-inch gets an OMAP3630 processor with a 3-megapixel camera on the rear, the same connectivity as its mid-range sibling, and whatever the current Android version is whenever it finally hits the market.  Finally, the 10.4-inch device has Android as an option (Linux 2.6.29 is the standard OS) and gets an OMAP4x processor, FM and GPS in addition to the connectivity of the other models, a front 3-megapixel camera and rear 8-megapixel camera, and a pen digitizer.  Apparently it'll be available sometime in 2010.  Full specs for all three here.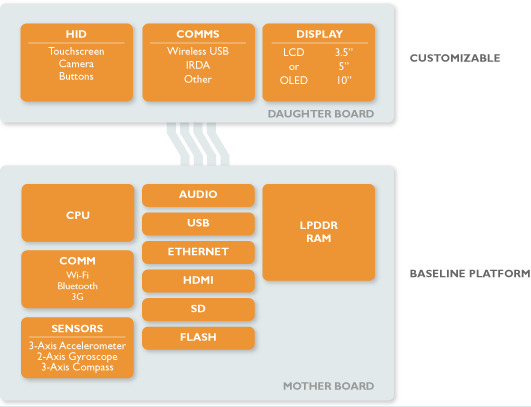 [via OLED-Info]