Motion CL600 rugged Win7 slate packs Oak Trail Atom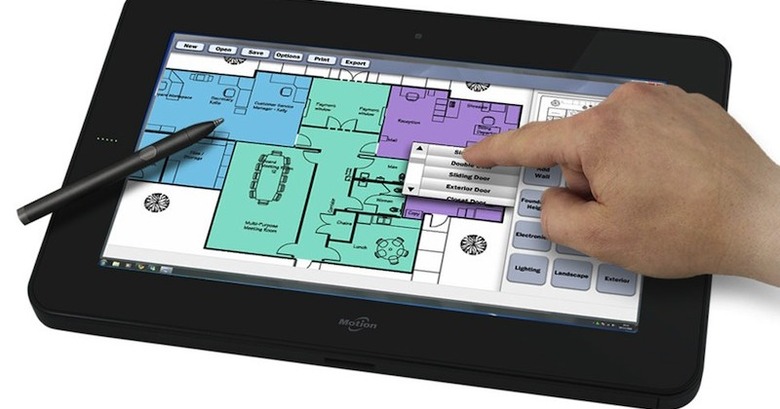 Motion's latest tablet PC may not be as slim as the Viliv X70 Windows 7 Slate, but the Motion CL900 is a whole lot more resilient. The ruggedized slate has a 10.1-inch 1376 x 768 display with Gorilla Glass and meets military specs for dust, drop, sand and temperature; it also supports both finger and stylus input, has Intel's latest 1.5GHz Oak Trail Atom CPU, and can be outfitted with Gobi 3000 broadband.
There's also WiFI a/g/n, Bluetooth 3.0, GPS, and a battery good for up to eight hours of use. RAM is 2GB and there's a choice of 30GB or 62GB SSD along with dual cameras. Motion also offer a range of accessories, including a docking station – complete with a pen holder, ethernet and a USB hub – and a card-reader (that makes the CL900 look a little like a microwave).
Perhaps most impressive of all is the price, which will kick off at under $1,000 when the CL900 goes on sale in Q2 2011. That may not make it the cheapest tablet around, but this is a full Windows 7 machine designed for mobile pros after all.
Press Release:
Motion Announces its First Ultra-Light, Rugged Tablet PC with Versatile Flexibility

The new Motion CL900 offers dual touch and stylus input, a rugged design and robust connectivity for on-the-go collaboration

AUSTIN, Texas and LAS VEGAS – January 5, 2011 – Motion®, a leading global provider of tablet PCs and supporting mobility solutions, announced today from the International Consumer Electronics Show (CES), its first small form factor, rugged tablet PC designed for productivity and business integration. The Motion® CL900 is a robust tablet with a flexible feature set that enables access to and utilization of data while mobile. Motion will be showcasing the tablet PC at the Hilton Las Vegas (LVCC), Suite #377, offering media and analysts the option to take video, preview and experience the tablet throughout CES. The CL900 is expected to be available early in the second quarter of 2011.

Architected for Versatility

The new Motion CL900 is built based on customer demand for a mobile and integrated device that offers the capabilities to support mobile workflows. Architected for future expansion, the CL900 will feature a peripheral module that will enable simple device expansion. Tightly secured and integrated into the device, the peripheral module will incorporate key documentation tools without compromising durability. Peripheral modules will be released later in 2011.

Connected, Light and Rugged

The rugged F5v Tablet PC and C5v MCA now feature the Intel® Core™ i7 or Core™ i5 vPro™ technology, enabling a significant improvement in performance and battery life over previous solutions. Additionally, incorporating Intel Core vPro technology will enable Motion customers to experience:

Up to eight hours of battery life for all-day, uninterrupted productivity

Lightweight and rugged design that offers the protection of the MIL-STD-810G specification (four foot drop test) at only 2.1 pounds and less than 16mm thick

IP-52 rated exterior to protect against dust, moisture and other elements

Optional integrated Gobi™ 3000 mobile broadband with GPS, 802.11 a/b/g/n WLAN, Bluetooth® 3.0, and a wireless SIM port for advanced communications

Display with Corning® Gorilla® Glass display for added durability and scratch resistance and incorporated DuPont Vertak™ to improve visibility in various lighting conditions

Built for Business Integration

The CL900 was designed to integrate seamlessly into business environments. Running Microsoft® Windows® 7 and powered by the upcoming Intel® Atom™ processor currently codenamed "Oak Trail", the CL900 balances power, performance and battery life. Additionally, IT serviceability and enterprise support options help ensure uptime and reduce IT resource drain. Business benefits include:

The ability to run existing applications, lowering the cost of deployment

The performance needed to simultaneously run multiple enterprise applications

Bright display that offers the convenience of both touch and stylus input

30GB or 62GB solid state drive (SSD), and up to 2GB of RAM

The new Intel Atom processor is specifically designed for tablet PCs and mobile workflows that require a balance of productivity and battery life. An enhanced version of the Atom line of processors, "Oak Trail" will offer the responsiveness, security and manageability required for mobile users in business environments.

"Motion's latest tablet is a perfect example of the power and productivity available in enterprise-based mobility solutions," said René Torres, director of marketing, Netbook and Tablet Group, Intel. "With the power and performance of our upcoming 'Oak Trail' Intel Atom processor, along with the mobility and durability of the CL900, Motion is delivering an ideal productivity tool for workers on the move."

Versatile and Configurable

Additionally, the unique design of the CL900 offers multiple optional features and connectivity ports to improve functionality for a variety of different uses. Documentation and expansion features include:

Front and rear-facing cameras to support documentation, video conferencing and collaboration

A full complement of ports, including USB, SD Card, audio and video to simplify the use of industry standard peripheral solutions

A unique countertop docking station that optimizes the CL900 for touch input and adds a simple and easy way to integrate peripherals

A variety of cases and straps to accommodate multiple usage patterns

Powerful and Affordable

With a planned starting MSRP of less than U.S. $1000 the CL900 offers a competitive entry price point to other tablet PCs with a unique, rugged design that supports a lower total cost of ownership over non-rugged devices. The CL900 will be available to ship early in the second quarter of 2011 while the optional peripheral module will be available later in the first half of the year. For more information on the CL900 or to register for product updates, please visit the CL900 Product Page.