Morgan EV3 Junior offers kids a different kind of thrill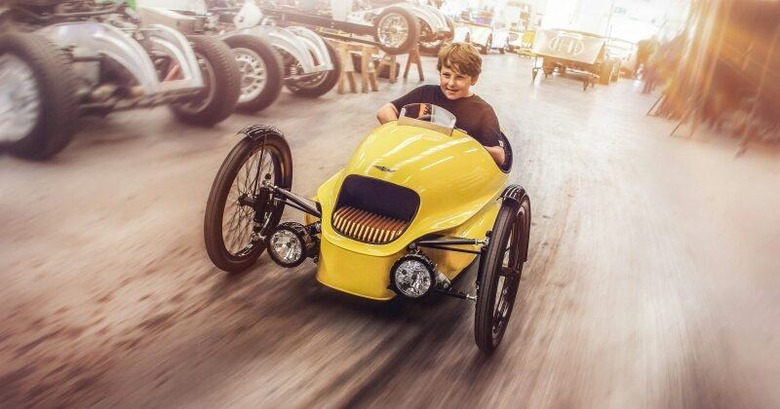 Who said energy-efficient, environment-friendly cars are for big people only? Definitely not Morgan Motor. Just last year, the British car maker kicked off its EV3 electric car, sporting a look that seemed straight out of a steampunk set. Now it is giving younger, not to mention smaller, drivers a chance to drive around in style in their own eccentric looking, steampunk electric courage. Presenting the smaller and safer version of the Morgan EV3 called, what else, the Morgan EV3 Junior.
The Junior is not an exact replica of the original, mind you. Not even in its design. Gone is the eerie-looking "third eye" light which could give kids some nightmares. You still have the odd row of fins dead center, but the effect is more like a friendly robot's face than a Frankenstein abomination. And yes, those "eye" lights are real, working headlights.
Like the bigger EV3, the Junior is designed to be lightweight. It makes use of light but strong carbon fiber for the body and wood for the dashboard. To add a bit of luxury to the kids' car, the seat is covered with stitched leather. Given the lack of weight and size, Morgan puts a 6 years of age recommendation for the car.
The EV3 Junior isn't going to roar, of course. At least not by adult standards. The car can go as fast as 16 kph in the forward direction. Going in reverse naturally has a slower speed. The car charges to full in just 4 hours, which is enough to drive 10 miles on average.
The Moto EV3 Junior is just the latest in a breed of "toy" cars that are starting kids young with miniature versions of big league models. Radio Flyer, for example, has a smaller version of the iconic Tesla Model S. And like their larger counterparts, this "mini" cars do cost quite a bit. The Morgan EV3 Junior goes for 6,662.50 GBP, which is around $8,310 stateside.
SOURCE: Morgan