More Motorola 2009 handsets for Verizon leak: Niagra, Fairbanks & Harmony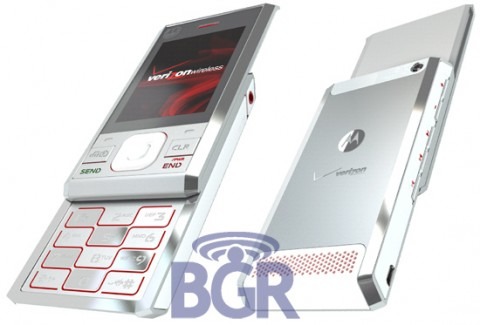 A further three of Motorola's 2009 handsets for Verizon Wireless have leaked, again courtesy of the BGR.  Unlike the four devices yesterday, which were all smartphone-type models, today's three are more mainstream fashion or feature phones.  Of the trio - the Niagra, shown here, and the Fairbanks and Harmony, shown after the cut – it's the Niagra that looks the most interesting, with an updated RAZR-slide theme and similar angular body to yesterday's Flash smartphone.
The Fairbanks and Harmony, meanwhile, are more traditionally designed.  Both are clamshells, the former with Push-To-Talk (PTT), and both have external music controls.  In the Fairbanks case these are hardware buttons, while the Harmony gets touch-sensitive keys.  There's also what looks like a mute button and a key that seems to have the Bluetooth logo on it, but that could just be our poor eyesight.
No detailed specs as yet, nor exact release dates, but we're told to expect these three handsets sometime in 2009, just as with the smartphones.  We'd suspect the more conventional looking Fairbanks and Harmony might come first, with the Niagra following afterwards, but that's speculation.