More 5D Mark II, full size HD video clips get releases from DPR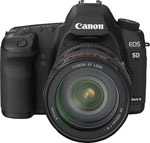 The EOS Canon 5D mark II has captured world attention since its launch at Photokina few weeks ago. One of the reasons is its industry's first video capability at 1080P, low light and virtually noise free high iso motion capture. We've seen the REVERIE Video footage and full size releases by Vincent Laforent, it was nothing short of amazing coming from a DLSR camera; we also collect other video samples released here, but footage with AF engaged while panning and tracking has yet to witness. DPR has posted couple more full size video clips shot with beta release today. The videos exhibit panning sequence but simply too short to judge its quality and value.
Does the contrast AF has the juice enough to keep up the most demanding action sequence? The five-second DPR's video clips aren't telling much of the story. Little detail has revealed so far but the 5D mark II is probably one of the hottest prosumer DSLR known to date. Last time I checked, the waiting lists are pages long on top 5 online retailers. Imagine a preorder item was out of order, not once but several times appeared at Amazon online store.
For many, video is not the reason; after all, this is a still Digital SLR. The 5D sequel has long overdue for Canon fan, and the surprisingly low price of $2,699 with feature-rich 21MP DSLR is simply too hard to resist.