Mophie's new Juice Packs embrace iPhone wireless charging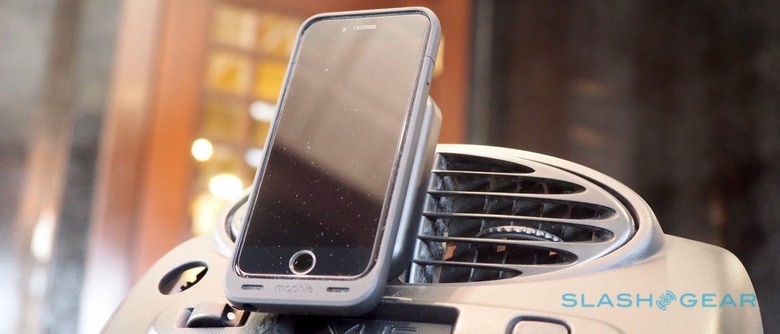 Stepping out without a battery case on our iPhone is for many as unlikely as leaving the smartphone at home altogether, but with Apple slow to embrace wireless charging, Mophie is picking up the slack. The company has launched Charge Force today, both a range of new Juice Pack battery cases which support the main wireless charging standards, and a commitment to recharging without cords moving forward.
"Mophie is pretty synonymous with mobile charging and battery cases in general, and people have been asking for years [about our attitude toward wireless charging]," Ross Howe, vice president of marketing at Mophie, told me. "Honestly, we didn't feel there was enough pull there from the consumer, or the infrastructure out there."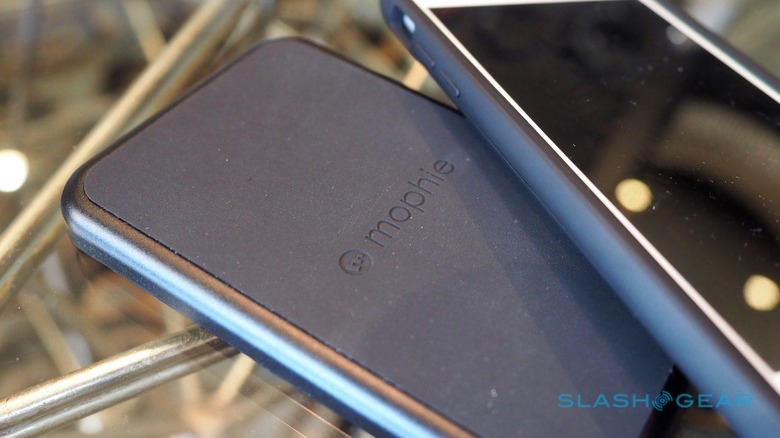 "You were buying a lot of technology to solve that last centimeter before you go to bed."
A year ago in fact, Howe says, nobody Mophie spoke to cared about wireless charging. Fast forward to today, though, and it's the number one request from customers.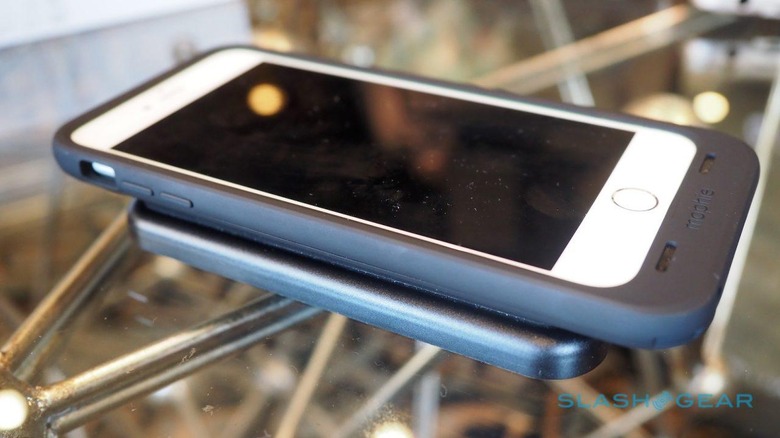 It's certainly been on Mophie's radar for some time, though the company was also wary of biting off more than it could realistically achieve, especially given the struggles of companies like Duracell to crack the wireless charging market.
"I don't think Mophie is necessarily capable of educating the whole industry and consumers about wireless charging," Howe says, plainly. He credits device manufacturers like Samsung, as well as other interested players such as Starbucks, McDonald's, and Ikea, and automakers such as GM and Ford for driving both awareness and infrastructure to the point that it makes financial sense to join in.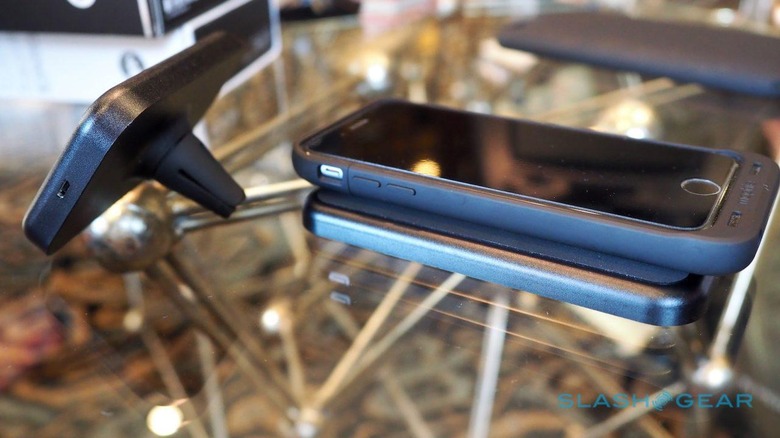 It's no toe-dip, either. Today, Mophie is launching new Juice Pack battery cases for the iPhone 6s and iPhone 6s Plus with support for both Qi and PMA wireless charging standards. There's a Qi wireless charging pad, too, as well as a vent mount charging pad for the car, and a desk stand charging pad.
Though the Juice Packs will be compatible with both common standards, Mophie has thrown in magnets into its implementation too. That helps orient the phone correctly on the pad, but also holds your phone on the vent mount or desk stand in either portrait or landscape orientation.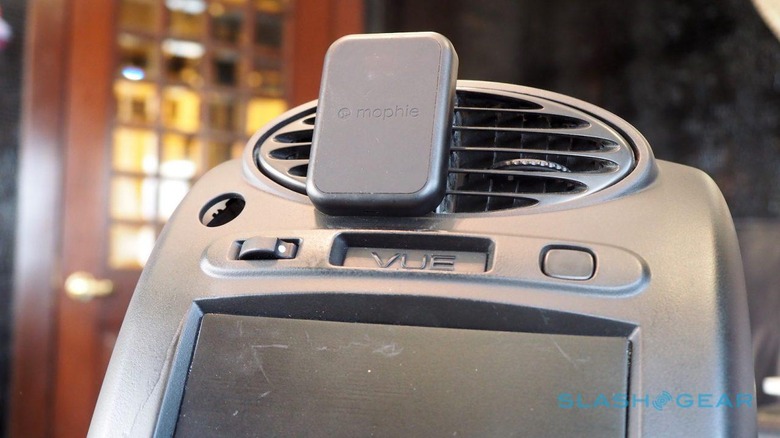 If you're used to using Google Maps or Waze in the car, dropping a phone with a new Juice Pack onto the vent clip will not only hold it near your eye-line but recharge it too. With Qi delivering 1A of power, the same as the USB charger Apple includes in the box with the iPhone, charging times should be the same.
Moving forward, meanwhile, wireless charging will be included in every new Juice Pack as a matter of course. Mophie is billing the system as Charge Force, and it's pricing it competitively too: the iPhone case, which has a 1,560 mAh battery for around a 50-percent recharge of your iPhone 6s, will be bundled with the Qi charger pad for $99.95, the same price that Apple sells its own iPhone 6s Smart Battery Case for.
The iPhone 6s Plus battery case – of which there's no official Apple alternative, mind – has an even larger, 2,420 mAh battery.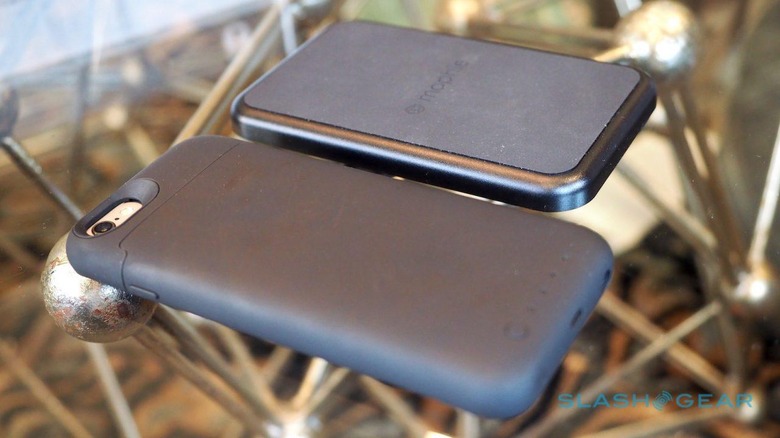 "We're giving away wireless charging, basically, to all customers who are buying it anyway," Howe explains. "Any case that comes from Mophie will have Charge Force built in."
That's no hollow promise, either. In fact, Charge Force has already been among us, we just didn't realize it: Mophie's Juice Pack cases for the Samsung Galaxy S7 and Galaxy S7 edge, for instance, launched last month and actually have wireless charging support already.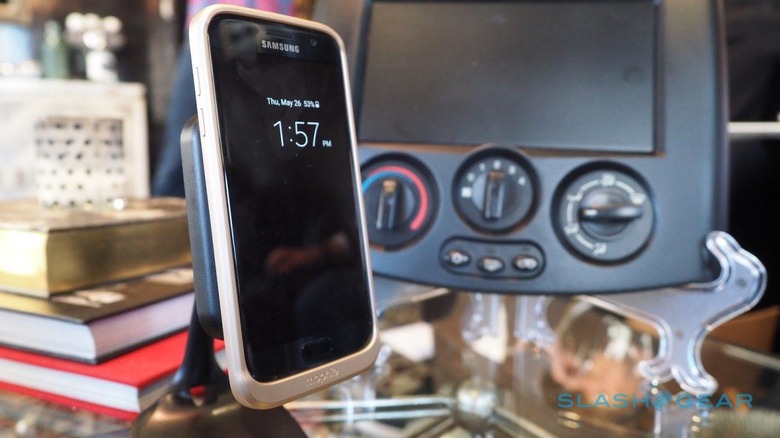 Wireless support by default moving forward isn't an entirely altruistic move by Mophie, of course. For a start, there's the expectation that once people have bought into an ecosystem of charging products, they'll be more loyal to the brand.
"We feel that once people buy into the vent mount, into the system," Howe says, "they'll come back next time to buy a Mophie product."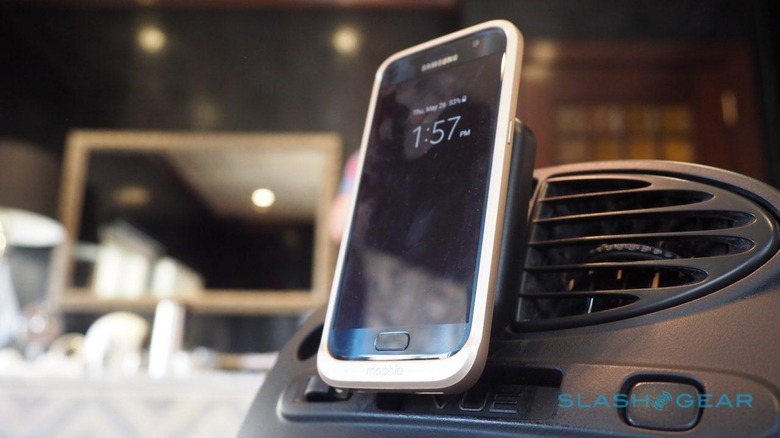 It goes beyond making sure Mophie is the top of someone's list of contenders when it comes to battery cases for their next smartphone upgrade, mind. Currently, the company is at the mercy of other peoples' roadmaps: Apple launches a new iPhone, for instance, and Mophie has to hurry to create a charging case to suit its design.
Free of proprietary connectors and mounting styles, products like the vent clip can have a far longer lifespan. It also opens the door to new types of products which could be powered wirelessly and hang magnetically in place – "basically, anything which has [a USB cable] today, we could do wireless" Howe teases – and Mophie says there'll be more over the next few months on that front.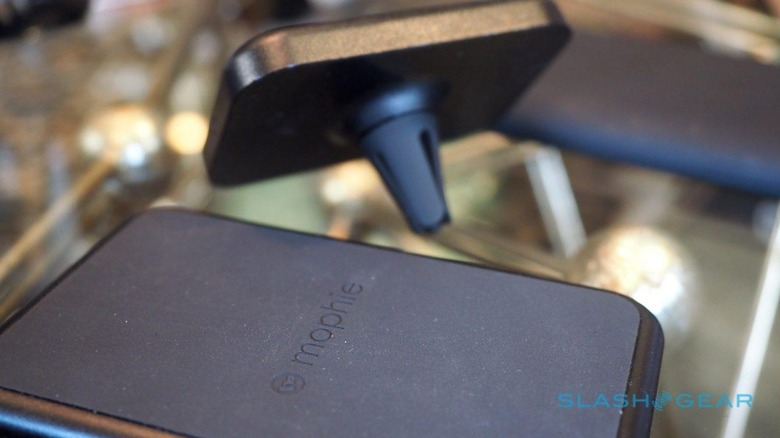 What may take longer is wireless power for bigger devices, like laptops. Mophie is working on USB-C accessories, to recharge the growing number of notebooks, tablets, and other hardware using the port, but as Howe points out the whole segment is in flux right now with regards to wattage.
To sate power-hungry notebooks, for instance, you could simply drop in a big battery into your external charger, but then you get into issues with weight and heat. Meanwhile, there are varied expectations about what a USB-C device should do beyond recharging: USB-C pass-through, for instance, or other ports.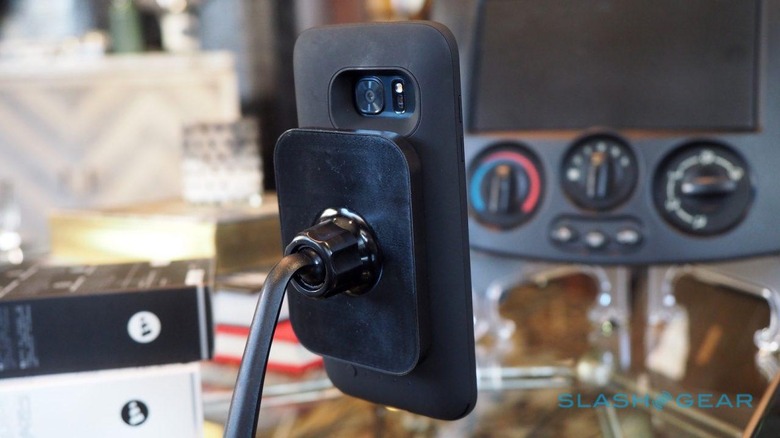 Those questions will undoubtedly be answered over the coming months, but it seems Mophie – despite what have turned out to be premature predictions that the company would be killed off when Apple made its own power case – isn't ready to bow out of the battery space.
The new Juice Pack cases with Charge Force support are available to order for iPhone 6s and iPhone 6s Plus now. They'll be in Apple Stores in about a week's time.