Mophie Powerstation Hub Review: One travel charger to rule them all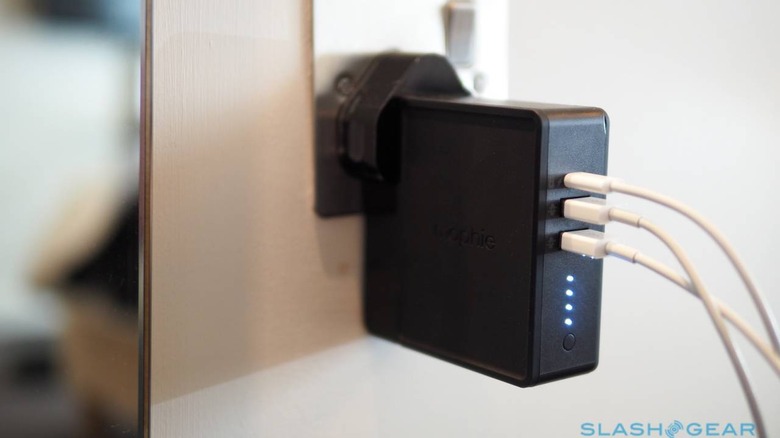 EDITORS' RATING: 7/10
The Mophie Powerstation Hub wants to go traveling with you, and it has a good argument for why you might want to save a space in your carry-on for a combination charger, battery, and Qi wireless pad. After all, keeping your phone, tablet, noise-canceling headphones, and other gadgets charged up on the move can be more frustrating than it should be. On the one hand it's hotel rooms with one spare outlet; on the other, it's simply the bulk of carrying multiple adapters.
Mophie's solution isn't quite a do-it-all adapter, but it's close. At 3.31 inches square and 1.16 inches thick, it's about the size of an Apple MacBook Pro charger, finished in black plastic and rubber. On one side there's an interchangeable plug: Mophie supplies a US adapter in the box, and will offer others as extras. On the opposite side there are two USB-A ports – one Quick Charge 3.0 delivering 15W, and the other 5W – and USB-C PD port for 18W input/output. Turn the Powerstation Hub on its side, meanwhile, and it's a Qi wireless charger.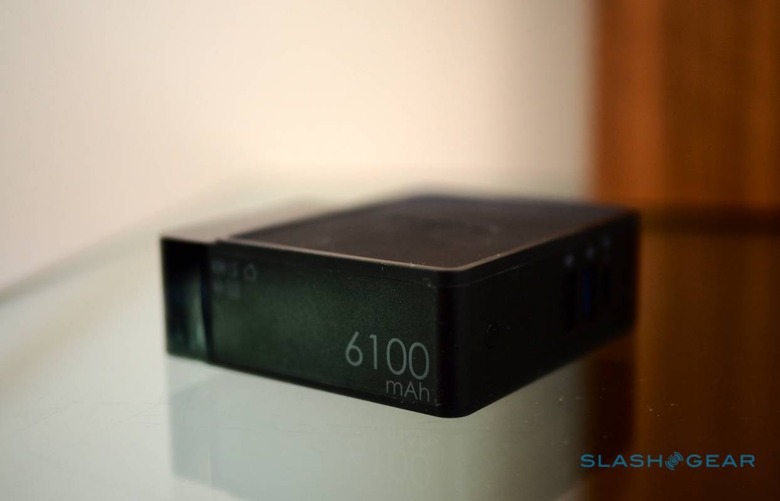 Inside, there's a 6,100 mAh battery. Mophie says that's enough for 20+ hours on an iPhone X, or 5-8 hours on an iPad, size-depending. Hit a button on the side and a four LED gage shows how much charge is left. You can recharge it either by plugging the Powerstation Hub into a wall outlet, or by using a USB-C charger: expect a full charge to take 2-2.5 hours.
Jack of all trades
All four charging options – three wired and one wireless – can be used simultaneously, either drawing power from the internal battery or from AC power. That's definitely flexible, though there are some caveats to bear in mind.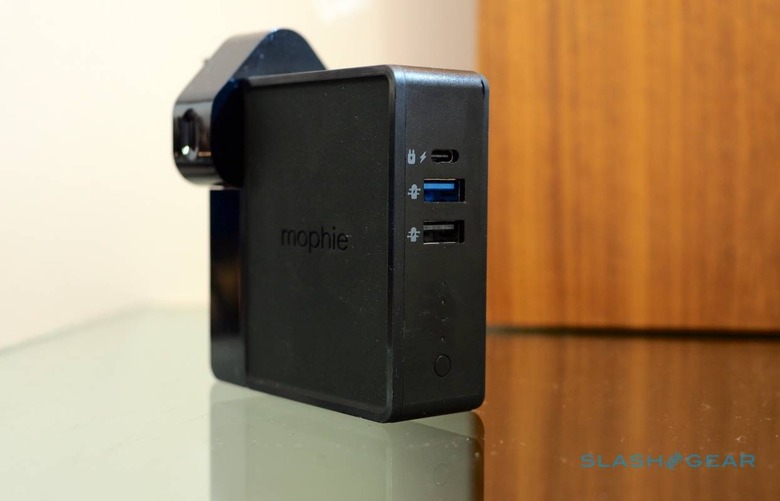 The 18W from the USB-C PD port, for example, will be enough to get your smartphone or tablet charging relatively speedily, but it's not going to charge a laptop. Though the Powerstation Hub may be scaled like a laptop charger, it doesn't deliver the same wattage as one, sadly.
The other big limitation is the wireless charging. That tops out at 5W, unlike 15W+ Qi-compatible pads from other manufacturers. It means that, though you won't need a wire to top up your recent iPhone, Android phone, or wireless-enabled AirPods case, it won't exactly be a fast process. With an iPhone XS Max, I saw about 1-percent battery added every couple of minutes.
On test on the road
The Powerstation Hub didn't spend long on my desk, arriving just in time for an international trip. Usually my bag is a mess of chargers, cables, and adapters: with the Mophie I pulled off the folding two-prong US plug, slotted on the UK version, and packed that in instead of the cluster of adapters I'd normally be taking.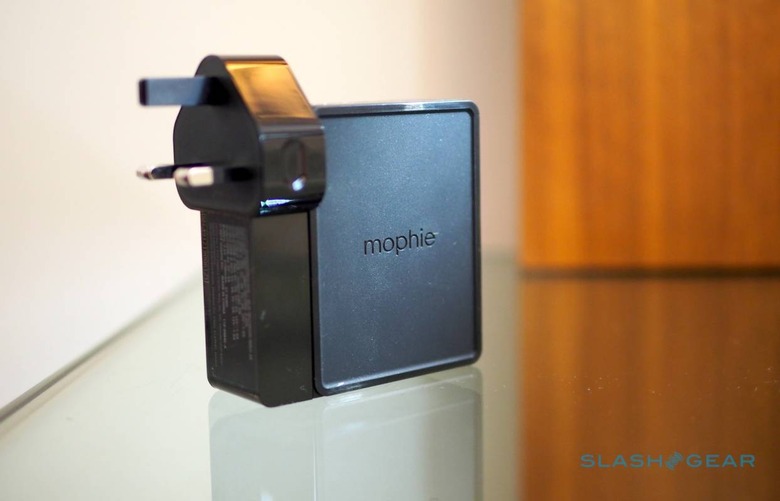 With a layover in Europe, I had a choice. Typically, I'd bring a European-style charger, or an adapter, along with me, just in case I wanted to top up my phone mid-journey. With the Mophie's integrated battery, however, I felt confident enough to leave the Euro plug behind, figuring that if I need to charge something I could dip into the Powerstation Hub's onboard power instead.
It was only when I got to my hotel that I realized one drawback to Mophie's design. If you want to use the wireless charging pad, but also plug the Powerstation Hub in, you'll need to find an outlet that rotates it 90 degrees. With most outlets, the charger will be upright, rather than flat for you to drop a Qi-compatible device on top.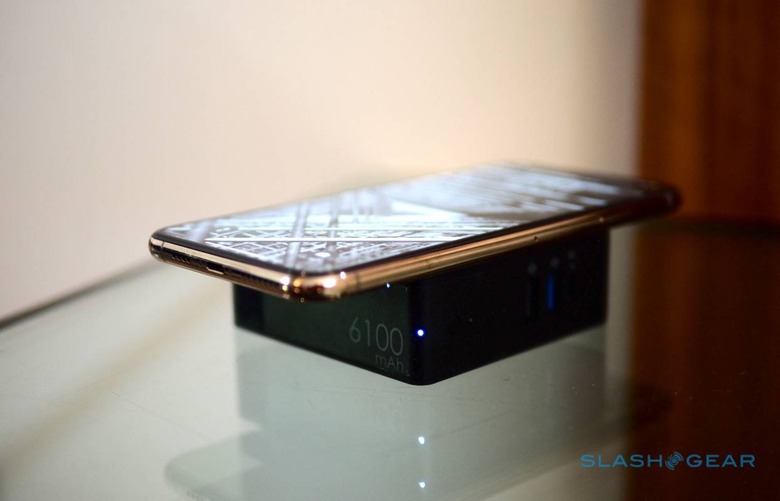 The other feature I missed from some of Mophie's other portable batteries was an integrated cable. On some of its Powerstations, there's a short USB or Lightning cable – or both, with an adapter – tethered to the pack, which is both convenient and neat. Sadly you'll be plugging in regular cables (which aren't included in the box) with this particular battery.
Mophie Powerstation Hub Verdict
There are undoubtedly compromises involved in the Powerstation Hub. You're not getting the biggest portable battery, or the most potent charger. There are wireless charging pads out there which will juice up your smartphone faster, and if you want to charge a laptop you're out of luck.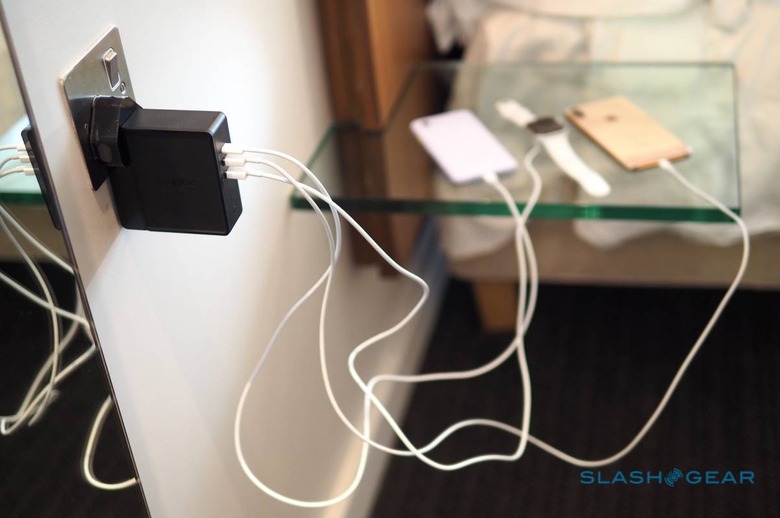 For the $99.95 price, though, I think Mophie's decisions make sense, for the most part. 6,100 mAh is big enough to keep you going away from an outlet, and the fact that the Powerstation Hub's battery tops up whenever it's plugged in means that you're more likely to have it fully charged when you need it. The ports offer a good range of options for the gadgets most people are carrying.
Only the underpowered wireless charger is an annoyance, and the fact that – with most outlets – you can't use it while the Powerstation Hub is plugged in. A swiveling plug would've fixed that, but then again that would've introduced its own compromises. Right now, for frequent travelers, Mophie's latest checks off most of the must-have features, and that's enough to earn a spot in my bag.