Mophie OutRide for iPhone now available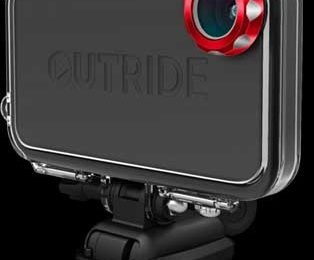 Back in August, we mentioned that iPhone accessory maker mophie had announced a new product called the OutRide that promise to turn the iPhone into a rugged sports camera. Originally, the OutRide was expected to launch in September, but September came and went with no official availability. Mophie has now announced that the OutRide is available to purchase.
The OutRide is a wide-angle, waterproof mounting system for the iPhone it turns it into a dedicated action sports camera. The case and mounting solution allows the iPhone to survive the elements and drops. The device works with the iPhone 4 or 4S, but won't fit the new iPhone 5.
Features of the OutRide include a high impact, waterproof and lightweight polycarbonate housing. The housing has an attached wide-angle lens offering 170° viewing angles. The case and mounting system also works in conjunction with a free OutRide app.
The application is designed to allow users to capture, edit, and share video directly from the iPhone. The app supports recording high-definition video at 60 frames per second in 720p resolution or 30 frames per second in 1080p resolution. Videos can be recorded vertically or horizontally and then edited and uploaded directly from the device. The app also allows users to share videos made using the app from friends. The case is available online and in Apple Store retail locations for $149.95.