mophie juice pack powerstation for iPad/iPhone hands-on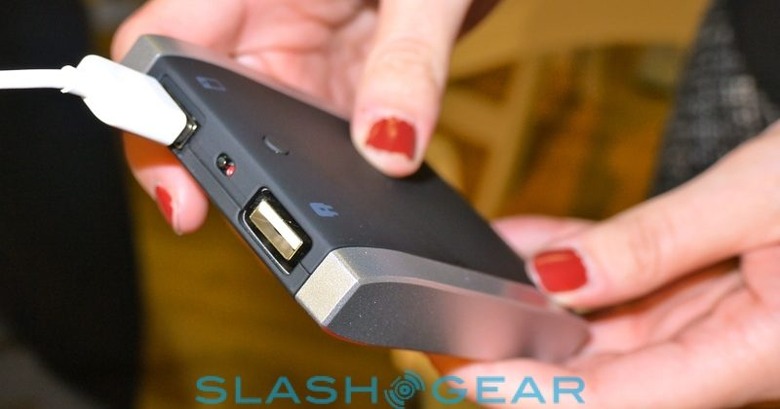 External battery manufacture mophie has outed its latest product, and rather than a form-fitting case that slips in a backup power supply, the juice pack powerstation is an external block.  Trickier to carry, yes, but the 3,600mAh unit is capable of recharging any USB-powered device – be it an iPad or something from outside of Apple's catalog.  We grabbed some hands-on with the powerstation, together with mophie's new juicepack for the iPhone 4.
The powerstation actually has a pair of USB ports, but only one supplies power.  The other is used to recharge the battery itself, but can also recharge whatever device is attached at the time.  mophie says the external battery will shut off automatically to save juice when not needed, but there's also a physical power switch if you don't quite trust it.
A six-LED power gauge and up to 2 amp output round out the key specs, and while it's not exactly the most pocket-friendly of devices – measuring in at 2.86 x 4.31 x 0.65 inches and weighing a pound – we'd still happily drop it into our bag just in case.  You'll have to supply your own charging cable for whatever device you decide to use it with, though; mophie's sales bundle doesn't even have an Apple dock connector cord.  It's $99.95 and available to order now.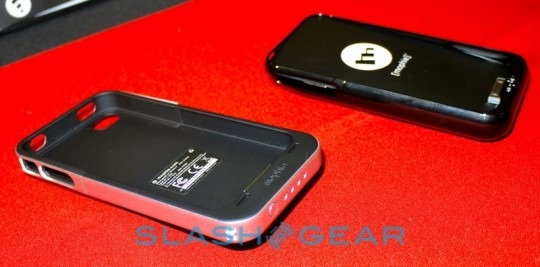 As for the mophie juice pack for iPhone 4, in some ways we actually prefer it to the bare Apple smartphone itself.  The discretely curved edges and bowed back may not look as starkly minimalist as Jonathan Ive's design, but it makes for far more comfortable holding during longer calls.  It fits snuggly, and the "acoustic sound enhancement" – which basically consists of a sound redirecting chamber at the bottom – does actually manage to make audio from the iPhone 4's speakers sound a little more impressive.  Don't expect miracles, though.  It's also available now, priced at $79.95.