mophie juice pack for iPhone 4 doubles battery for $80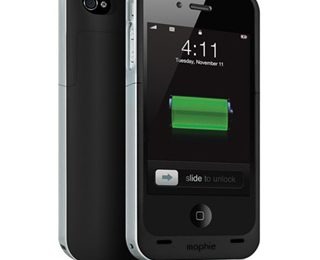 Battery-case manufacturer mophie has put its juice pack for iPhone 4 up for sale, promising roughly twice the power of the Apple smartphone's own battery for $79.95.  The hard-shell case – which protects the back and edges of the iPhone 4, while matching the smartphone's color scheme – has a pass-through USB connection, for simultaneously recharging both case and phone while also synchronizing with iTunes.
As for the hard figures, mophie are saying up to an additional 6 hours of 3G talktime (or up to 12 hours of 2G), or up to 36 extra hours of audio playback, or up to 9 hours of video playback.  There's a four LED power gage on the bottom, and mophie even reckon the case "acts as a virtual speaker box" to redirect sound from the speakers underneath.
Press Release:
mophie reveals first look at next generation of juice pack

iPhone 4-compatible rechargeable external battery now available

Santa Ana, Calif. (7th September, 2010) – mophie™ today reveals the 7th generation of its juice pack line, delivering on-the-go power to the iPhone 4 via its light-weight and ultra-thin external rechargeable battery case. The new juice pack air is the first of several products planned for 2010 and joins the juice pack legacy line of award-winning designs. The juice pack virtually doubles the battery life of the iPhone and its soft touch hardware also provides protection from device bumps, bangs and drops.

"mophie's passion is creating intelligent products that help Apple fans interact with their device in new ways," says Ross Howe, Vice President of Business Development at mophie. "With the release of the next generation form factor, it is only natural that we provide its users the extended battery life and protection that Apple fans have come to expect from mophie."

The juice pack air for iPhone 4 is now available for purchase on www.mophie.com for $79.95 (approx £52.00).

Key features and benefits include:

· juice pack legacy – With more than one million juice pack units sold to-date, mophie cases have been made for every iPhone and iPod Touch form factor since the devices' debut and was the first-ever "Works with iPhone" battery case. The juice pack air for the iPhone 4 provides the very best of seven generations of product development and design.

· Battery extender and case in one – the juice pack air for iPhone 4 combines rechargeable external battery power concealed inside of a protective form-fitting case. It offers the full protection of a hard-shell case with an ultra-thin, light-weight, low-profile design.

· Twice the power – the juice pack air for iPhone 4 virtually doubles the power available to rock, talk, surf and send. A fully charged case gives users:

o Up to an additional 6 hours on 3G, up to 12 hours on 2G, of talk time

o Up to an additional 36 hours of audio playback

o Up to an additional 9 hours video playback

· Advanced battery technology – Highly condensed lithium polymer battery delivers an incredible amount of juice in a small form factor and features built in overcharge, short circuit and temperature protection.

· Efficient electronics – Embedded electronics results in no signal interference with the iPhone 4.

· Acoustic sound enhancement – The case design acts as a virtual speaker box, redirecting sound from the bottom of the iPhone 4 to the front, resulting in a richer, fuller sound quality.

· 4 light LED battery status indicator – An integrated LED status indicator tells users exactly how much "juice" is left and also displays how much time remains during the charging process.

· Quick speed – 500 milliamps fast charge technology, with an advanced battery for added safety, as well as 1500 mAh capacity.

· Soft-touch finish – Sleek design includes a new, soft-touch, rubberized finish and silver band that mirrors the aesthetic of the iPhone itself.

· Pass-through USB – Included USB cable enables you to simultaneously charge and sync your iPhone 4 to iTunes without having to remove it from the juice pack air.

The mophie juice pack air for iPhone 4 is now available in black/silver at www.mophie.com for $79.95 (approx £52.00). For additional information regarding the mophie juice pack suite of products, please visit http://www.mophie.com

About mophie

mophie is a California-based, award-winning designer and manufacturer of mobile intelligent devices and accessories. It is widely recognized and highly acclaimed for its creative designs and innovative solutions. mophie is the proud developer of the juice pack, first ever "Works With iPhone" portable battery case certified by Apple Inc. All mophie's products are developed to address real consumer and business needs and are seamless integrations of industrial, electronic, software and artistic designs. Its products are available in Apple Stores, Best Buy, AT&T stores and on www.mophie.com. Follow mophie on Twitter at http://twitter.com/mophielovesyou .