Mophie intros juice pack for the LG G4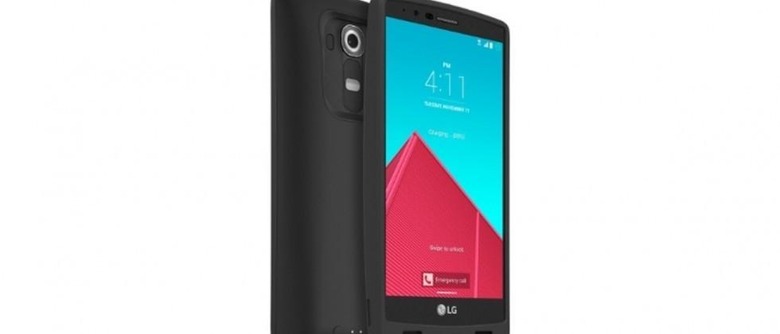 That was quick. While we're currently (literally!) getting our hands on the LG G4, Mophie is already out of the gate with accessories. A notable name when it comes to external power packs for your phone, Mophie is introducing a juice pack for the LG G4. Juice pack is Mophie's lineup of cases that double as power packs, giving you the pleasure of powering up while on the go, but not needing to tether to a clumsy battery pack via a power cord.
Mophie says their juice pack for the LG G4 has a 3,450mAh battery that provides "more than 80% extra battery" to LG's latest handset. Mophie also built their proprietary 'Priority+' charging into the juice case, which "enables pass through charge & sync while connected to a PC or Mac."
With the juice pack, Mophie claims you'll see an extra 12 hours talk time and 9 hours Internet usage. A full 10 hours of extra video playback is also promised.
All buttons are pass-through, and the case has Mophie's neat mute switch as well.
If you're interested, Mophie is currently listing the juice pack for the LG G4 on their website, but it's pre-order only. Mophie estimates the juice pack will ship in late June, and has it listed at $99.95.
Source: Mophie